Travel
The Top Eco-Lodges in Patagonia
Escape to some of the most majestic landscapes on Earth at a sustainable Patagonian eco-lodge.
4 min
Author: Jemima Forbes
Epic landscapes and wholesome cuisine are just some of the things you can look forward to on a vacation to South America. Among the continent's many fascinating locales is Patagonia: a lush region split between Chile and Argentina and straddling the legendary Andes Mountains. 
The remote southern tip of South America is awash with dramatic peaks, glassy lakes, thick rainforest and vast deserts. It's also home to several once-in-lifetime experiences, from world-class stargazing to wonderful wine tasting. You could even extend your Patagonia trip by hopping across to nearby Polynesia for a relaxing beach break or visiting enchanting Easter Island.
For those who want to protect the planet while they travel, Patagonia's virgin scenery makes it a prime destination for a more sustainable vacation. One thing that definitely goes hand in hand with sustainable travel in Patagonia is booking a stay at one of its stunning eco-lodges. 
From deluxe lakeside campsites to cozy mountain villas with hot tubs and woodburning stoves, here we take a little look at some of our favorite eco-lodges in Patagonia.
1
Explora
Tucked away in Torres del Paine National Park on the Chilean side of Patagonia, Explora is the ideal eco hotel for some peace and quiet. The reserve it sits within is nearly 2,000 square kilometers large and littered with glaciers, lofty peaks and beautiful bodies of water easily explored by boat or kayak.
Guests have a choice of suites to pick between at Explora Patagonia, all of which feature plush furnishings and jaw-dropping views of the majestic mountains. The serene decor is matched by a lack of technology, with the ethos behind the hotel being that you go there to switch off and be at one with nature. 
Explora also has a whole host of activity options open to its guests. This includes horse trekking through golden grasslands, guided hikes to amazing viewpoints and trips to spot Torres del Paine's 100+ unique bird species.
2
Tierra
Another green hotel in Patagonia perfect for more eco-minded escapes is Tierra. It's also located within Torres del Paine and its harmonious design allows it to blend in with the dramatic scenery surrounding it. 
Tierra is ideal if you're after a luxury eco-friendly spa experience. Spend a day pampering yourself in its onsite Uma Spa which features an indoor pool with floor to ceiling windows overlooking the Paine Massif. Sustainability is at the heart of the hotel and they heavily contribute to conservation efforts within the National Park.
When you're not hanging out in the spa, you can take advantage of numerous excursions, from kayaking on the lake to wilderness bike rides. Come nightfall, dine in the hotel's welcoming eatery which serves up hearty Patagonian cuisine.
3
Patagonia Camp
Those who would like to go one step further than an eco lodge in Patagonia should definitely book a stay at Patagonia Camp. The luxury campsite sits on the shores of Lake Toro in Torres del Paine and offers up the chance to stay in private Mongolian-style yurts. 
Complete with cozy decor and glass portholes in the ceiling for stargazing, some of Patagonia Camp's yurts additionally feature outdoor jacuzzis. The 20 yurts are connected by wooden walkways weaving through the forest and all of them boast outstanding outlooks across Lake Toro.
As well as relaxing in your yurt and falling asleep to the soothing sounds of nature, you can take advantage of the camp's guided excursions for all ages and abilities. Fans of unique cuisine will also love Patagonia Camp's gourmet outdoor cooking which makes use of local Chilean ingredients. 
4
Awasi
Another green hotel in Patagonia worth having on your radar is Awasi. Another lodge nestled in Torres del Paine, it's completely carbon neutral thanks to the acres of native woodland which it protects and preserves. 
Secluded and intimate, Awais boasts just 12 traditional villas which have all been carefully designed to blend into their rural surroundings. They're additionally suspended on wooden stilts to limit their impact on the environment. Each has beautiful vistas of Lake Sarmiento and the region's famous pampas grasslands. A larger lodge houses communal spaces and Awasi's restaurant which grows its own seasonal produce for all its delicious regional dishes. 
Stay in a home away from home and enjoy outdoor adventures with a private guide on horseback, foot or bike. Awasi truly is an oasis, with zero neighbors besides the extraordinary local wildlife.
"Patagonia is amazing because of the variety it offers. You can hike on your own in the shadow of Fitz Roy, see the incredible Perito Moreno Glacier, and take in the stunning landscapes and mountains of Torres del Paine National Park. It's a far journey to get to the Southern tip of the globe – but well worth it. I'm already looking forward to visiting again. On top of everything there are amazing luxury properties and lodges that allow you to indulge after your day out exploring."
Like the sound of discovering the delights of this far-flung region? Reach out to our Patagonia experts to plan your trip of a lifetime.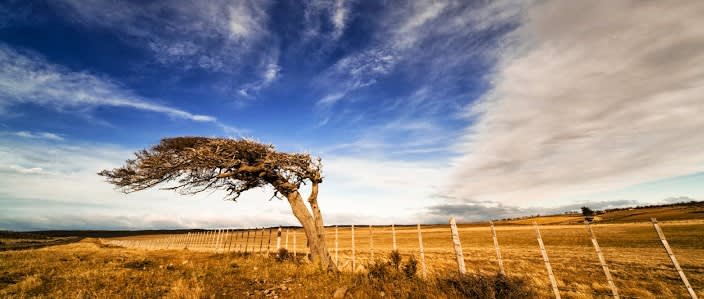 Explore Patagonia
Notice Regarding Third-Party Advertisements:
This is a cached database listing from another source and all content is created and provided by the advertiser who is solely responsible for such content including, without limitation, all text, images, contact information and websites. We assume no responsibility or liability for such content or the content or operation of websites that you may link to and visit. We do not endorse, review, or control any websites that are linked to or from an advertisement. Please read more about us and review our terms of use and conditions for additional information about database listings appearing on our site.
Please reference our online safety tips for general tips and techniques you should keep in mind to protect yourself and your privacy online. Additional information is also available about identifying and reporting suspected Human Trafficking.
You are viewing cached results from https://www.enchantingtravels.com/travel-blog/the-top-eco-lodges-in-patagonia/