If you happen to visit Puri the most popular coastal city of Odisha you would notice two things. First, you would find yourself under the constant divine gaze of the round eyes of Lord Jagannath- the presiding deity of this city. The divine eyes are everywhere from photo frames to billboards to back of autos to key rings to designer clothes. The Lord Jagannath is omnipresent in Puri. The other thing which is everywhere is shops selling Khajas, the most famous sweet of Puri. The importance of Khaja can be gauged by the fact that Khaja is an integral part of Mahaprasada offered to the trio Lord Jagannath, Balavadra and Suvadra. The Lord and his favorite sweet both are revered in this city.
Leave other cities of Odisha there are hundreds, if not thousands of exclusive shops selling these layered, flaky sweets in Puri alone. It can be found everywhere from Grand Road or Bada Danda in front of Lord Jagannath temple to bustling shopping areas near the famous Swargadwara or the smaller shops along the sea beach or even outside Railway station. Of course, quality varies in taste, texture and price. It would not be wrong to say Khaja is an integral part of Odia history and culture.
However, the strange part is that the city of Puri cannot claim to be a place where this revered sweet is originated. There are two distinct theories. One theory goes on to say that it reached Puri from Kakinada, Andhra Pradesh with two varieties Madatakhaja and Gottamkhaja.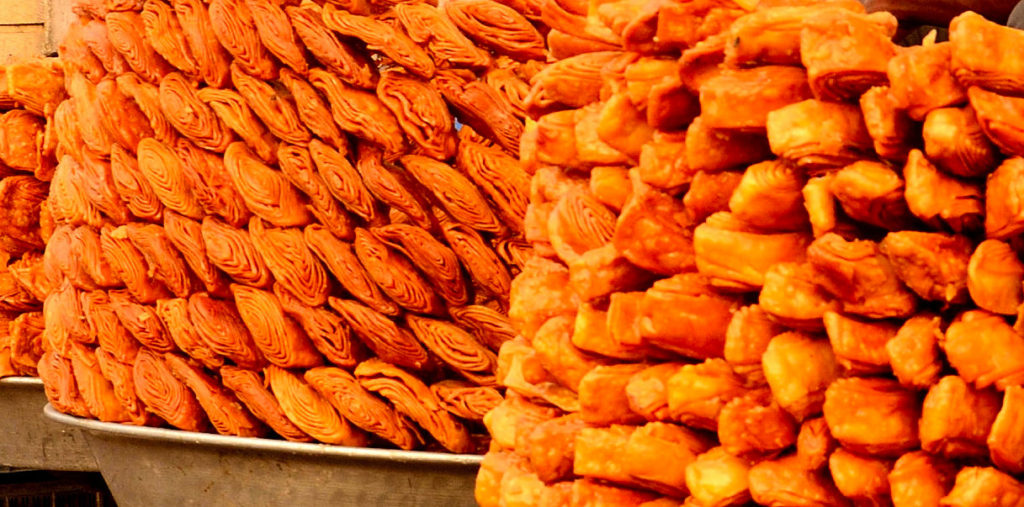 The other and probably most likely theory says the present-day Khaja has its roots going back to the Mauryan dynasty and place of origin being south of River Ganga. In fact, a small present-day town named Silao near the historical city of Nalanda holds the GI (Geographical Indication) tag for Khajas made here. Like Puri the Khajas found here are dry from the outside and syrupy from inside and can be stored for many days. There are even mentions of a wheat-based layered sweet in Rigveda and Chanakya's Arthashashtra! Legend is said that Lord Gautam Budhha also used to like Khaja very much. He used to consume them by crushing them in milk and offer them to the monks studying under him.  The earliest of Khajas were quintessentially made of wheat owing to the fact that wheat was cultivated widely in Mauryan-ruled areas. The present-day Khaja of Puri would most likely have traveled from areas south of the Ganges which was under Mauryan rule to the Kalinga kingdom of which Puri was a part. Kalinga roughly represents the present-day Odisha. The 13th Century food recipe book Manasollasa gives ample evidence that Khaja or Khajjaka is liked as gifts even by royals.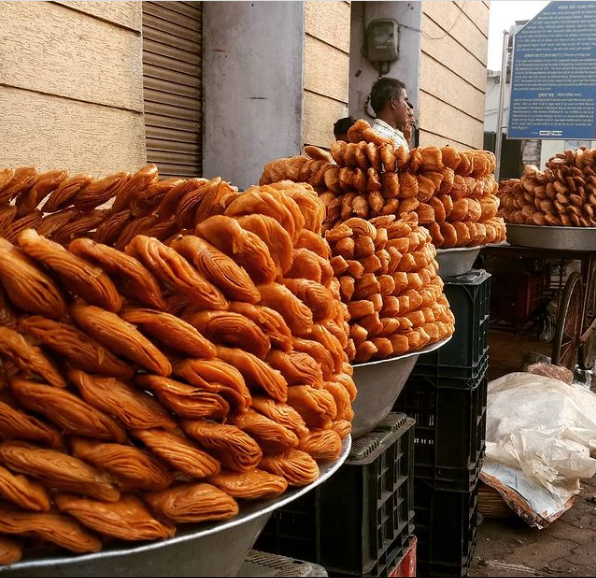 Over the course of time, many innovations and modifications took place in making this sweet, so much so that the original recipe is probably lost! However, that does not take away the credit from local Odia chefs who made modern-day innovations like adding Maida or refined wheat flour to the wheat for its preparation. The addition of maida helps in trapping the moisture, forms distinct layers and allows the sweet syrup to spread evenly. All these local innovations made what the modern-day Khaja is known for.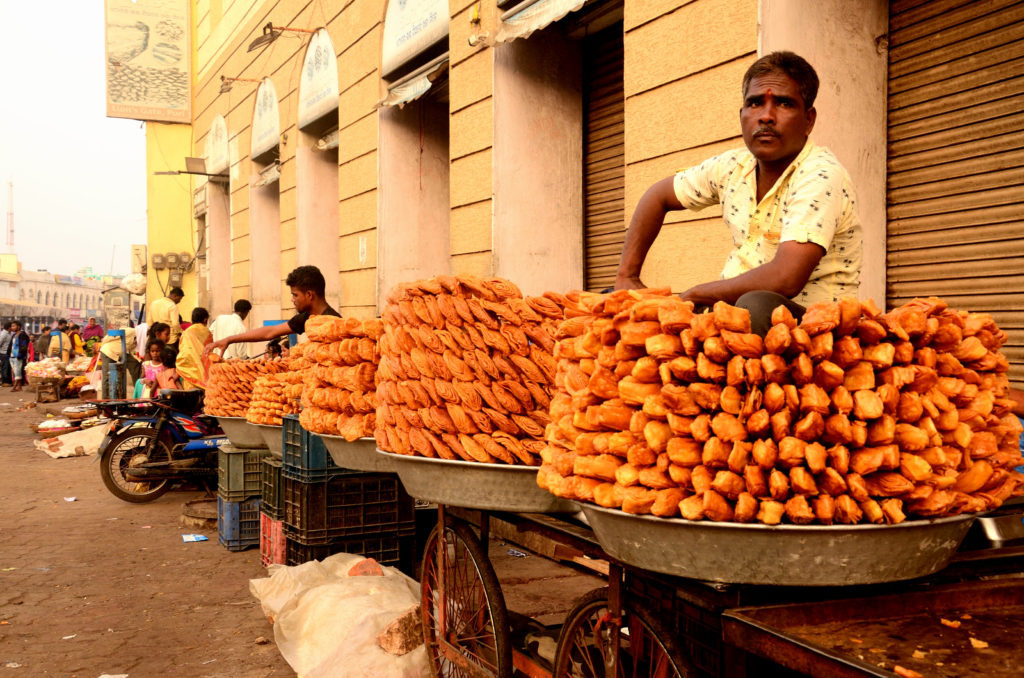 The original Khaja might have been imported from Silao in Nalanda but these little innovations by local chefs over a period of many years made the Khaja become one of the integral parts of Chappan Bhog or Mahaprasada of Lord Jagannath. The Khaja which was once imported here has totally assimilated with the local culture over the period of time giving it a distinct form. It can be safely said that today Khaja of Puri is an inseparable part of Odia food legacy, even the food history of India.
How to reach-
Puri is one of the holiest places in the country. It is well connected by both good road networks and railways. Bhubaneswar, the capital of Odisha is just 67 km from Puri. The nearest Airport is also situated at Bhubaneswar. Apart from direct trains, Puri can be reached by changing trains at Bhubaneswar and Khurda Road stations.
Where to stay-
Puri has a large number of stay options as it is frequented by thousands of holidaymakers, devotees every year. Thus finding good hotels, guest houses, resorts as per one's budget should not be a problem. Most of the hotels situated on the beach road leading to Swargadwara. Online booking can also be done using any online app.
Food-
Being close to West Bengal and visited by a large number of tourists from West Bengal the food of Puri at least in the areas thronged by tourists has a distinct Bengali influence. However, local delicacies like Dalma, Malpua, Chenapoda are also very popular. It's heaven for seafood and street food though all kinds of food are available. Observe the cleanliness of the place before jumping into these stalls.
The most famous sweet of Puri is of course Khaja and there are several well-known shops present there. A few well-known names which come to mind are Nrusingha Sweets, Kakatuyar Mishthanna Bhandar, Ganguram Sweets etc. They are all situated near the Swargadwar area.  Kindly note the above names are only indicative as it is practically impossible to tell which shop sells the best Khaja as there are hundreds of shops selling the most famous sweet of Puri nearby Swargadwar area alone!
Notice Regarding Third-Party Advertisements:
This is a cached database listing from another source and all content is created and provided by the advertiser who is solely responsible for such content including, without limitation, all text, images, contact information and websites. We assume no responsibility or liability for such content or the content or operation of websites that you may link to and visit. We do not endorse, review, or control any websites that are linked to or from an advertisement. Please read more about us and review our terms of use and conditions for additional information about database listings appearing on our site.
Please reference our online safety tips for general tips and techniques you should keep in mind to protect yourself and your privacy online. Additional information is also available about identifying and reporting suspected Human Trafficking.
You are viewing cached results from https://wayfarerscorner.com/the-khaja-of-puri/