Vacations
The Hatu Temple- explore the tranquility!
Do you want to travel through a narrow, steep and curvy mountain road in the company the conifers, oaks, maples with unhindered background music presented by Thrushes, Himalayan Magpies and Wood Peckers? Do you want to explore an extremely beautiful ancient temple with fine wood carvings amidst the backdrop of snowcapped mountains where you can feel the cool wind from these mountains embrace you without any conditions? Or do you want to visit a place so calm, surroundings so serene that the sounds of your own steps might feel obtrusive?
If all or any of the above tickles your traveling feet then the Hatu Mata temple atop Hatu peak at 3400 Meters (11,152 ft) could the place you won't repent coming to!
This beautiful hilltop temple is dedicated to Mandodari the wife of Ravana. Goddess Kali or Kali Mata is presiding deity here. It is also believed that Pandavas spent some time here during the period of their Agyatavasa, final days of their hiding which had to be spent in anonymity.
Nevertheless, the Hatu peak which is also the second-highest peak of Shimla district presents a welcome relief from way to crowded and touristy Shimla, Kufri etc. Shimla as we know was once the summer capital of our country during British rule is probably one of the most visited hill stations in India. Each year thousands of tourists visit Shimla and this also makes this beautiful hill station a very crowded place especially during peak seasons and long holidays.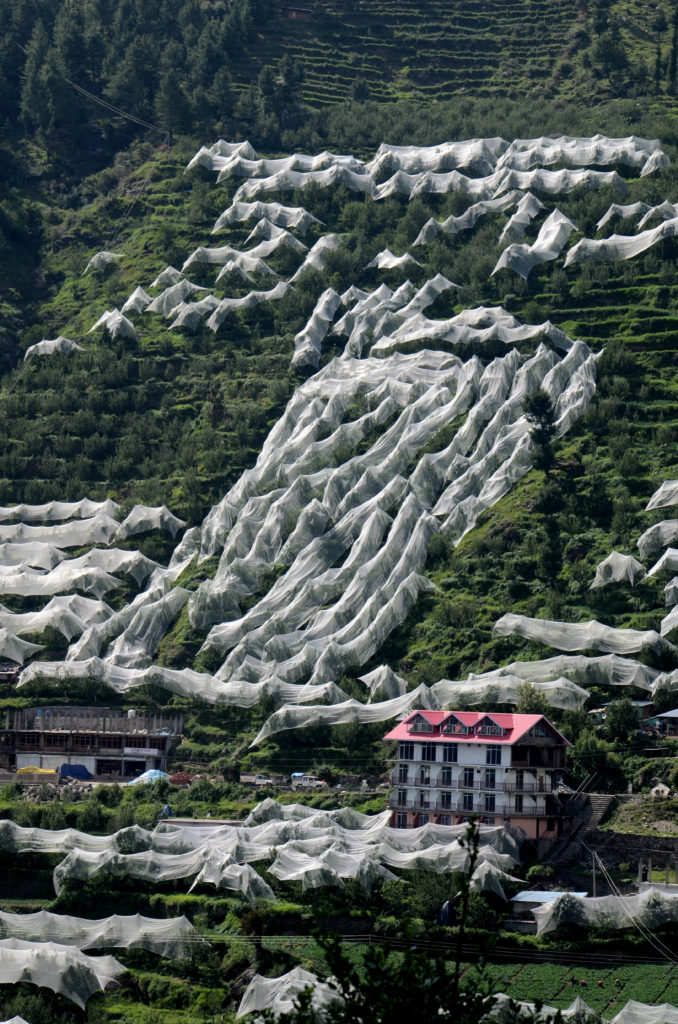 However, the Hatu peak or Hatu Mata temple which is around 70 KM from Shimla is a different world altogether. The place remains quiet on most days even during peak season. One of the reasons could be its location. Most tourists visiting Shimla often get busy in and around Shimla, Kufri etc while some others head for Kinnaur, Lahaul and Spiti regions. Only a small number of travelers take this detour of 8 KM from Hindustan- Tibet road or Shimla- Rampur- Sarahan Highway at Narkanda to visit the Hatu peak.
This detour is not an easy climb at all even for the best of vehicles. Though the route is very scenic at the same time is very narrow and steep as well. For the most part, there is hardly enough space for other vehicles coming from the opposite direction. Though there are some dedicated spots for the passage of vehicles mostly it is all about the skill of the driver. For bikes, the ride to the peak tough and could add to the adventure quotient but it is manageable. Those who want to be away from these machines and are fit enough to walk this steep climb there is always an excellent hike waiting to be explored. But once at the top, a breathtaking panoramic view of snowcapped mountains at one side and deep valleys on the other welcomes you wholeheartedly. You can spend hours and hours just sitting there observing the beauty all around. If possible, spending some time during the sunset is highly recommended.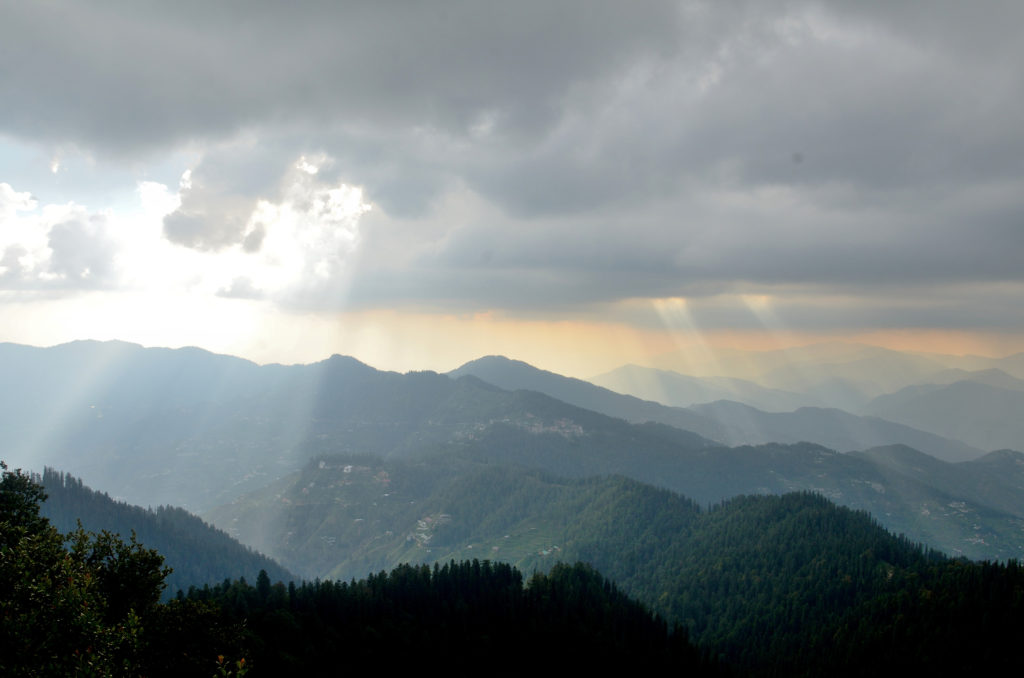 Come to Hatu Mata temple on the first Sundays of Jyeshtha month as per the Hindu calendar which roughly falls during the month of June every year and you would witness this otherwise quiet place abounds with devotees from the all over Narkanda and other places. People celebrate this once a year festivity with great aplomb and it is said that the presiding deity of this temple fulfills all wishes if it is well-meaning and asked from the true heart!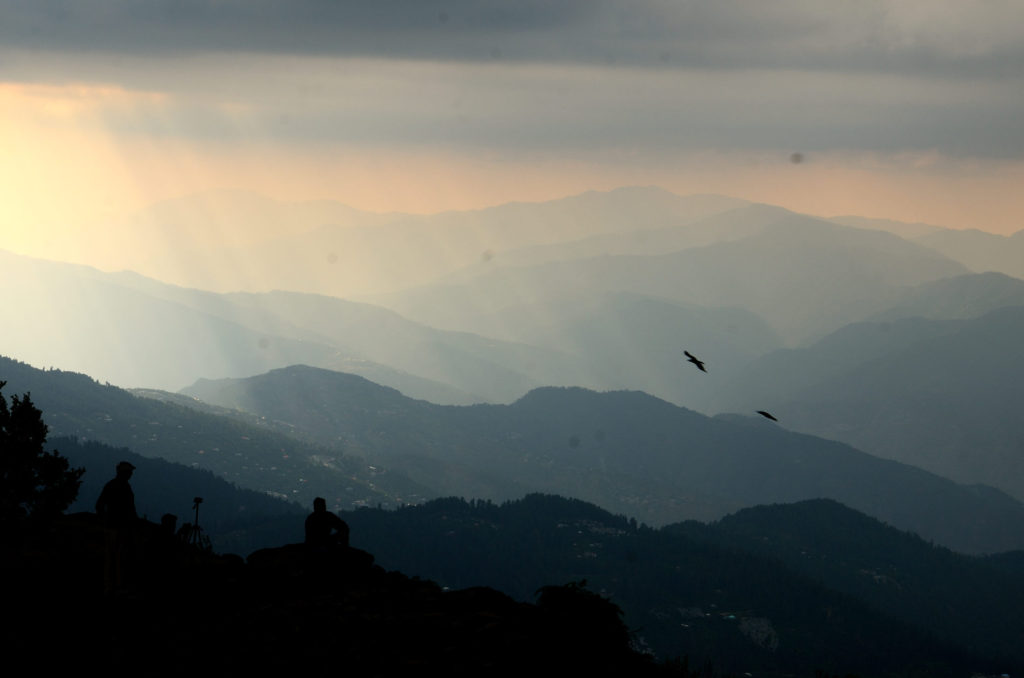 Well, for busy bees the nearby apple orchards of Thanedar, a small lake some distance away can keep them occupied. During winters this place covers itself fully with snow turning it to an excellent place for ski enthusiasts. Except for the peak monsoon season when rainfall could make this road a little slippery one can come here anytime and spend some precious moments away from the hustle and bustle of its more popular neighbours!
Who knows you may find the comfort your soul is always looking for!
******
How to reach:
By Air– Although Shimla which is 70 KM from Narkanda has an airport but frequency of flights is less compared to Chandigarh (184 KM) which has very good connectivity from all major cities of India.   
By Road- from Shimla the distance is 70 KM, Chandigarh is 175 KM and from Delhi the distance is 403 KM.
By Rail- Nearest major railhead are Chandigarh (167 KM) and Kalka (147 KM). The famed UNESCO world heritage Kalka- Shimla train starts from Kalka station and connects Shimla Railway Station.
Where to stay:
HPTDC has a very good property near the Hatu peak and can be booked online visiting its site. There is no shortage of hotels, resorts near to this place which suits all budgets and can be booked online using popular hotel booking sites.
Precautions: The place is very beautiful and the responsibility to keep it so is on us. Please don't throw garbage here, use the bins if necessary or take it back to your hotel where the disposal is easier. By all means try to generate waste as less as possible. Let us preserve the beauty of this place for the generations to come.
Notice Regarding Third-Party Advertisements:
This is a cached database listing from another source and all content is created and provided by the advertiser who is solely responsible for such content including, without limitation, all text, images, contact information and websites. We assume no responsibility or liability for such content or the content or operation of websites that you may link to and visit. We do not endorse, review, or control any websites that are linked to or from an advertisement. Please read more about us and review our terms of use and conditions for additional information about database listings appearing on our site.
Please reference our online safety tips for general tips and techniques you should keep in mind to protect yourself and your privacy online. Additional information is also available about identifying and reporting suspected Human Trafficking.
You are viewing cached results from https://wayfarerscorner.com/the-hatu-temple/