Open sea, long sunny beaches, adventurous water rides- sounds familiar, right? For most people, the first place that comes to mind would mostly be Goa, right! And why not, all these are important ingredients of an average Goa trip! Ok fine, for some it could also be Kerala, Pondicherry etc. Karnataka as a beach destination probably scores lesser points compared to all these popular beach destinations. This is when Karnataka has a nearly 320 KM long coastline with around 50 beaches to explore. The coastline stretches all the way from  Dakshina Kannada district bordering  Kerala to Uttara Kannada district bordering Goa. Most of these beaches are no known to regular tourists and frequented mostly by locals. Murdeshwar is probably the most popular beach after Gokarna, a place that is equally popular among pilgrims and holidaymakers alike from all over.
The biggest attraction is of course the giant statue of Lord Shiva which can be seen from a long distance. At 37.5 meters (123 ft) this statue is India's tallest and the world's second tallest statue of Lord Shiva at present. The beach though long and flat is nice and clean but it appears to be a little overhyped for water sports activities. I am sure most people visit Murdeshwar to see the magnificent temple, the beach just adds up to its overall attraction. In fact, more than the beach destination Murdeshwar is known for the statue of Lord Shiva and the temple. My first visit to Murdeshwar was also to see this gigantic Shiva statue, not the beach.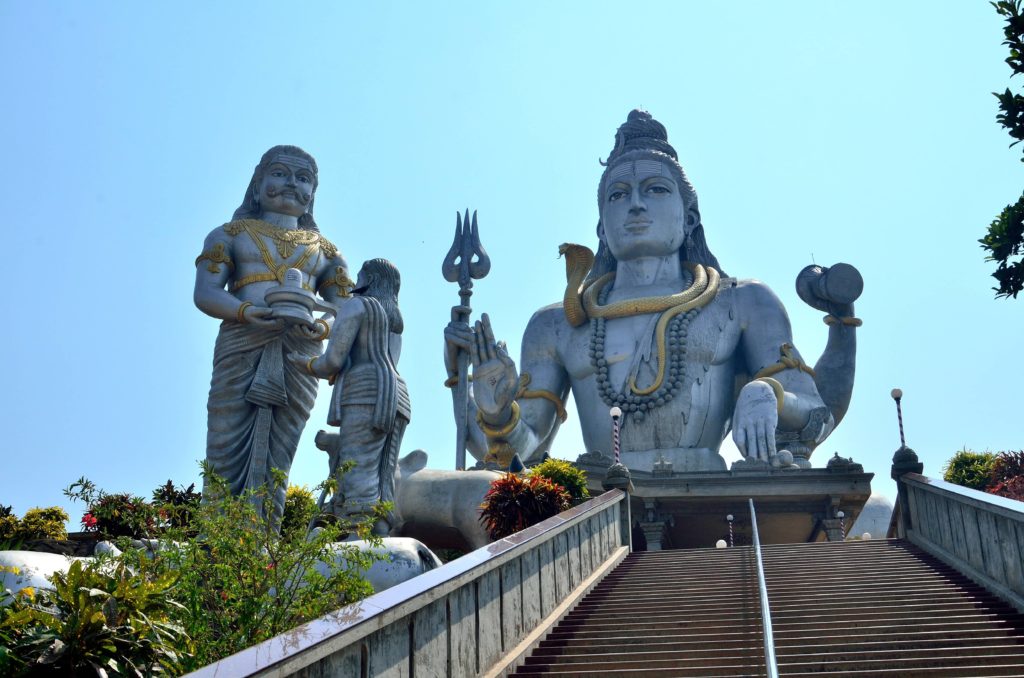 It is believed that Ravana, the king of Lanka wanted to attain immortality, so he started long penance to please Lord Shiva. He finally got success and received the blessings of Lord Shiva only on the condition that he had to take the Atman Linga (Soul of Lord Shiva) given by Lord Shiva to Lanka without putting it down even for once. Knowing very well that by getting immortality Ravana would wreak havoc on the Earth Lord Vishnu, the creator and protector of the Universe, with the help of Lord Ganesha tricked Ravana to place the Atman Linga at Gokarna, nearby Murdeshwar. After realizing that he was tricked Ravana hit the Atman Linga in a spate of anger to destroy it and but he failed, only four small pieces of this Atman Linga broke away and scattered to four places and one such piece fell at Mirdeshwar in Kanduka Giri which was later named as Murdeshwar.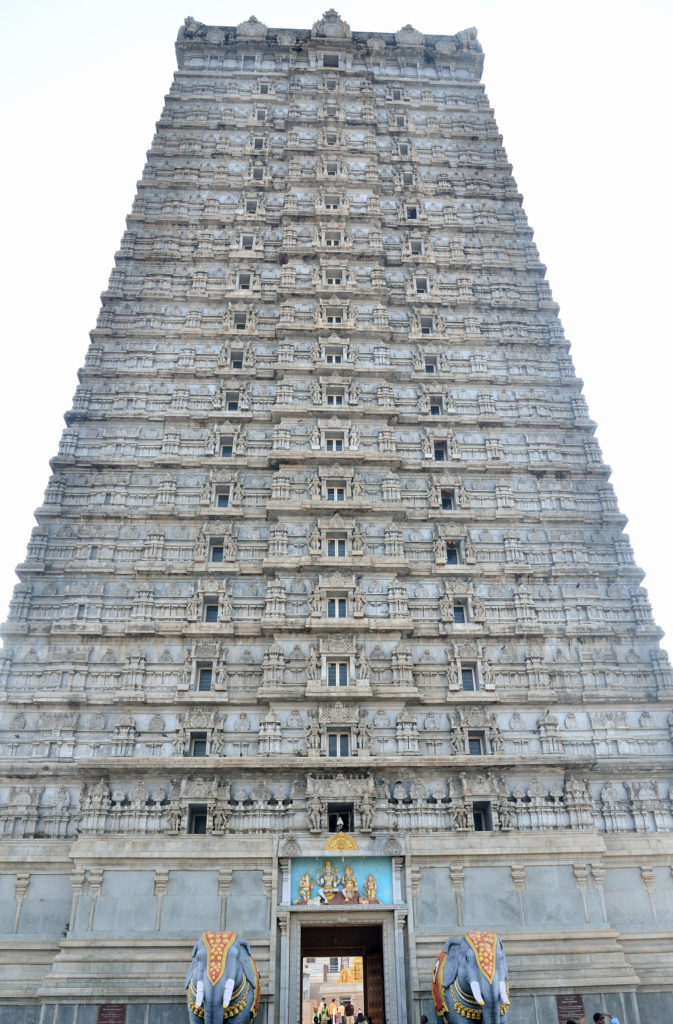 Later a beautiful temple was built at Kanduka hill, a small island surrounded by the Arabian sea from three sides which only grew in size and grandeur over time. In 2008, a 249 ft tall entrance called Raja Gopura was inaugurated at the temple. This 22 storey high Gopura along with the magnificent statue of Lord Shiva at Kanduka hill are major attractions for tourists visiting Murdeshwar. The statue is hollow from the inside and one could buy tickets to see scenes from mythology are beautifully depicted in form of different statues. Over the period the temple and surroundings had undergone major development in terms of infrastructure to suit the needs of tourists throng this place. Thankfully, the sanctum sanctorum has been retained in the original way. Thus the positive vibes that one expects to get while visiting a holy place are present inside the main temple even amid very touristy surroundings.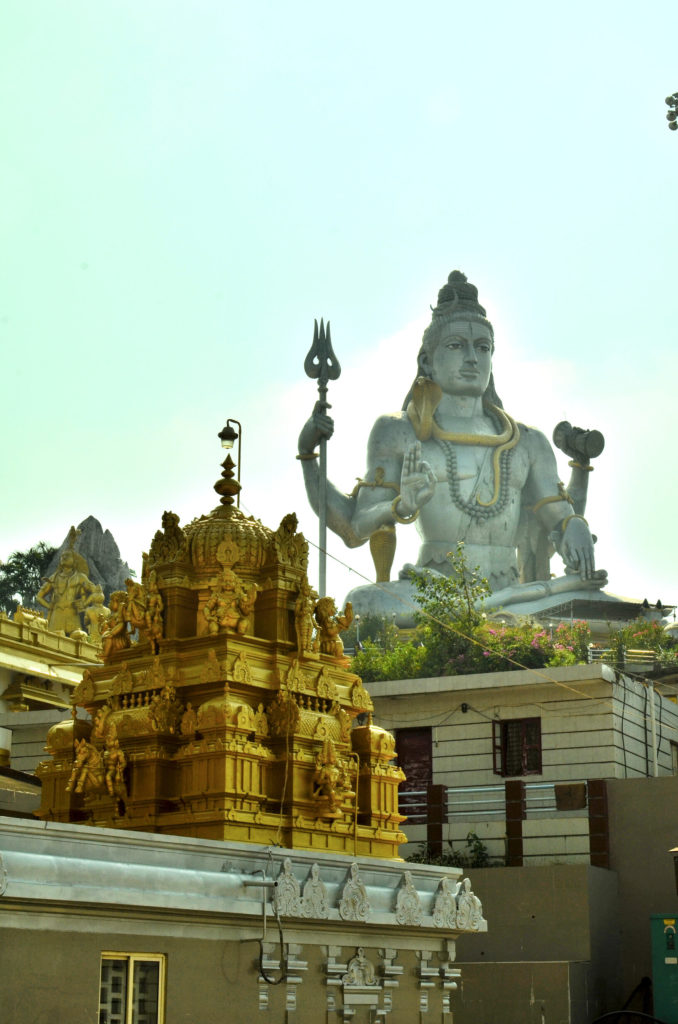 Of late many adventure water sports and rides have been introduced at adjoining Murdeshwar beach. It adds up the attractions among kids and grownups alike who like water sports. While at Murdeshwar the one activity which should not be missed is taking the elevator to reach the 22nd floor of Raja Gopura. The bird's eye view of surroundings with the sea at one side and the Western Ghats ranges at some distance on the other side is just jaw-dropping. Even if one doesn't like the view which I think is not possible one should take this elevator just to feel the fresh breeze coming from the sea. It's so soothing and so pure especially during evening hours.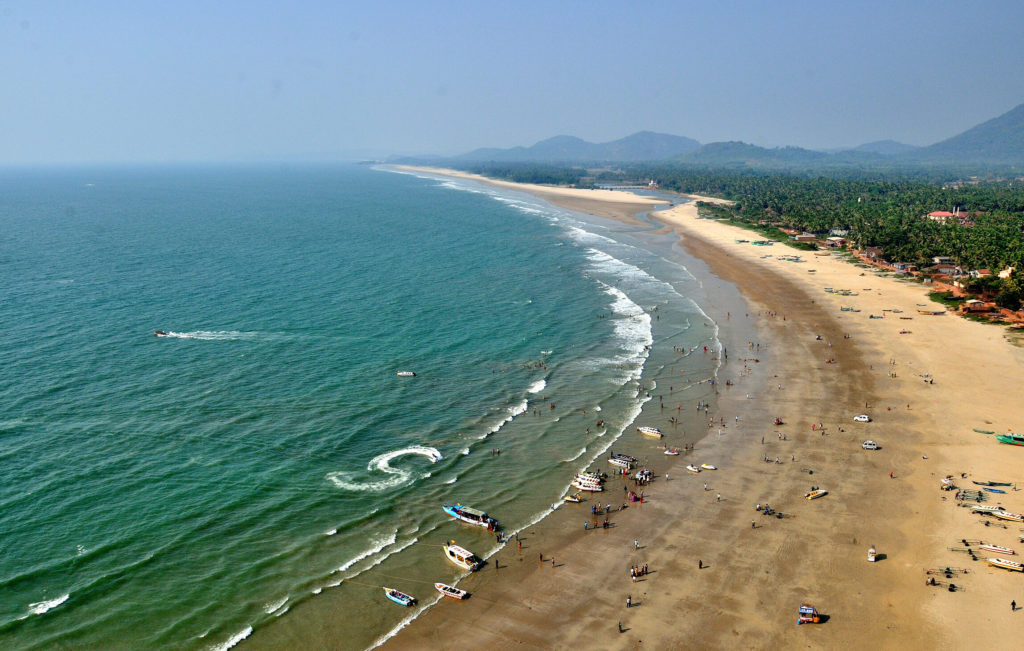 The willing devotees can enjoy the temple Prasada at the temple dining hall. The experience of eating a simple meal, seating on the floor, with lots of other devotees is just awesome. The whole arrangement of serving food to devotees is done in a very professional manner keeping in mind the cleanliness of the place.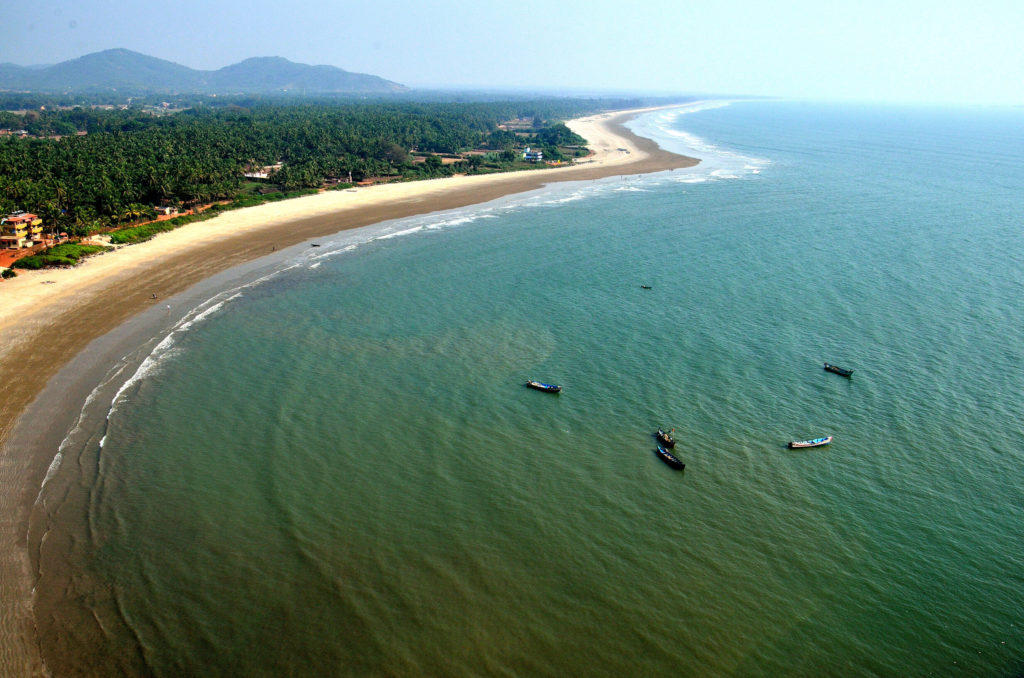 Though a day trip is enough to explore the temple and enjoy the beach activities I would recommend spending at least one night just soak in the experience of the place as a whole.  
Temple timings-
Morning- 3 AM to 1 PM
Afternoon- 3 PM to 8 PM
How to reach-
By Train- Murdeshwar falls in Mangalore- Karwar- Madgaon route of scenic Konkan railway. The Murdeshwar station railway station is situated 1.5 Km from the temple. All passenger trains and a few express trains stop there. Most express trains stop at Kumta which is 47 Kms and all express trains stop at Karwar (119 Km). Other stations major stations are Udupi (101 Km), Bhatkal (12 Km), Honnavar (27 Km). Frequent bus and auto services are available from Bhatkal and Honnavar stations. Auto rickshaws are the most convenient mode of travel from Murdeshwar railway station.
By Road- Murdeshwar falls right on NH-66 connecting Mangalore and Goa Road conditions are fine. Distances from Mangalore, Udupi and Madgao are 155 KM, 102 Km and 180Km respectively. Regular bus services are available on this route. One can very easily book a cab from any of these places. Gokarna is just 80 Km from Murdeshwar and frequent bus services as well as private taxi services are available from Gokarna.
By Air- Nearest airport is Mangalore (158 Km), Goa (205 Km).
Where to Stay
Murdeshwar is very popular among pilgrims and since it falls on the popular temple circuit so there is always a constant flow of tourists. The most attractive staying option is probably the RNS Residency which is situated just beside the temple complex overlooking the temple at one side and the mighty Arabian Sea on the other. Apart from this, there are plenty of other hotels, guest houses available here. Prior booking should be done to avoid hassles during holidays, special days when temple programs take place.
Notice Regarding Third-Party Advertisements:
This is a cached database listing from another source and all content is created and provided by the advertiser who is solely responsible for such content including, without limitation, all text, images, contact information and websites. We assume no responsibility or liability for such content or the content or operation of websites that you may link to and visit. We do not endorse, review, or control any websites that are linked to or from an advertisement. Please read more about us and review our terms of use and conditions for additional information about database listings appearing on our site.
Please reference our online safety tips for general tips and techniques you should keep in mind to protect yourself and your privacy online. Additional information is also available about identifying and reporting suspected Human Trafficking.
You are viewing cached results from https://wayfarerscorner.com/murdeshwar-land-of-lord-shiva/