Food
Lanzarote wine – explore the vineyards and wineries
[ad_1]

The fame of Malmsey wine from the Canary Islands dates back to Shakespeare's time, but these days the fresh Malvasia Volcanica and perfumed Moscatel of Lanzarote are something of a local secret. The high quality Lanzarote wine produced by artisan wineries is made in small quantities and rarely makes it off the island. All the more reason to discover these special wines on a tour of the La Geria region.
Visiting the Lanzarote vineyards is a unique experience, with the vines making green mounds against the black volcanic gravel, protected by low walls in circular patterns that spread like fish scales across the landscape.
This article may contain affiliate links that provide commission on purchases you make at no extra cost to you. As an Amazon Associate I earn from qualifying purchases.
Wine Tours Lanzarote
Taking a wine tour in Lanzarote was a great introduction the island's wines and we can highly recommend Wine Tours Lanzarote for their fun and insightful tour. We didn't even have to worry about driving, since the wine tour included a pickup from the hotel as well as minivan transport around the vineyards.
Before the wine tasting, our excellent guide Dan walked us through the Lanzarote vineyards, to explain a bit more about the history and culture of wine in Lanzarote.
While wine making in Lanzarote has a long history, it became well established after the volcanic eruptions of the 1730s. Prior to this, the La Geria region was fertile farmland, used for growing fruit and vegetables. But all this ended with 6 years of devastating eruptions that showered the area with volcanic lava and ash.
Once some normality returned, the farmers discovered that they could dig through the ash to plant vines in the soil beneath. The ash provided valuable minerals and helped retain moisture in the soil. The technique of covering the red earth with a mulch of volcanic gravel, known as picon, is still used today.
Check out this article to discover more about the Timanfaya National Park and the volcanoes of Lanzarote
Another unique aspect of Lanzarote wines is that the island escaped the disease of phylloxera that devastated vineyards in other parts of the world. As a result the vines had to be grafted onto disease free rootstock, but Lanzarote escaped the disease and so the vines here are ungrafted.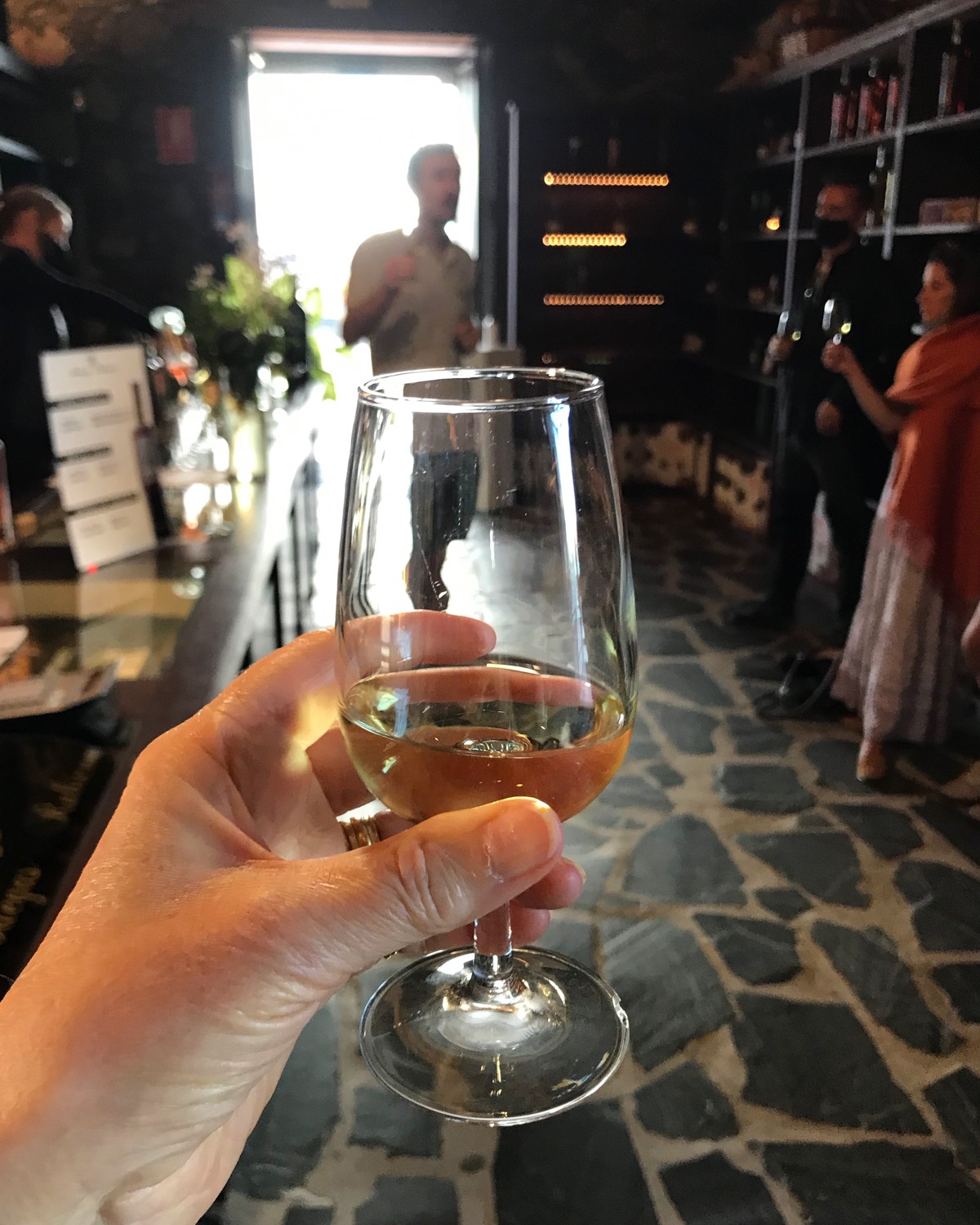 Lanzarote wine – the challenges
With no lakes and rivers for irrigation and very low levels of rainfall, wine making in Lanzarote is quite a challenge! The cool winds from the north bring moisture, which forms as dew in the early morning, running down to the vine roots which are planted in hollows or hoyos of 1-2 metres deep.
Low walls of volcanic rock known as zoco, make a semi-circle around the vine to protect it from the wind, creating a warm microclimate in which the vines thrive.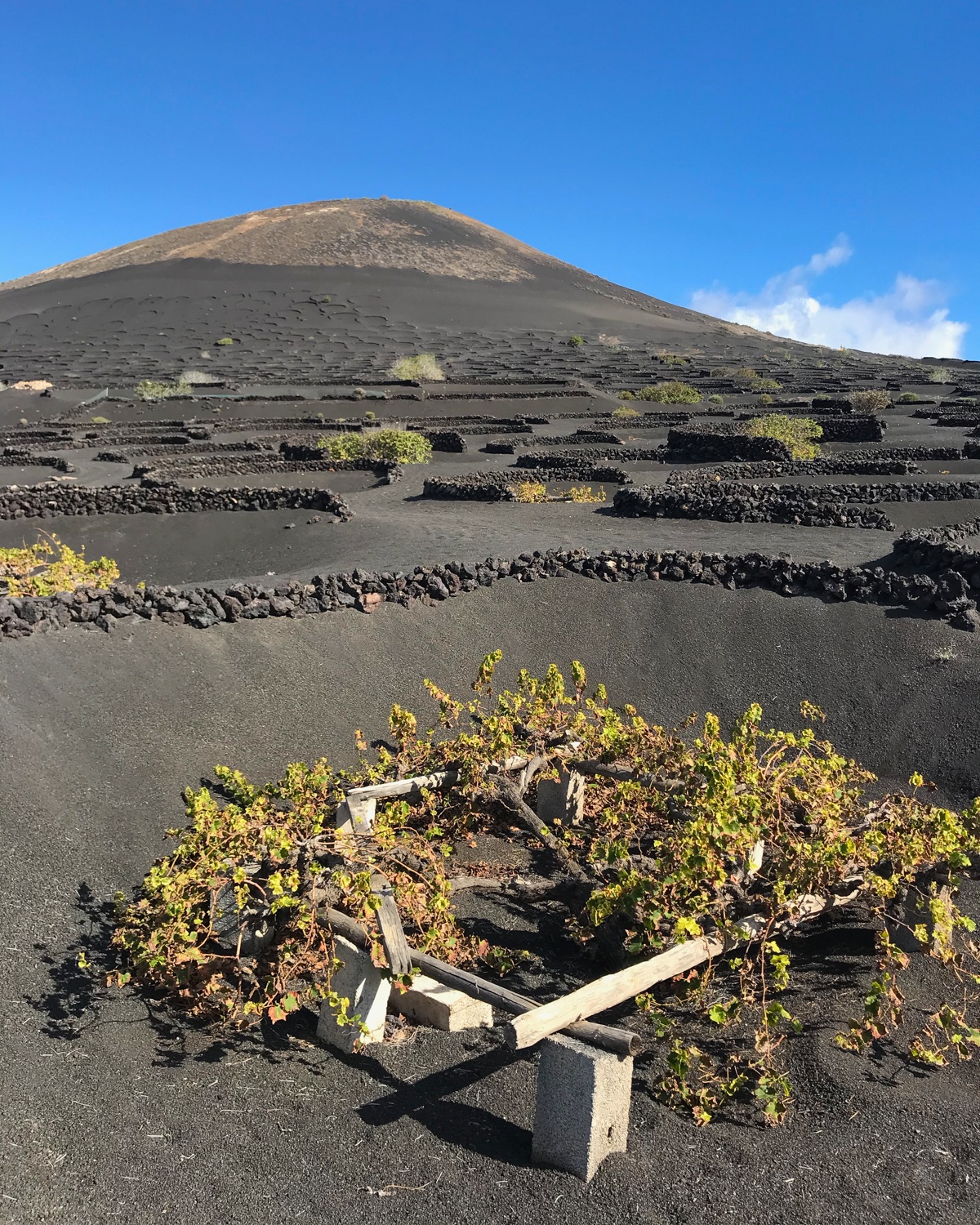 Needless to say, maintaining the walls, digging out the hollows and harvesting the grapes is backbreaking work, that can only be done by hand. Because of this, the yield of the La Geria wines is low, at only 300-400 vines per hectare, compared to 7000 vines per hectare in other countries.
In the winter, the vines are pruned right back, so that all their energy is concentrated into a single harvest. Harvesting starts in early July when the grapes are picked in the cool of the morning, filling 20 kg baskets which have to be carried by hand.
The aim is to pick into small containers, to avoid the grapes being crushed and starting to ferment, ensuring that the highest quality wines can be produced.
If you'd like to stay on a working vineyard read my review of Finca Malvasia in Lanzarote – a boutique retreat among vineyards and volcanoes. You can check prices and book here.
Quality wines in Lanzarote
With such a low yield it's all about quality rather than quantity and the winemakers are increasingly investing in the latest modern equipment, such as mechanised grape presses and steel wine vats to ensure the consistency and quality of their wines.
The best wines can use the Denomination of Origin Lanzarote (D.O. Lanzarote) which is a guarantee of quality in the local wines. Because the quantities produced are small, they tend to be sold and drunk in Lanzarote and Spain.
Taking a wine tour is a great opportunity to try some unique and unusual wines while you're on holiday, as you probably won't find them in any supermarkets when you get home!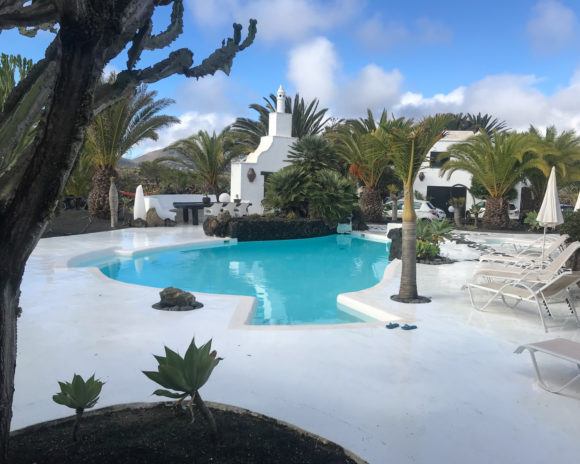 Looking for a place to stay in Lanzarote? We can recommend the boutique vineyard accommodation at Finca Malvasia where we stayed.
Having said that Wine Shop Lanzarote, sister company of Wine Tours Lanzarote, have taken some of their most popular Lanzarote wines and made them available for shipping to the UK, so you can still buy your favourite wines from them.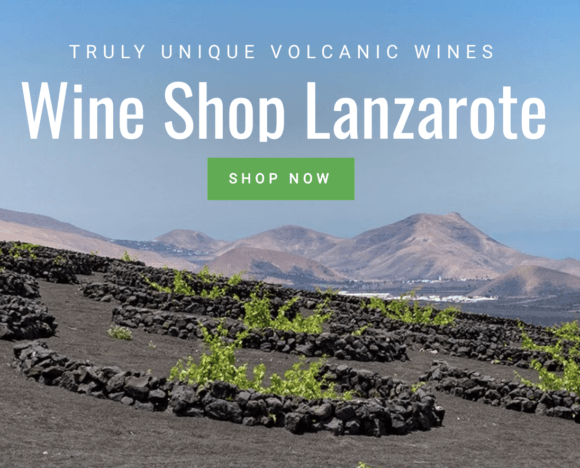 Try some of these carefully selected Lanzarote wines and have them delivered in the UK and Ireland with Wine Shop Lanzarote
Bodegas Rubicon in Lanzarote
Our tour started at Bodegas Rubicon, one of the larger wineries in the La Geria region, who buy from around 250 different farmers to supplement their own 20 hectares of vineyards.
The Bodega is right by the main road and has a large parking area at the front, so it tends to be popular with tour groups and those coming to try their restaurant.
If you are a food lover be sure to also check out my article about the food in Lanzarote
It's a family business that was acquired in 1979 by Don Germán López Figueras, a wine lover who restored the 17th century country house and winery, developing the vineyards that stretch up to the Timanfaya National Park.
Dan led us down into the vineyards behind the bodega to explain how the wines are grown, using techniques that are adapted to the island's low rainfall and volcanic soil.
Back in the winery, we had a look around the cellars, with barrels stacked along the wall, where more of the picon gravel was used on the floor, to retain the right level of humidity.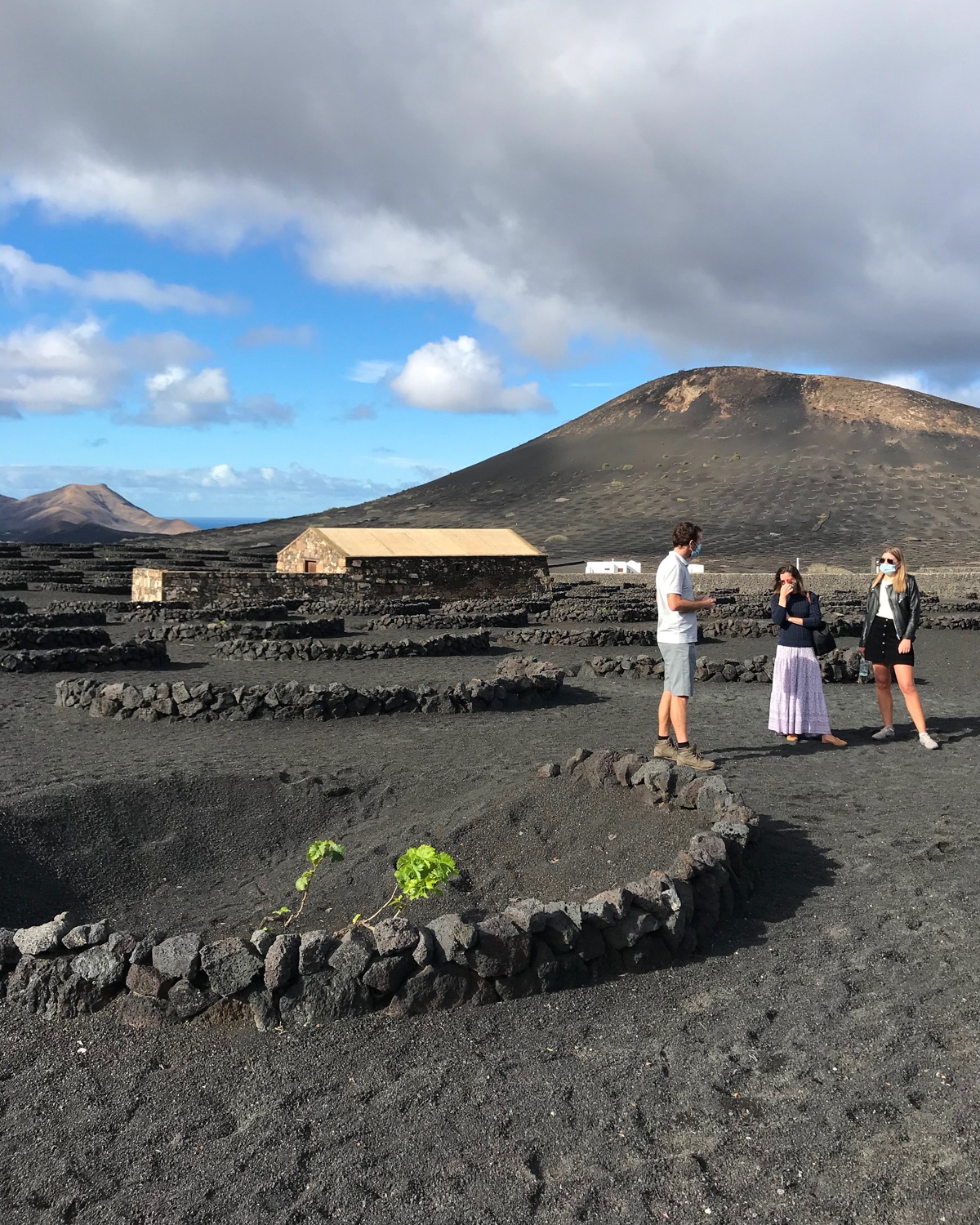 The oak barrels are used to add flavour and depth to the wine as it ages, but as each one costs over 900 euros, they are a big investment and only used for some of the wines.
After a barrel has been used 3-4 times, the wine has absorbed most of the oak flavours. Then the barrels are sold on to smaller bodegas or sent to Ireland and Scotland, where they are used to age whisky.
The square stone pressing tank could still be seen, where the grapes would be trodden underfoot in the old days to release the juice. We walked through from the tasting area into the central courtyard that is typical of Canarian houses, giving us a chance to look down into the traditional water cistern or aljibe.
Wine tasting at Bodega Rubicon
Although no longer in use to store water, the cistern has been made into a unique, glass floored dining and meeting space.
There's also a restaurant in the older part of the bodega, serving Canarian dishes and tapas, that of course can be enjoyed with the Rubicon wines, on the terrace overlooking the vineyard.
Our small group moved on to the tasting area at the front of the bodega with wooden counters and interesting chandeliers, fashioned from green wine bottles.
Here we sipped and sniffed a few of the Rubicon wines, including the classic Amalia Malvasia Seco, a pale straw coloured dry, white wine with clean, bright flavours and the Rubicon rosé, made from the Listan Negro grape with delicious berry flavours.
Similar wines are available from the Wine Shop Lanzarote who have a warehouse in the UK, so that you can make your own tasting of Lanzarote wines at home.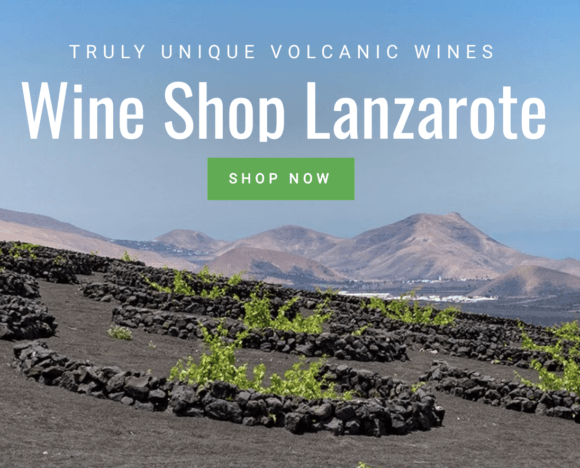 Try some of these carefully selected Lanzarote wines and have them delivered in the UK and Ireland
Bodeguita El Tablero in Lanzarote
The much smaller artisan winery of El Tablero which we visited next, was in an idyllic location down a smaller farm track. The winery only sells its wines direct to the public either by the bottle or by the glass, in their small bar and terrace.
The winery is run by Juan Antonio Suarez, who took it over when his father died, and is one of the newer winemakers making a name for himself and building up the winery.
Dan walked us through the vineyard, to see some of the older vines on the slopes of an extinct volcano. He pointed out the 100 year old vines, sheltering in huge hollows, supported by wooden frames to allow the air to circulate. The small winery only covers 5 hectares and makes just 10,000 bottles a year.
Bodeguita El Tablero is hidden a little off the main road down a track, so we felt that we were being let into a local secret! Inside the dining room of this low, whitewashed building, we tasted three of their wines, served with local goats cheese.
We enjoyed their red Listan Negro wine, that had been aged in oak and was served young and slightly chilled. A blend of 85 % Muscatel and 15% Diego grape made an unusual fruity and perfumed white, even though it was still a dry wine.
The bar offered simple tapas plates for visitors to nibble with the wines, which was an excellent way to enjoy the wines of Lanzarote, in an authentic setting surrounded by vineyards.
Vega Volcan in Lanzarote
Our last stop, Vega Volcan is another of the smaller artisan wineries that are springing up in Lanzarote, making just 3000 – 4000 bottle of wine a year. It's run by Peggy and Alfredo, who have other jobs as a solicitor and artist while also running their smallholding.
Wandering around the traditional whitewashed farmhouse, with its green painted window frames and cascade of bougainvillea, we said hello to the goats and chickens, admired the vegetable patch and breathed the fragrance of oranges in the garden.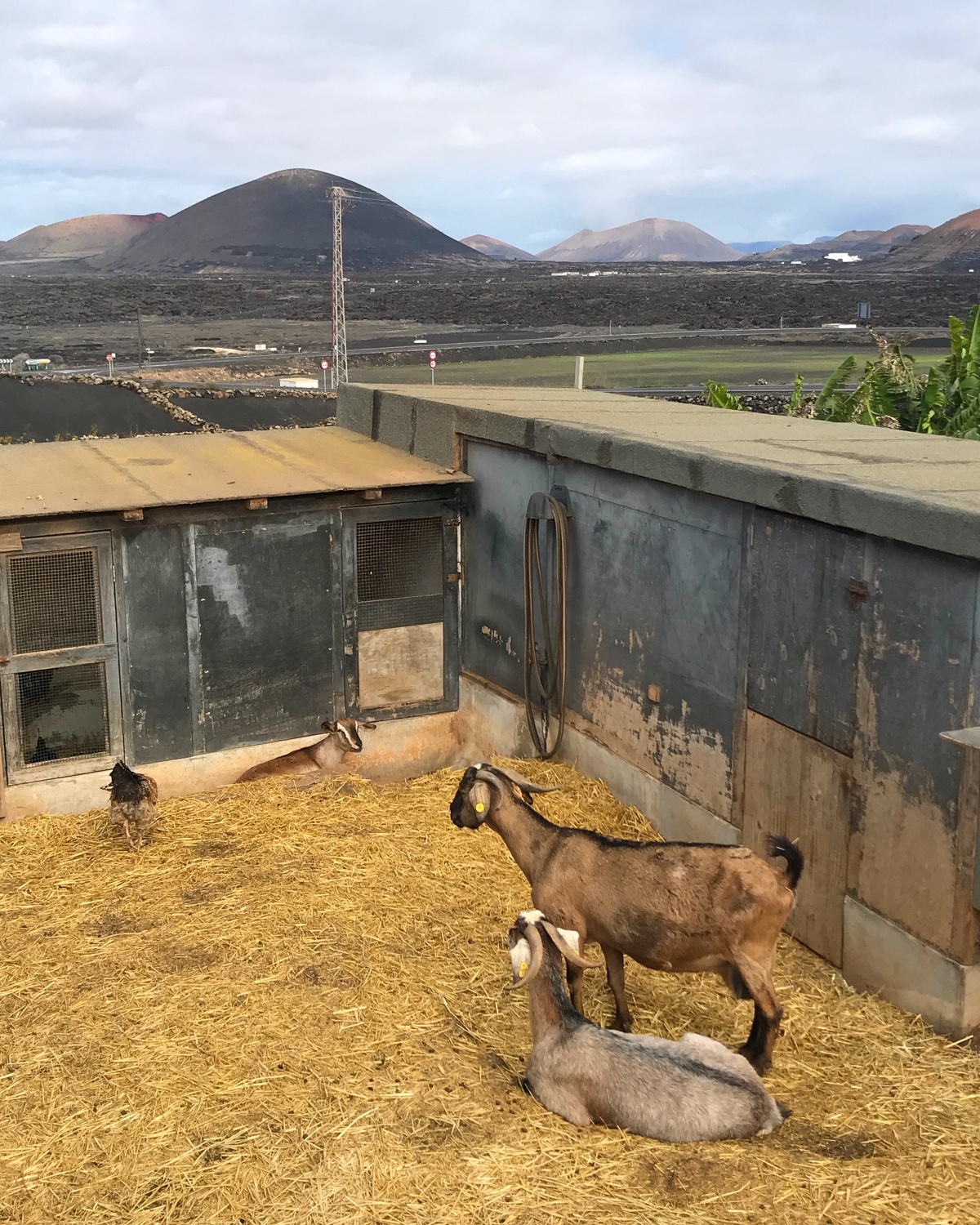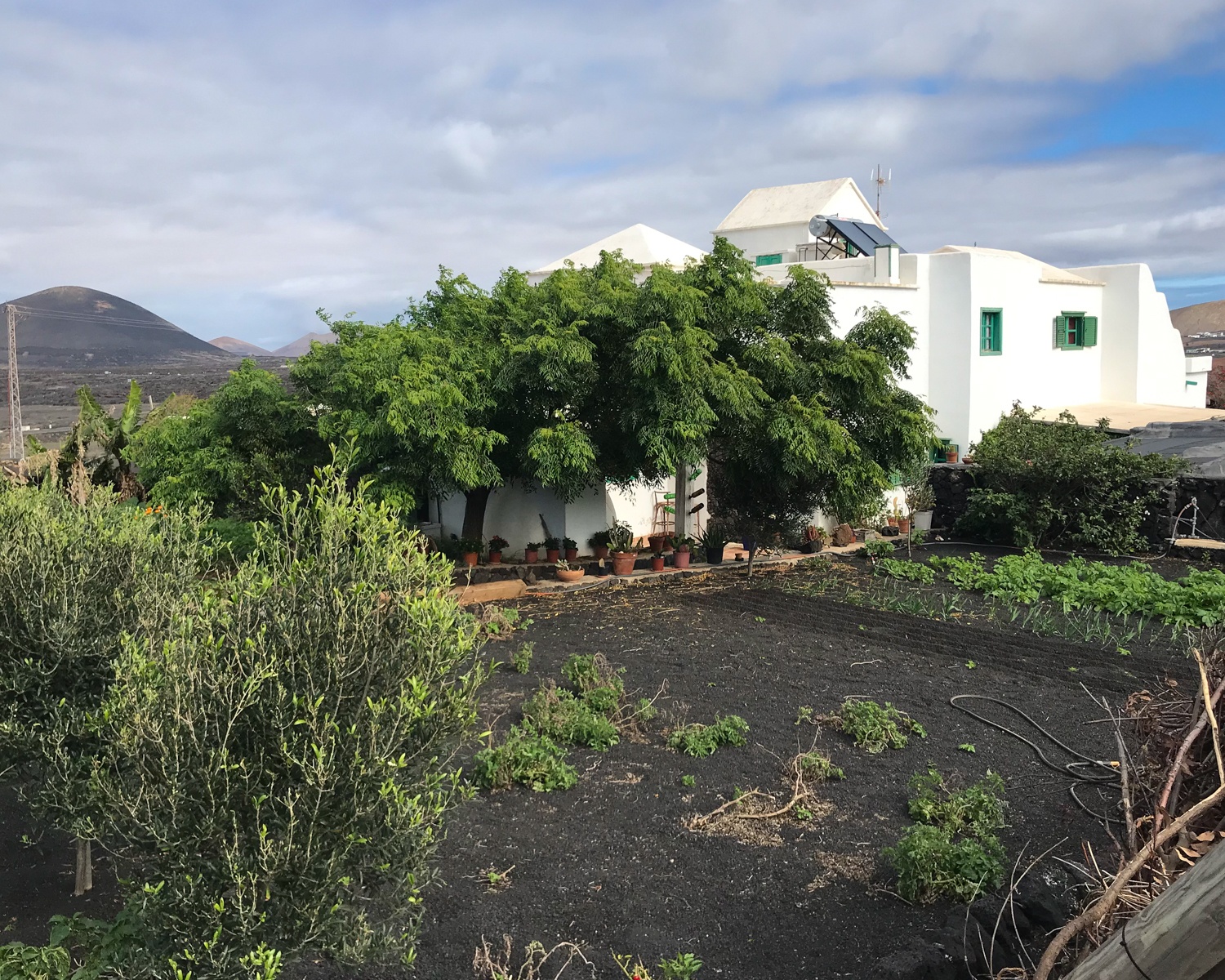 Despite the homespun charm, Vega Volcan is serious about its wine, with a room full of modern steel tanks and an underground cellar housing Alfredo's vintage wine collection. Peggy also has a workshop where she sells her artworks mixed in with some colourful and fun craft pieces by other local artists.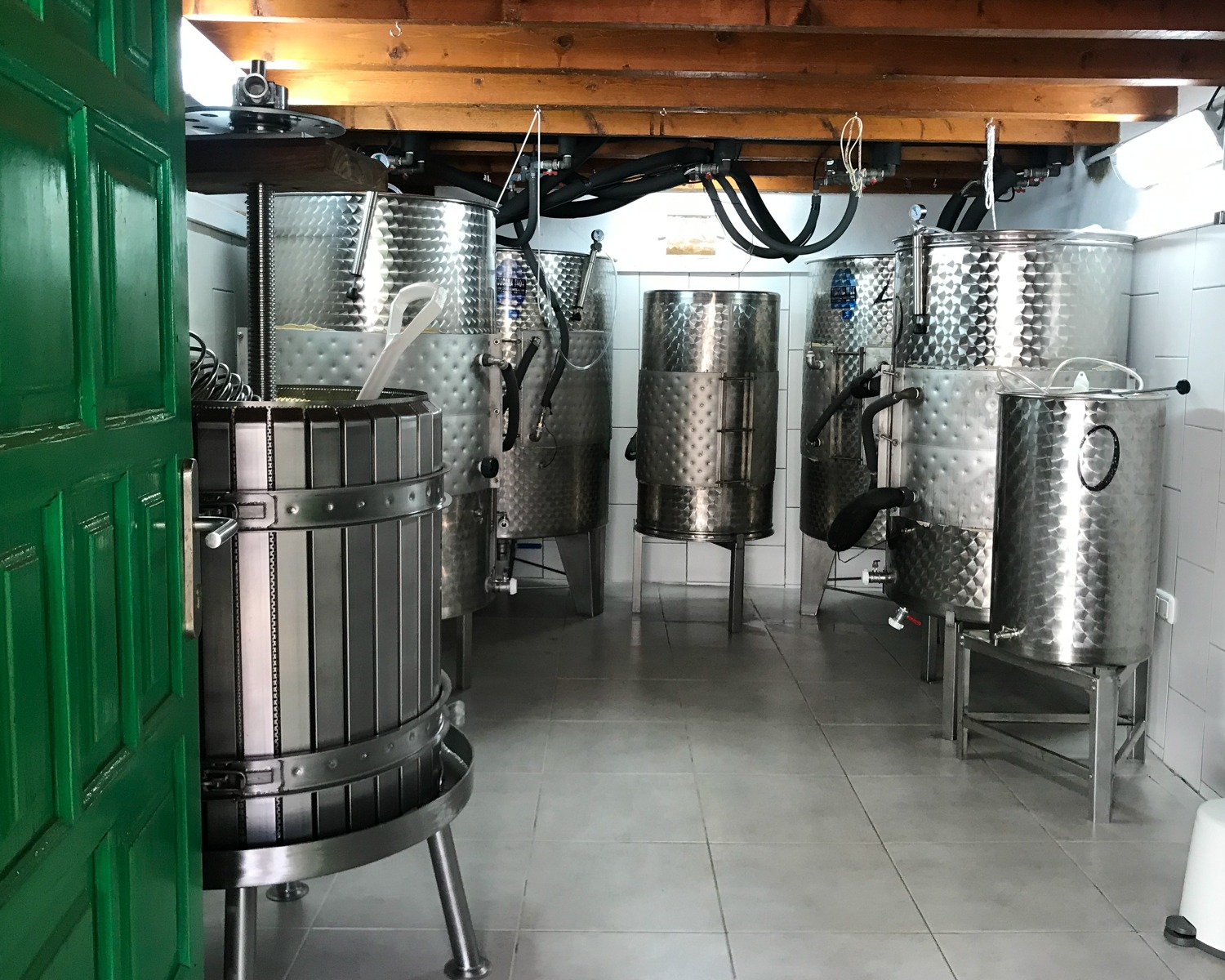 Our tasting was held in the spacious room at one end of the house, where we tried some of their Arena Blanco Seco and Rosado, together with Peggy's homemade goat's cheese and membrillo, a delicious combination.
Peggy also makes preserves from the figs, oranges, banana, guava and papaya that grow around the property and having a sweet tooth I very much enjoyed a glass of her mulberry liqueur to end our tasting.
El Grifo in Lanzarote
You can't miss the well known El Grifo winery along the main road, with its distinctive griffin logo, designed by celebrated local artist Cesar Manrique. I visited the winery on a separate occasion and it's a good option if you're short of time.
Visitors can take a look around their free wine museum, then taste any wines that they are thinking of buying in the shop. El Grifo normally has a tapas bar, but it was closed when we visited due to the Covid restrictions.
El Grifo is one of the oldest wineries on Lanzarote, their vineyards planted after the eruptions in 1736, when the bodega and manor house were also built. Since then the property has passed through three different families and is still a family business, producing half a million bottles per year.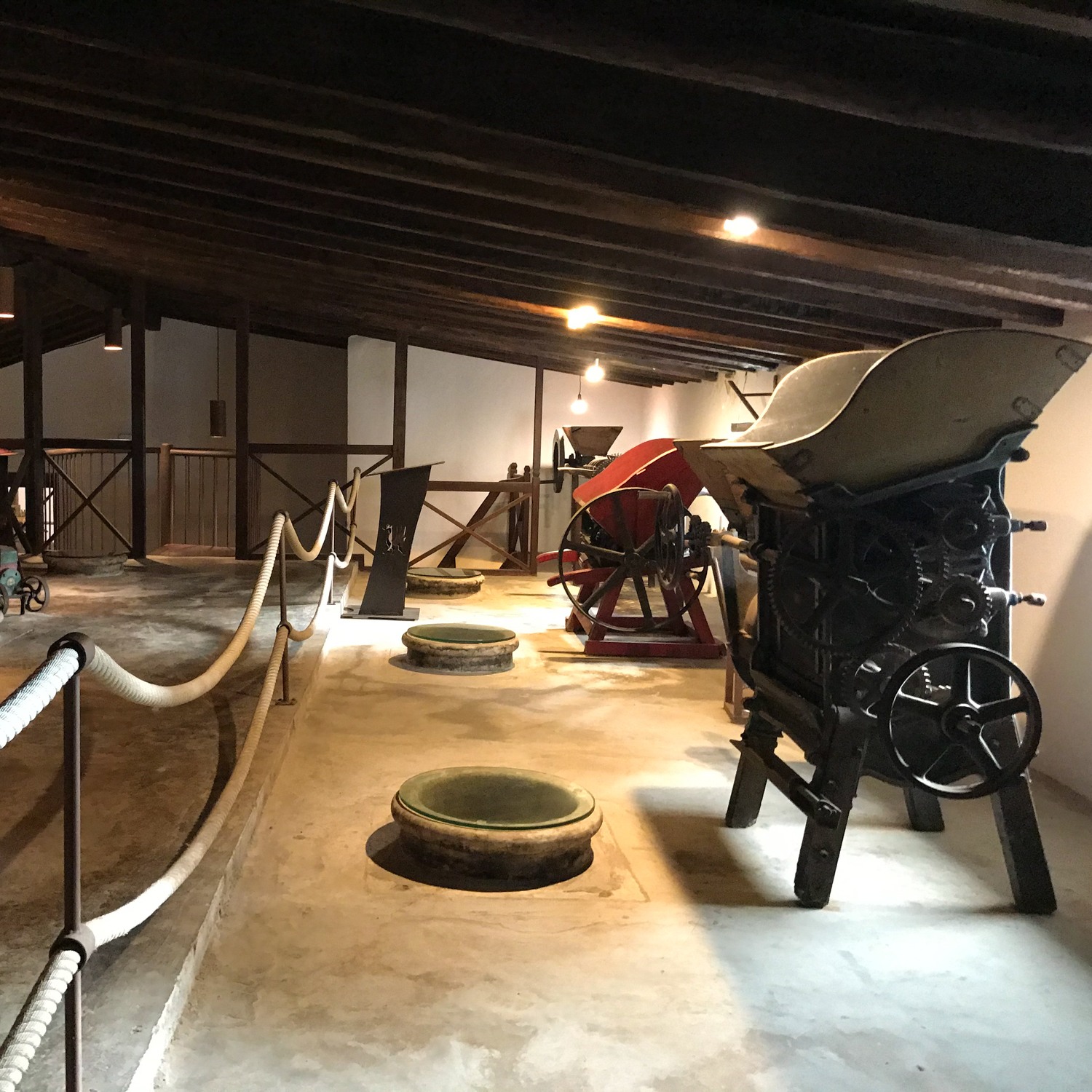 A wide range of wines can be tasted and purchased here, including the typical Malvasia Volcanica white wines and Listan Negro reds. My favourite was the Ana Muscatel, named after one of the family's female ancestors.
I enjoyed this fortified sweet muscat wine so much, that I bought a bottle in the distinctive pink gift tube, on my way home as I passed through the airport.
In case you're travelling light, there's a small selection of Lanzarote wines in the airport duty free and El Grifo also sell from their website and ship their wines internationally.
You may also enjoy: Visit La Graciosa from Lanzarote: a day trip of cycling and swimming
What grapes are used to make the Lanzarote wines?
If you're visiting Lanzarote and want to know what to look out for in the supermarket or restaurant, these are the most popular grape varieties.
Malvasia Volcanica – this grape is unique to Lanzarote since it escaped the phylloxera plague that destroyed Malvasia vines in other parts of Europe. It makes white wines that are light, delicate and ideal for summer drinking, to drink with fish and seafood.
Diego – another grape variety that is unique to the Canary Islands, with floral and apple aromas, well suited to the climate of Lanzarote.
Listan Blanco and Listan Negro – The Listan Blanco makes a full bodied white wine with creamy flavours and mineral fragrance, while the Negro can be used to make a dry rosé or red wine, sometimes blended with other grapes.
Moscatel Alexandria – this old variety was used for the popular sweet wine known as Malmsey in Shakespeare's time, and makes a deliciously perfumed, sweet dessert wine.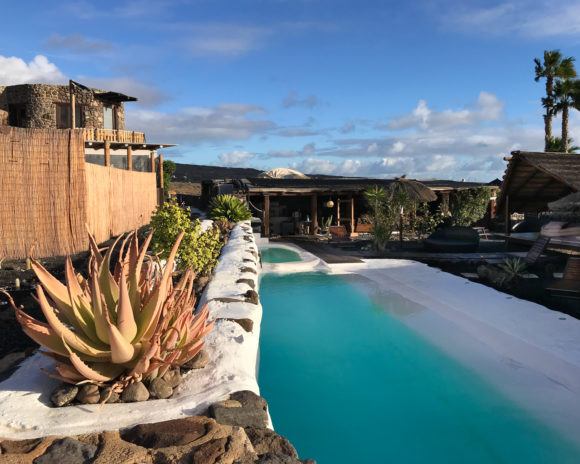 Looking for a place to stay in Lanzarote? We can recommend the eco-village at Finca de Arrieta where we stayed.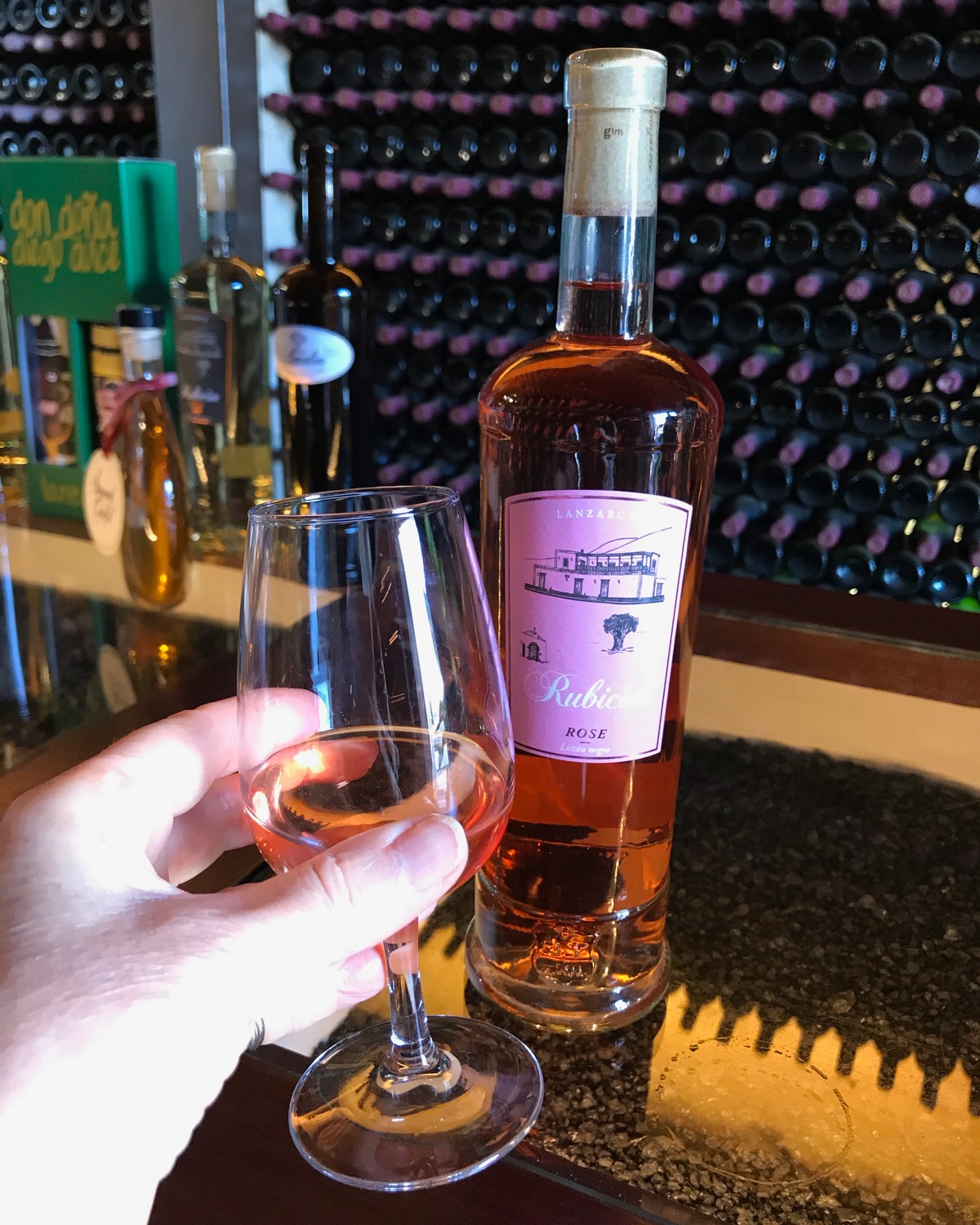 Plan your trip to Lanzarote
For a comprehensive but compact guidebook covering all you need to know about Lanzarote (including La Graciosa), I recommend the Lanzarote Marco Polo pocket guide.
This is the guidebook that I used while were were there and it gives lots of background information and insider tips on the best things to see, including a free touring app with maps to download and use offline.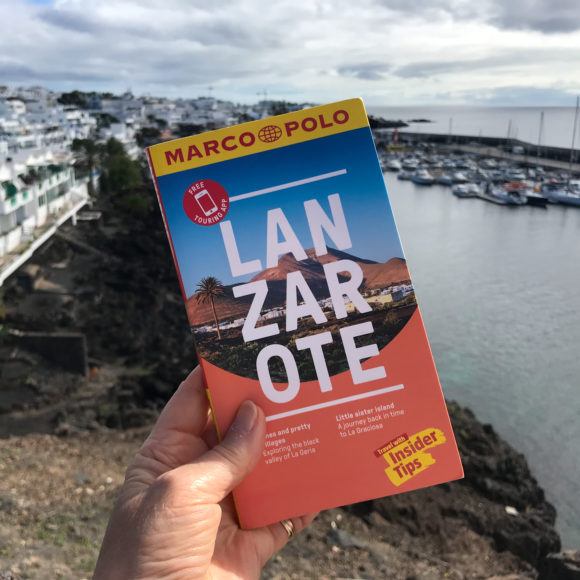 Looking a guidebook for Lanzarote? We used and can recommend the Marco Polo pocket guide
If you're looking for a wine tour in Lanzarote, we can highly recommend Wine Tours Lanzarote for their fun and insightful tour. We didn't even have to worry about driving, since the wine tour included a pickup from the hotel as well as minivan transport around the vineyards.
Where to stay in Lanzarote
We stayed at two delightful places during our 10 day trip to Lanzarote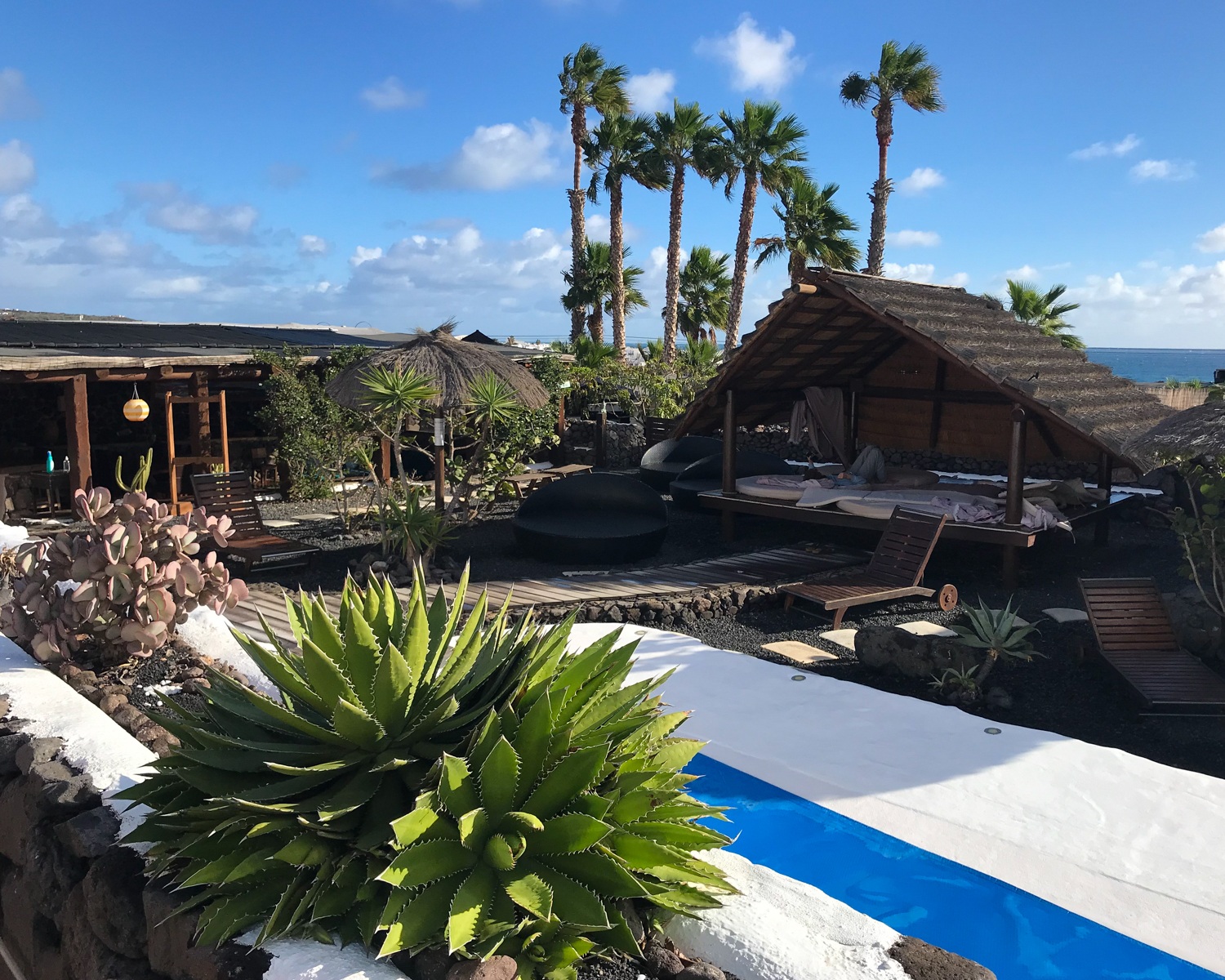 Finca Malvasia – boutique rural accommodation in the heart of the La Geria wine region, set among a working vineyard. The stylish cottages converted from the old winery are furnished in contemporary style, around a turquoise Cesar Manrique style swimming pool. Read my review of Finca Malvasia here.
For more places to stay check out these Lanzarote hotels.
Find more information to plan your visit to Lanzarote on the Turismo Lanzarote website and the Hello Canary Islands website.

Pin it
Our wine tour was hosted* by Wine Tours Lanzarote
* More info on my policies page
This article is originally published at Heatheronhertravels.com

[ad_2]

Notice Regarding Third-Party Advertisements:
This is a cached database listing from another source and all content is created and provided by the advertiser who is solely responsible for such content including, without limitation, all text, images, contact information and websites. We assume no responsibility or liability for such content or the content or operation of websites that you may link to and visit. We do not endorse, review, or control any websites that are linked to or from an advertisement. Please read more about us and review our terms of use and conditions for additional information about database listings appearing on our site.
Please reference our online safety tips for general tips and techniques you should keep in mind to protect yourself and your privacy online. Additional information is also available about identifying and reporting suspected Human Trafficking.
You are viewing cached results from http://feedproxy.google.com/~r/Heatheronhertravels/~3/9Mw9o6T9XQ8/