Tourism
La Graciosa from Lanzarote – a day of cycling and swimming
[ad_1]

Just north of Lanzarote, only half an hour by ferry, is its baby sister La Graciosa. This unspoiled island has a relaxed charm, with several golden beaches, a single port and a smattering of extinct volcanoes. Arriving on La Graciosa is a bit like stepping back in time, with only dirt tracks that criss-cross the island, making a fun day trip from Lanzarote for cycling and swimming.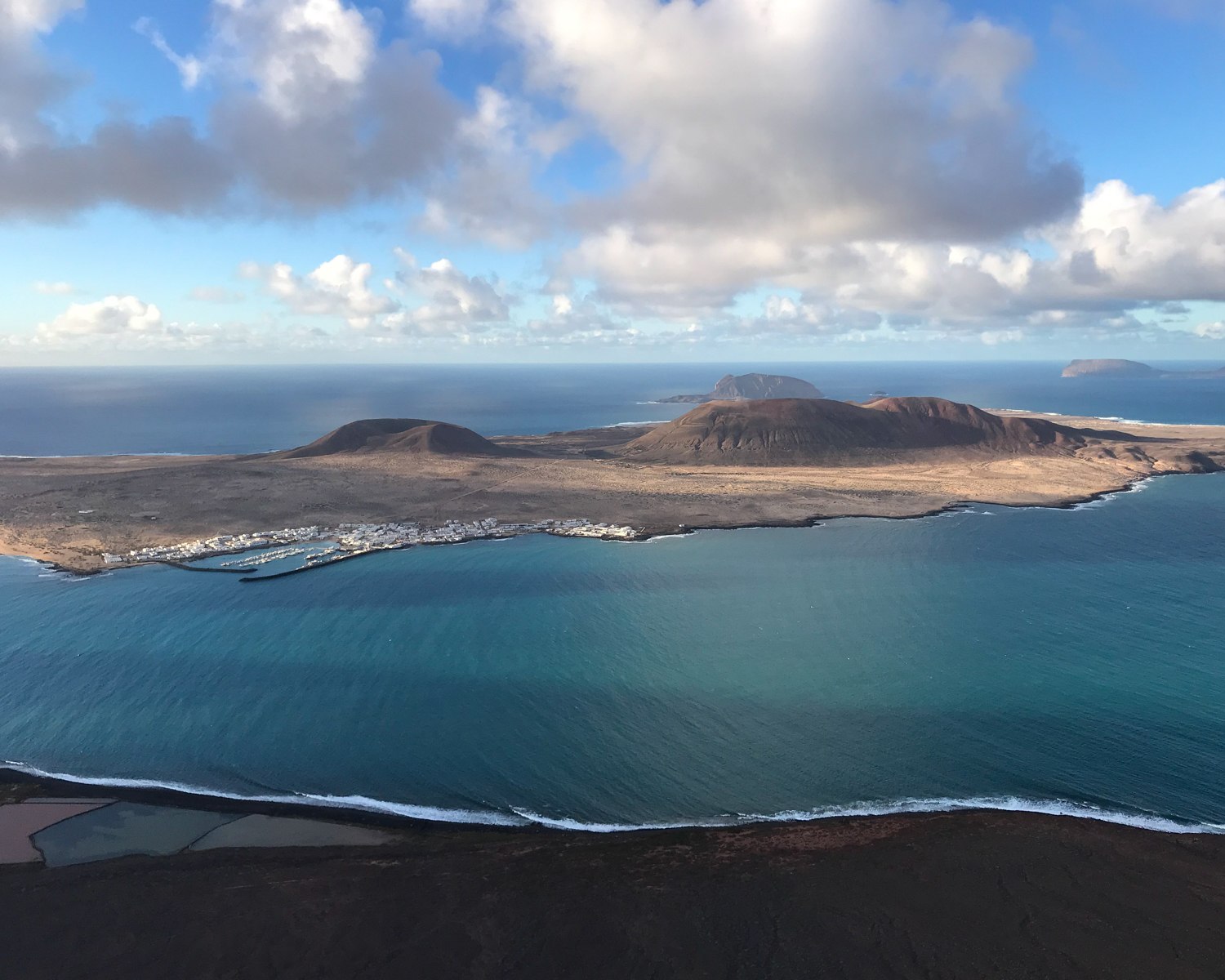 Isla Graciosa is one of the five Chinijo islands that together make up a UNESCO Biosphere reserve, but is the only one that's inhabited. The others are protected for their wildlife and not easy to visit, unless you take a bird-watching boat trip. La Graciosa was also uninhabited until 1867, when a fishing factory was established to attract families from Lanzarote to settle the inhospitable island with no local source of freshwater. Fishing still goes on here but now most of the 700 permanent residents earn a living through tourism.
This article may contain affiliate links that provide commission on purchases you make at no extra cost to you. As an Amazon Associate I earn from qualifying purchases.
The ferry from Orzola
The ferry takes only half an hour to reach La Graciosa from Lanzarote, leaving from Orzola in the northern tip of the island. We travelled with Lineas Romero ferries, one of the two ferry lines that ply back and forth, with crossings almost hourly throughout the day. You can buy your tickets in advance here.
On arrival in Orzola, parking attendants will direct you to car parks that are run by the ferry companies and are free for those who are buying ferry tickets. If you don't have a hire car, the number 9 bus line also runs from Arrecife to Orzola or you can take one of the many excursions available from the main towns and resorts.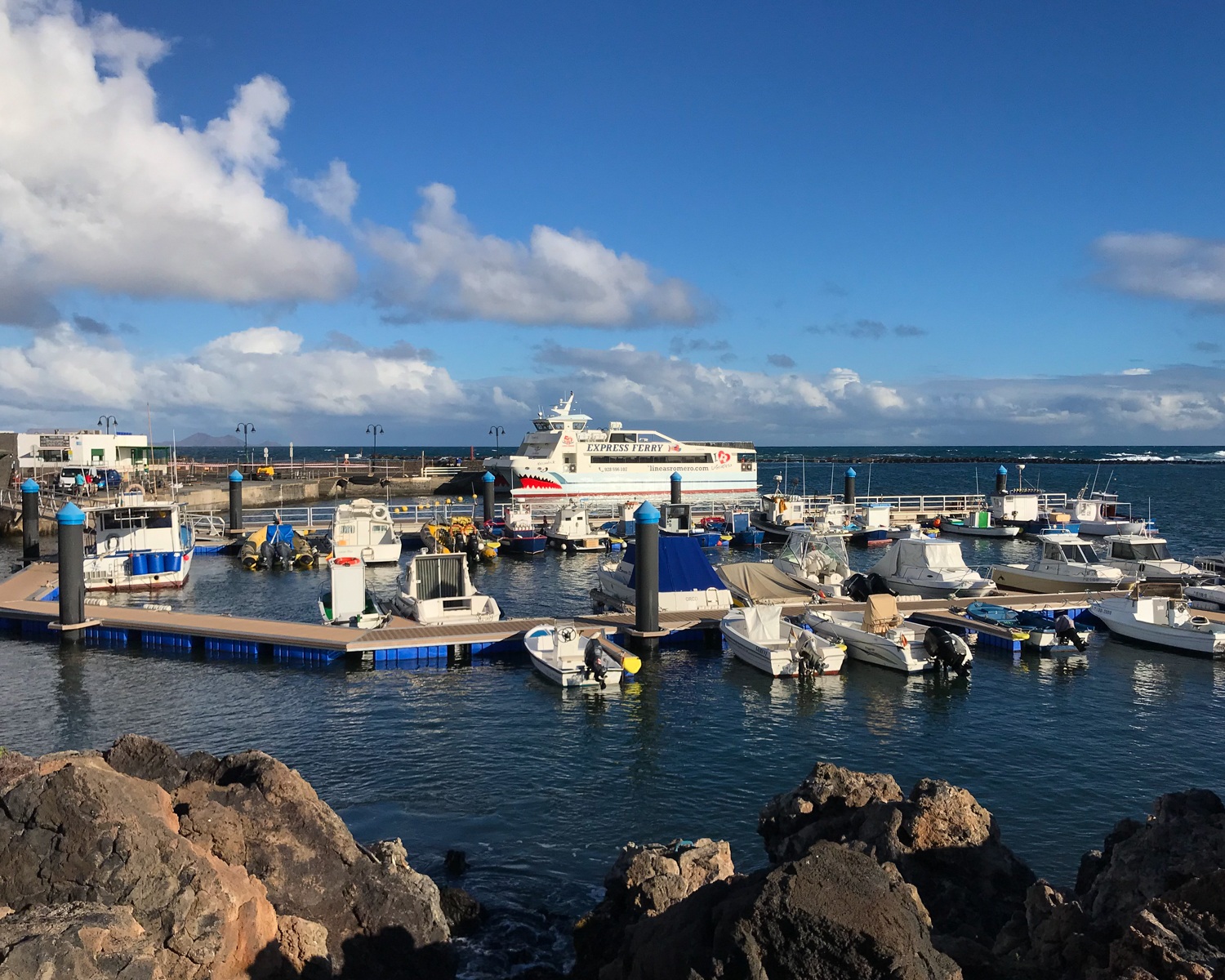 Where to eat in Orzola
Orzola has a few different food shops where you can stock up with a picnic, although there are also food shops and restaurants in Caleta del Sebo, the small town where the ferry lands on La Graciosa. We happened to have visited Orzola on a previous day and had lunch in the Os Gallegos restaurant, which we can highly recommend for its fresh seafood. It would be an excellent place to have something to eat while waiting for the ferry or for dinner once you arrive back from La Graciosa.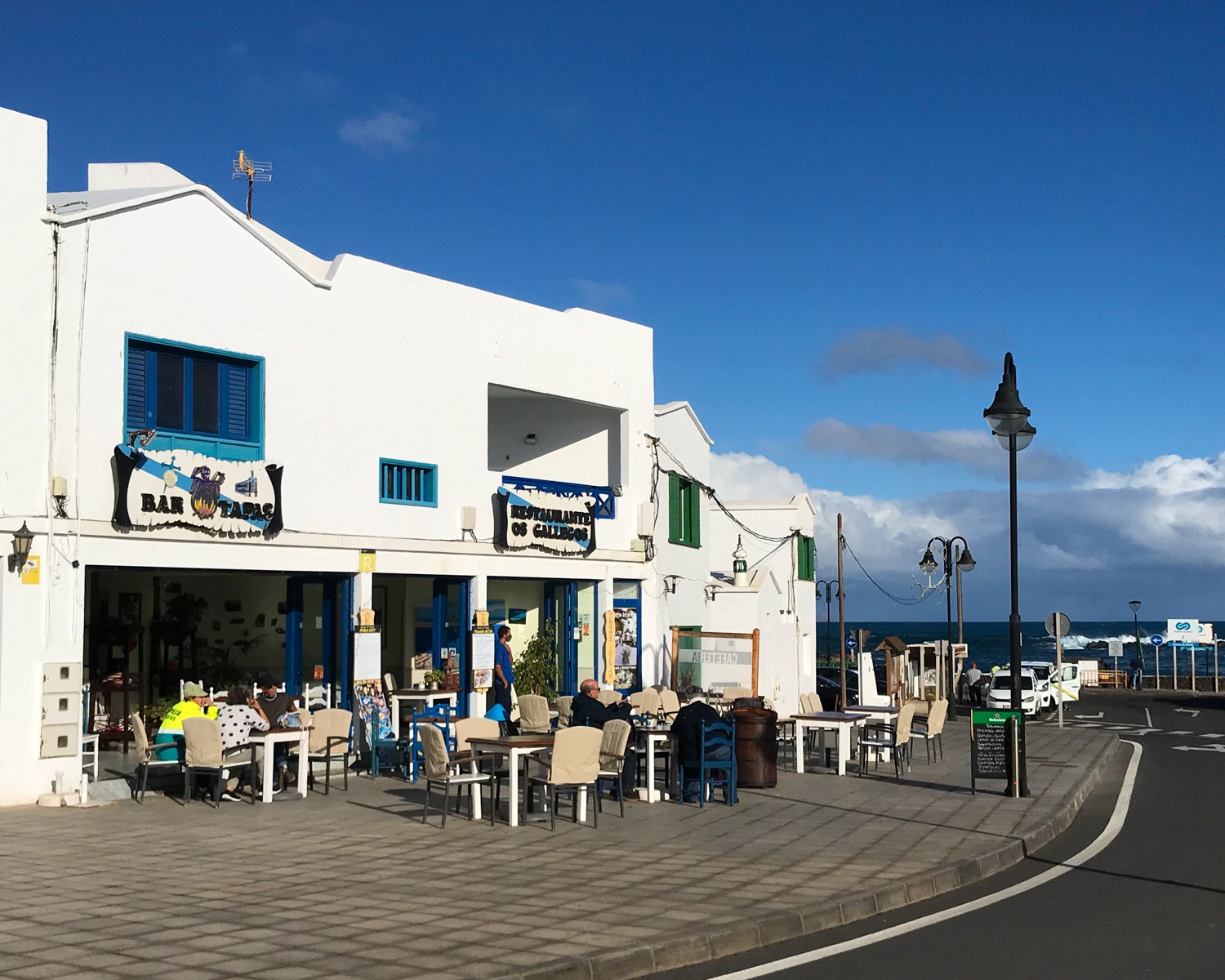 There's nothing fancy about this traditional seafood restaurant, but it has an excellent location within sight of the ferry and serves really fresh fish and seafood. We ordered some king prawns cooked on a bed of sea salt, a plate of baby squid in batter sharpened up with a squeeze of lemon juice and some pesco a la plancha, or fish of the day. Read more about typical dishes to order in my article on the food of Lanzarote.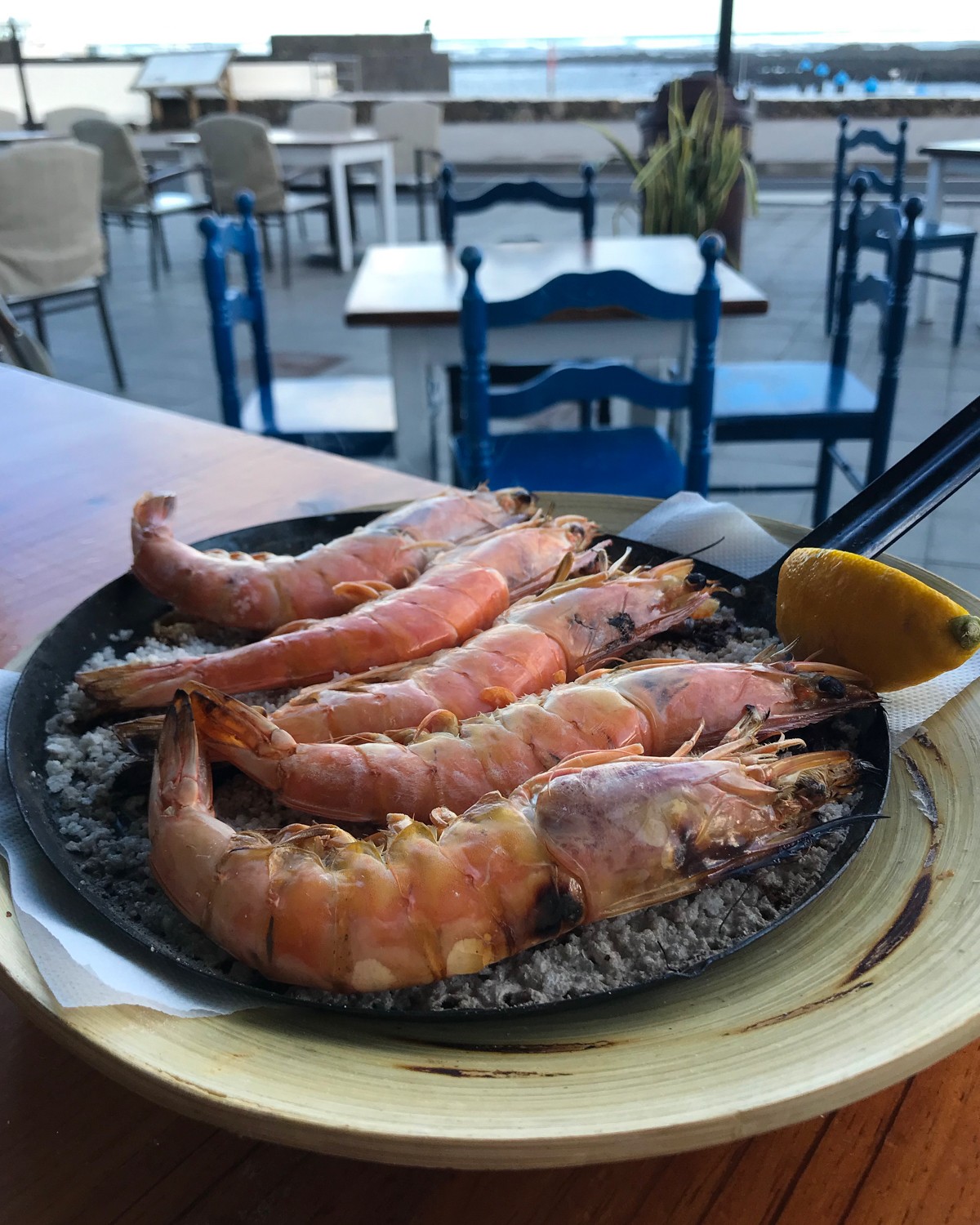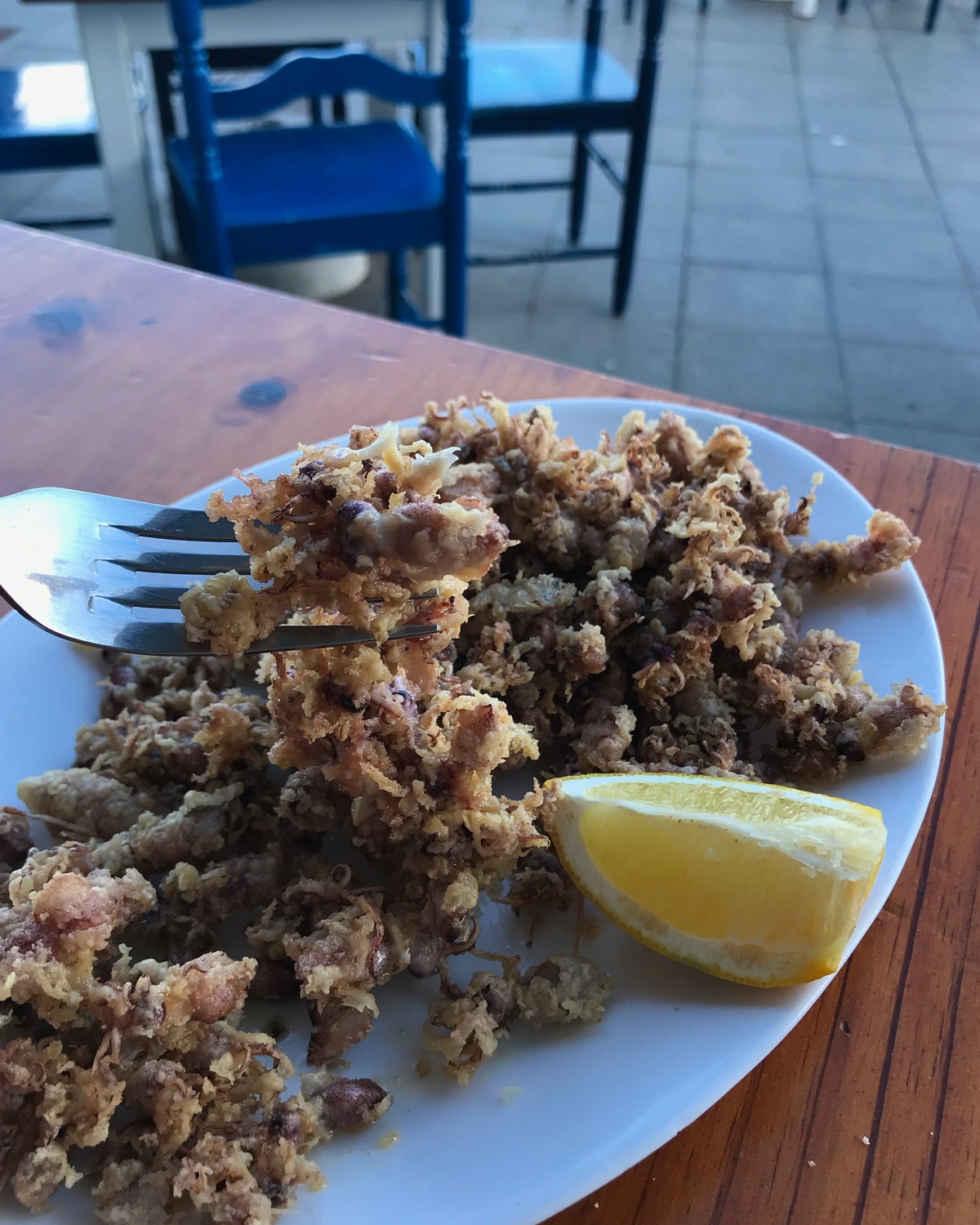 The ferry crossing to La Graciosa
We booked for the 10 o'clock ferry from Orzola with Lineas Romero, which gave us a bit of time for a leisurely start and most of the day to spend in La Graciosa. The ferry is an integral part of this day trip, and I felt the holiday excitement as we pulled away from the jetty at Orzola.
We were impressed with the Lineas Romero ferry, which was clean and modern, with indoor seating below and an open upper deck for those who want to enjoy the view. There were toilets and wifi on board, with a small cafe/ bar to buy drinks and snacks. You can book your tickets in advance here.
As we pulled out of Orzola, the sea was choppy, the swell keeping us stuck to our seats. It calmed down as we entered the protected El Rio strait (translated as "the river") between Lanzarote and La Graciosa. Up to the left towered the Famara cliffs of Lanzarote, topped with the Mirador del Rio which we later visited for birds eye views over La Graciosa.
Arriving at La Graciosa
With hardly time to breathe in the sea air and admire the views, we arrived at Caleta del Sebo, the main town on La Graciosa. The only other settlement is Pedro Barbo, with just a few houses, which you can reach by bike or on foot. Caleta del Sebo has a few sandy streets of square white houses following the line of the shore, with fishing and sailing boats bobbing in the harbour.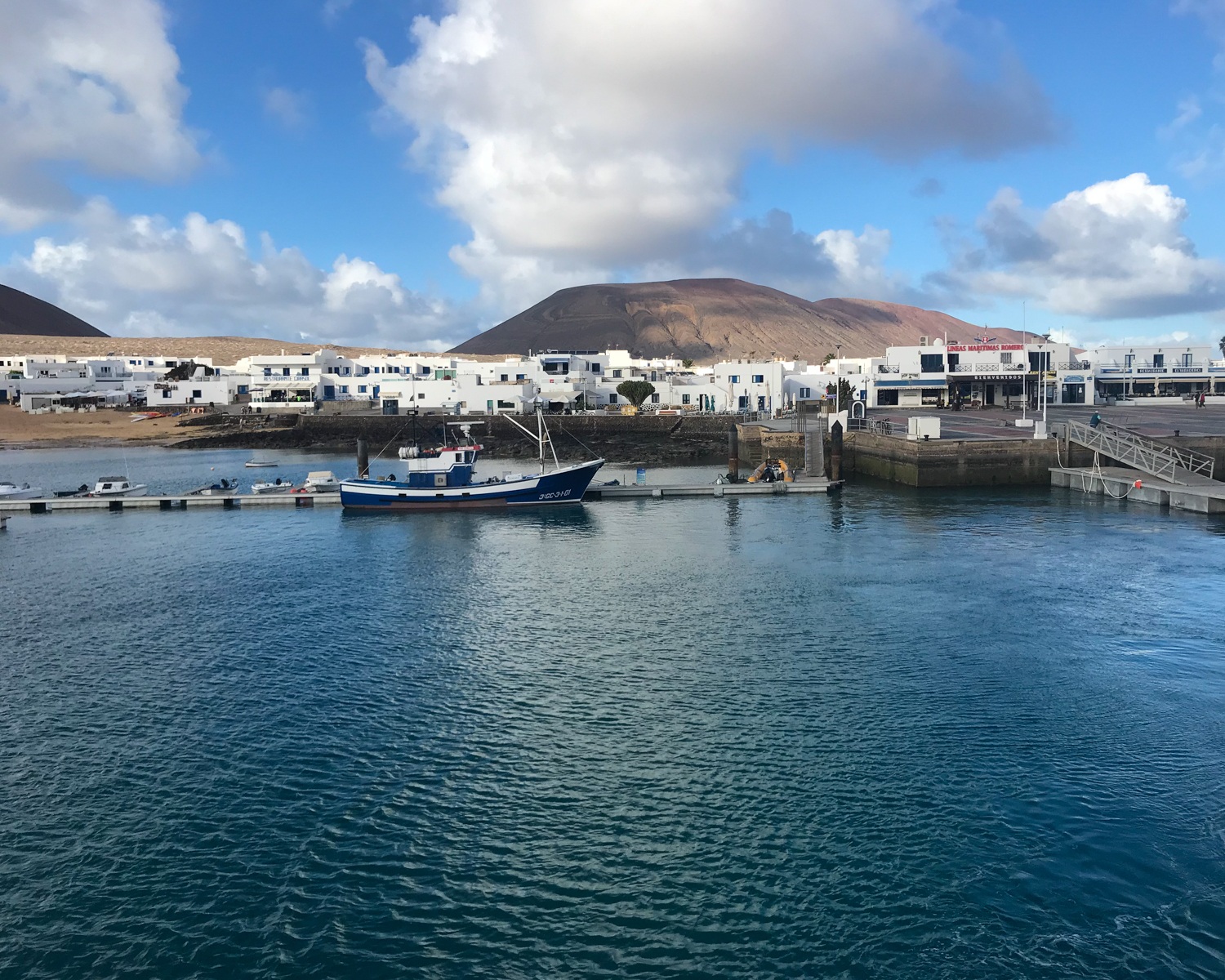 In the past, life was hard on this isolated island, with fishing the main industry. Now there are restaurants, tour companies, cycle hire shops and holiday homes, with most people earning a living from tourism. There are no hotels but lots of holiday apartments, so on weekends and the holiday months the population swells with visitors looking for a relaxing getaway.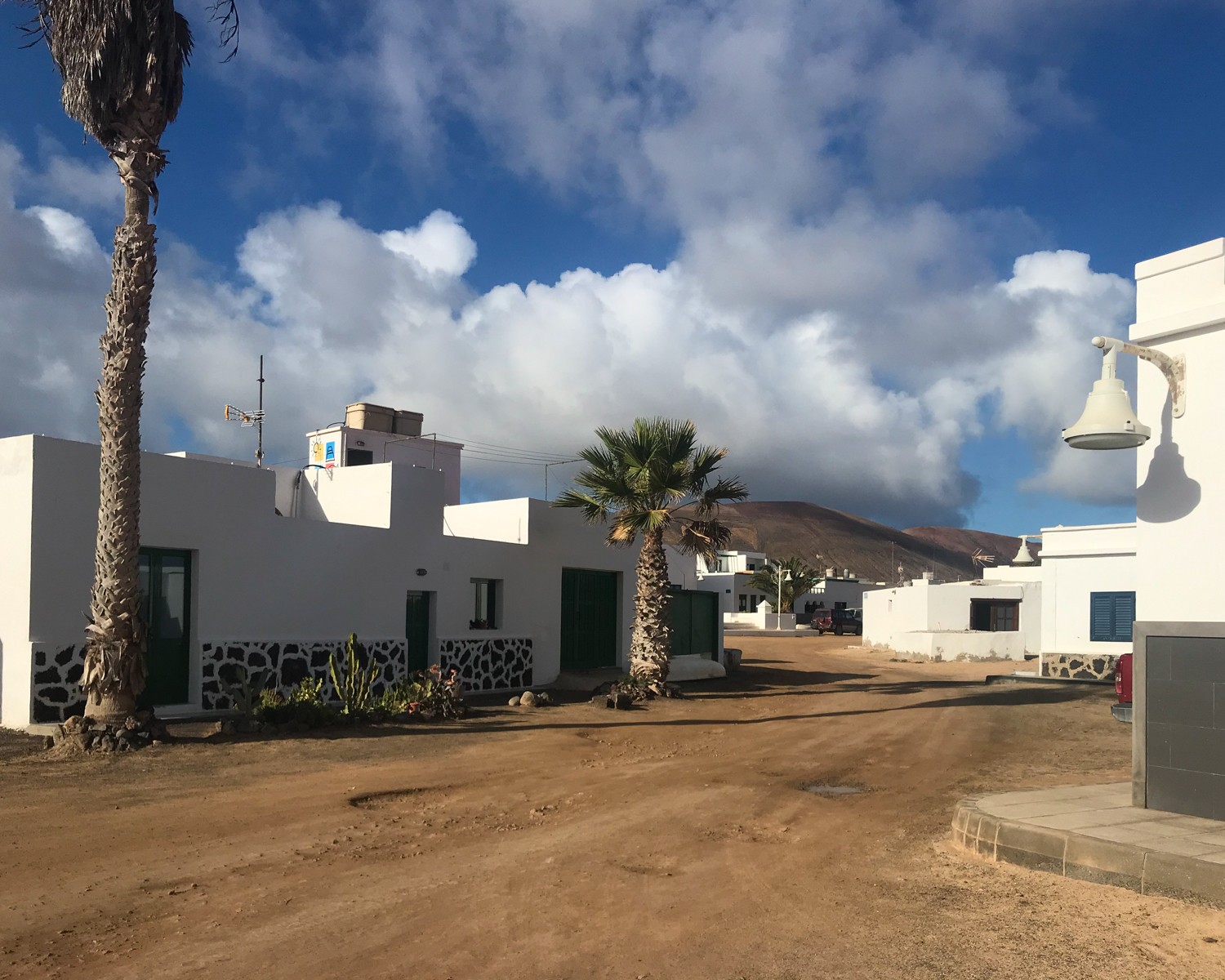 There are no facilities once you leave Caleta del Sebo, so this is the place to stock up with a picnic at the small supermarket, buy some pastries at the pasteleria or have something to eat in one of the restaurants. In particular be sure to make sure you have enough water before you leave Caleta del Sebo. It can be thirsty work hiking or cycling in the heat and you'll need enough to keep you going for the day. If you prefer to see the island by catamaran, you can also take this Graciosa island cruise that includes lunch.
Where to eat in Caleta del Sebo
If you want to buy a picnic to eat on the beach, there are a couple of mini markets in Caleta del Sebo where you can stock up. We sat on a bench to eat a mid-morning snack, bought from Panaderia Pasteleria Quela, a bakery with a great selection of sandwiches and cakes overlooking the harbour.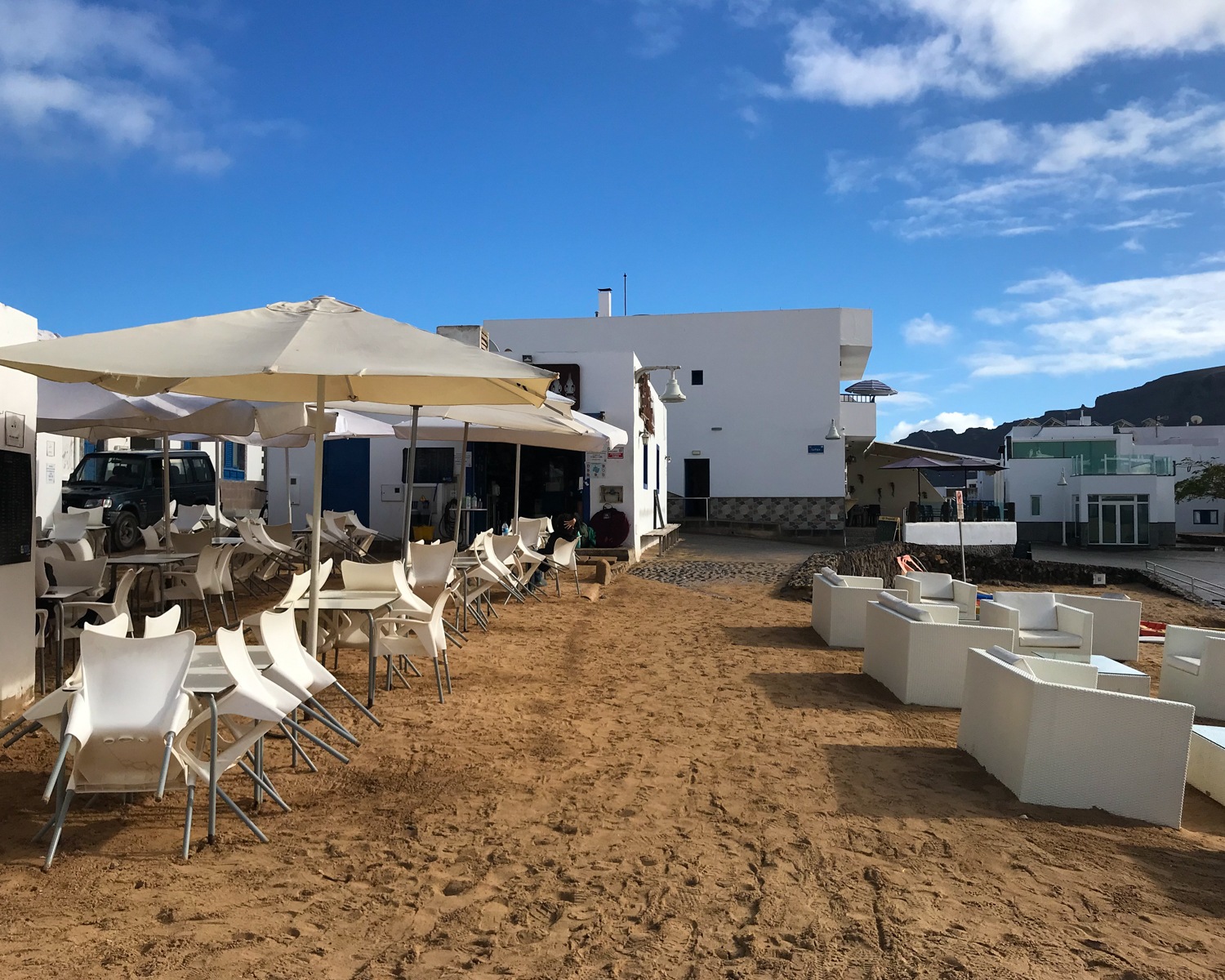 There are several restaurants and cafes mainly located along the seafront but Caleta del Sebo is not a big place so you'll probably walk past most of them in a 10 minute stroll. I'd recommend you check what's open, looks good and make your choice accordingly. We were drawn to El Veril because of its position overlooking the harbour, the white sun umbrellas and stylish outdoor seating on the small sandy beach.
There's a cafe atmosphere here, so you can easily stop for coffee with the sand between your toes, or have a full blown seafood feast, choosing from the fresh fish on display. El Veril is a good spot for families, with plenty of room on the beach for children to play while their parents enjoy a meal.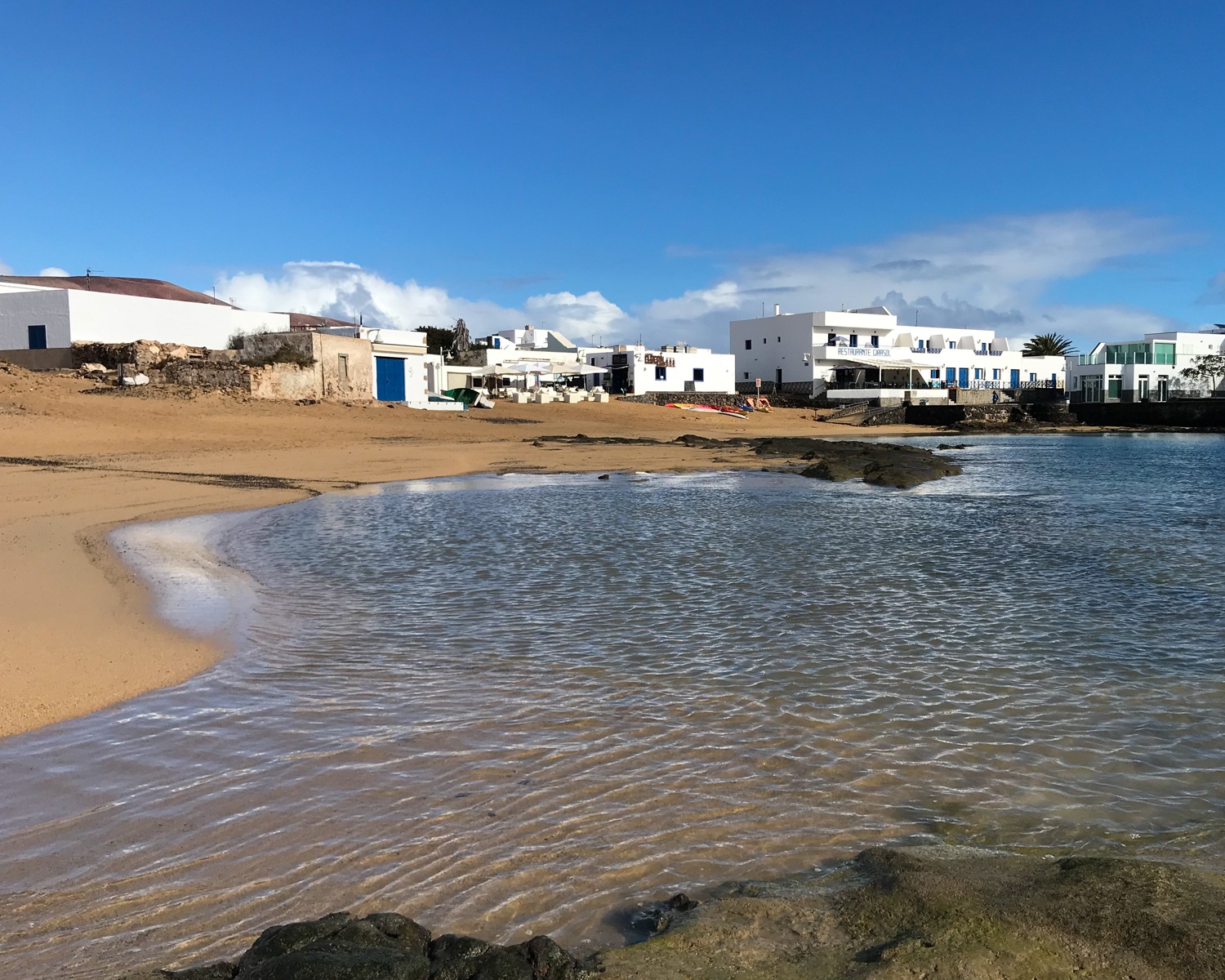 Where to stay in Caleta del Sebo
If you fancy staying for a night or longer, there are quite a few apartments and holiday homes to rent in Caleta del Sebo. Bear in mind that these will be very popular during local and Spanish holidays, so book well ahead if visiting in high season.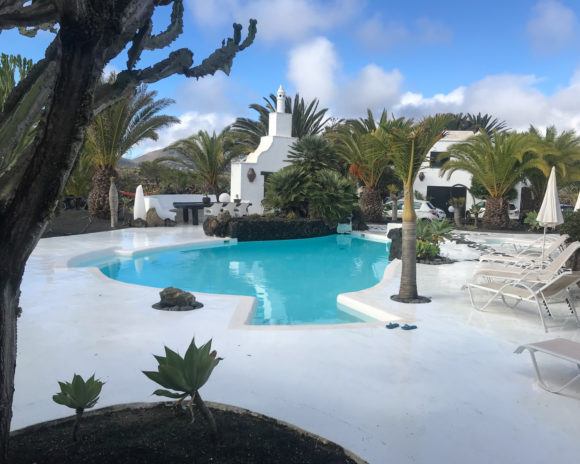 Looking for a place to stay in Lanzarote? We can recommend the boutique vineyard accommodation at Finca Malvasia where we stayed.
The beach at Caleta del Sebo
La Graciosa has no tarmac roads, so the main ways to get around is on dirt trails that you can tackle on foot, by bike or in one of the land rover taxis for hire in Caleta del Sebo. We planned to rent bikes, but first decided to explore the beach near Caleta del Sebo on foot. In general the beaches on the south coast of La Graciosa are sheltered and sandy, ideal for swimming and sunbathing. The beaches on the north coast are also spectacular but can be dangerous for swimming, with undercurrents and pounding Atlantic surf.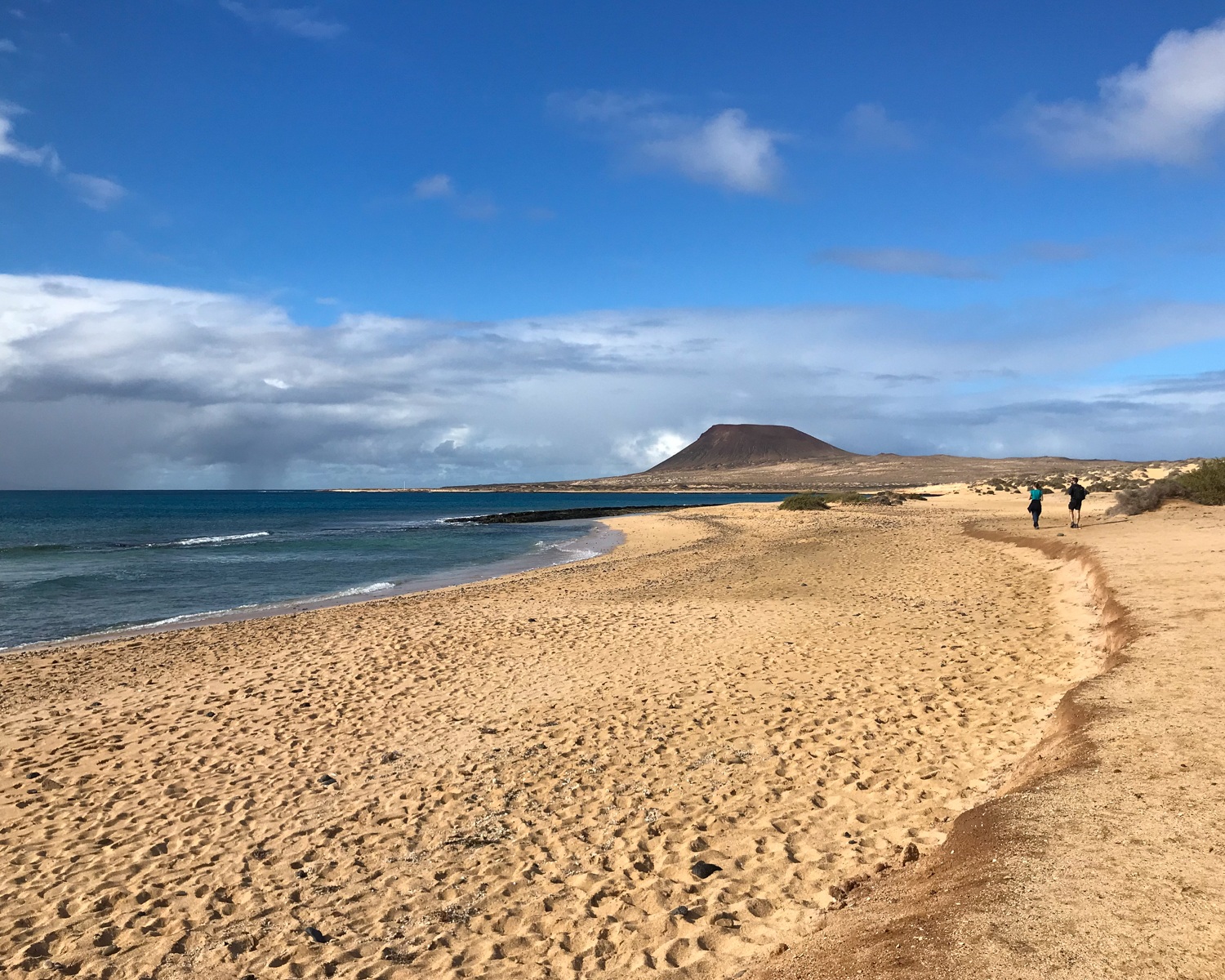 A ten minute stroll along the shoreline of Caleta del Sebo brought us to Playa del Salado, a golden stretch of sand with shallow water and gently lapping waves. At the back of the beach is the island's only wild camping spot although the small toilet and shower block looked pretty minimal. Had we continued our coastal walk for another 20 minutes in the direction of the volcanic crater of Montana Amarilla, we would have reached Playa Francesca. If you're just interested in swimming and snorkelling, we recommend this Graciosa island cruise on a catamaran that allows you to swim by Playa Francesca.
One of the most popular beaches on La Graciosa, it offers a curve of sand and turquoise water ideal for swimming. Walk another 10 minutes and you'll reach Playa La Cocina that sits directly in the shadow of the yellow slopes of Montana Amarilla. If sea and sunbathing are what you are after, this string of beaches on the south-west coast are your best bet for safe and sheltered waters to relax and swim.
Renting bikes on La Graciosa
We decided to take a more active approach and after a brief paddle on Playa del Sabado walked back to Caleta del Sebo to look for somewhere to rent bikes. Lots of places for bike hire are immediately obvious on leaving the ferry, since it's one of the best things to do on La Graciosa and the quickest way to get around. We hunted around the back streets and found a bike hire place opposite the church at Vive la Graciosa!, which also has a small shop selling authentic souvenirs.
Bikes normally cost €10-15 per day to hire, depending on the type of bike and the season. As the trails can be bumpy, it's worth paying a bit more for a bike with good suspension. We were grateful for the gel seat covers that were provided to save our bottoms from the worst of the bumpy roads.
After allowing me to have some fun trying on the conical straw hats that are traditionally worn on La Graciosa, the owner sorted us out two bikes and pointed out the trail out of Caleta del Sebo. "Follow the road between the volcanoes", he told us and we duly pedalled our way up the gently climbing trail until the town became a line of white lego blocks behind us.
After a while of not especially strenuous cycling (although I have to admit to a few rest stops on the uphill bits) we reached a signpost and continued straight on towards Playa de la Conchas, the most famous beach of La Graciosa. Now it was more downhill than up, and we were passed only by the battered Land Rovers that offer a taxi service for visitors to the island.
It took us around 45 minutes to cycle from one side of the island to the other, through the dry landscape of low scrub, before the trail turned northwards along the coast. We saw a few people hiking this trail, which would take at least an hour, although more fun to cycle I think.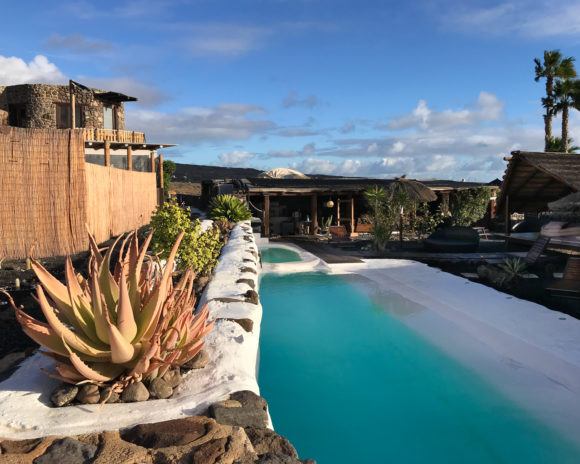 Looking for a place to stay in Lanzarote? We can recommend the eco-village at Finca de Arrieta where we stayed, with stylish yurts and cottages.
Playa Baja del Ganado in La Graciosa
Pedalling along the north coast, a track appeared leading to Playa Baja del Ganado, although we didn't know which beach it was at the time. Not having any phone signal to check a map, we thought that this might be the famous Playa de las Conchas and parking our bikes, walked down to have a look.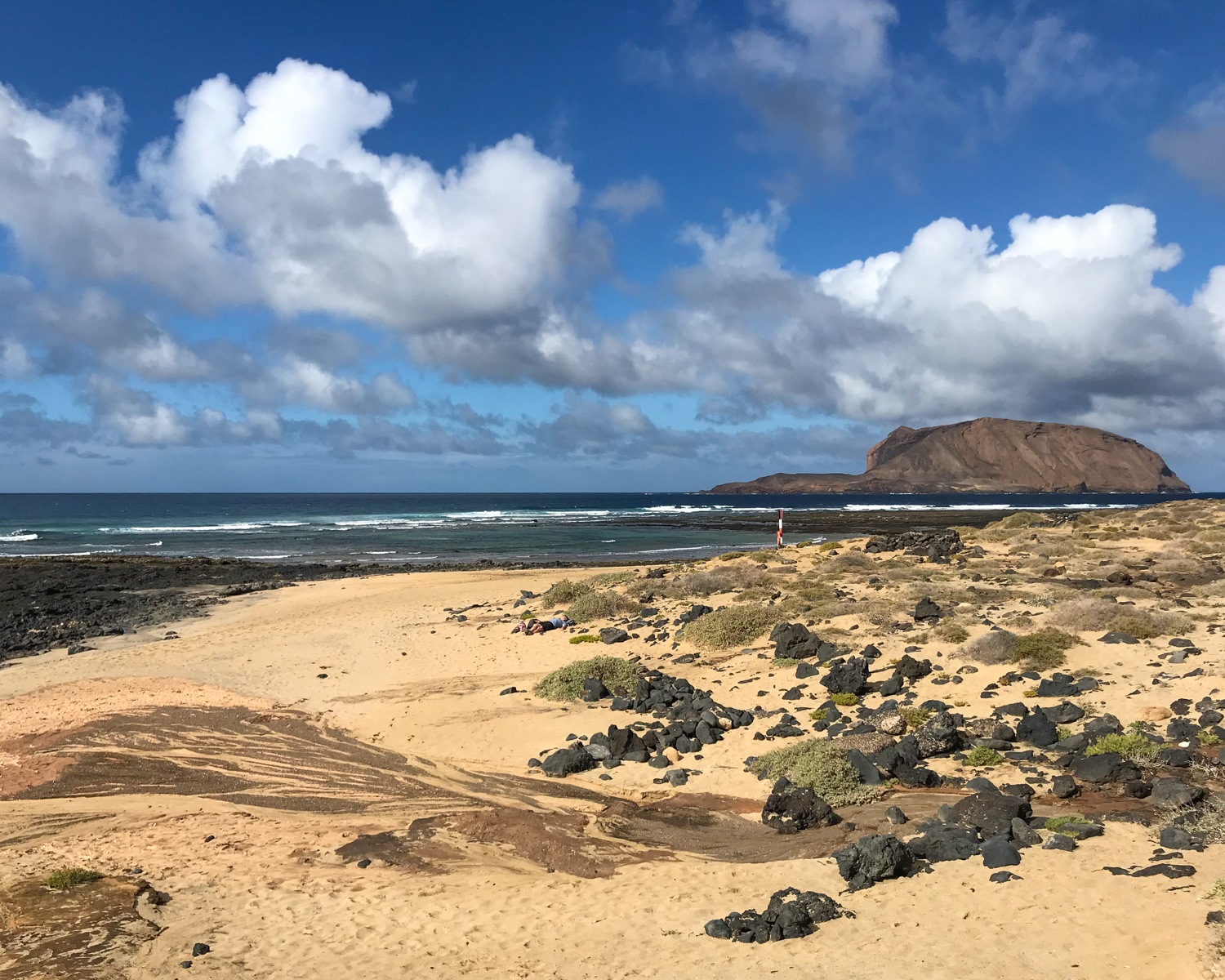 This beach had plenty of rock pools with stretches of sand, but it was a bit too rocky for swimming. Instead we lay out in the sun for a while, sheltering behind the low circles of rocks that provide a windbreak and ate our picnic of bread and local goats cheese.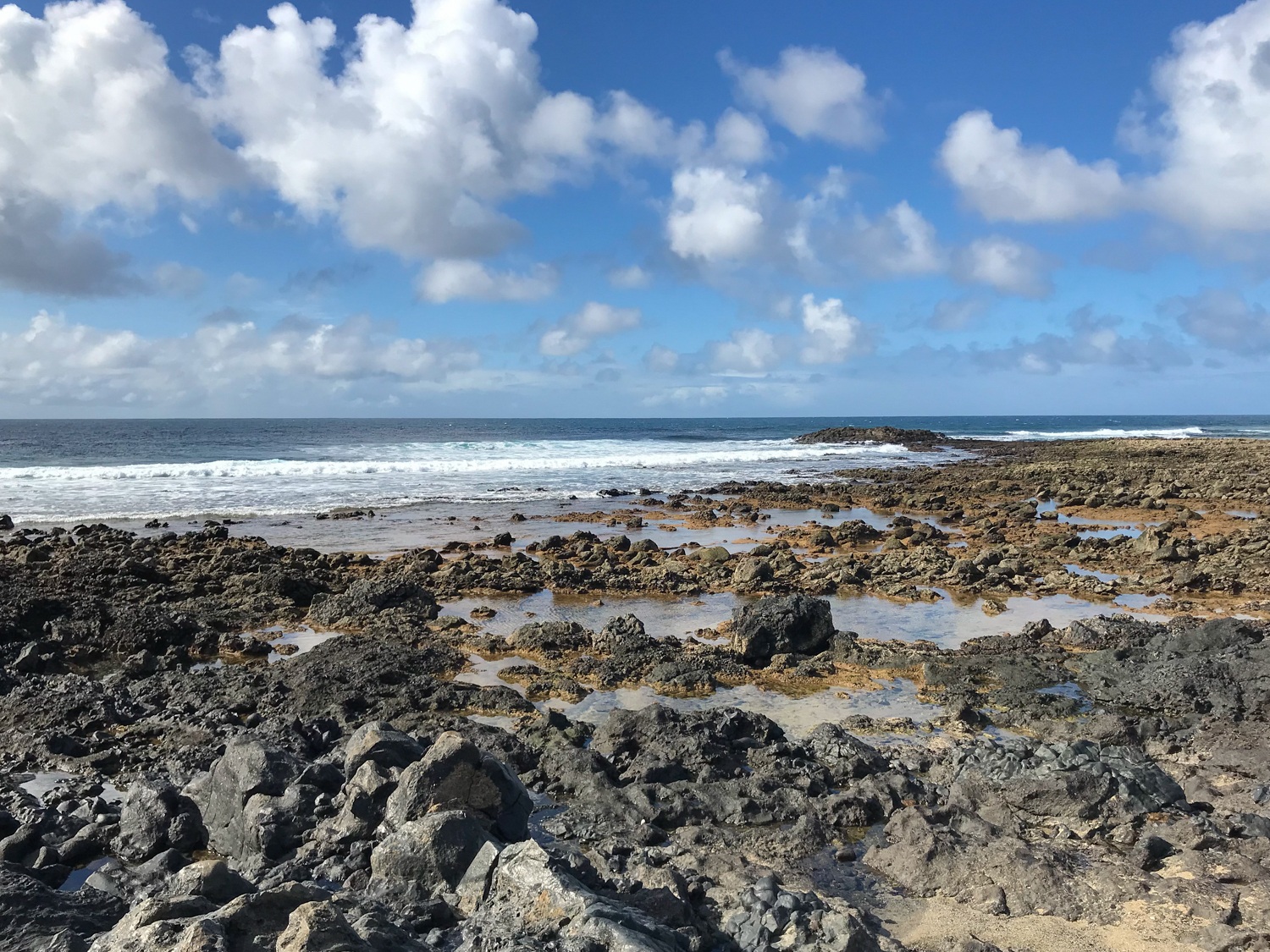 Playa de las Conchas in La Graciosa
After lunch we continued up the trail and finally arrived at Playa de las Conchas, close to the volcanic crater of Montana Bermeja. Walking down through the dunes, soft powdery sand stretched into the distance, with the turquoise Atlantic ocean breaking in white foam on the shore. We could understand why this is known as one of the best beaches in the Canary Islands.
Only one problem though! The waves at Playa de la Conchas are so high and the undercurrents so strong that it's too dangerous to swim here, so you can only paddle and enjoy the view. Getting close to the sea, it was obvious the waves were pretty turbulent, with the full force of the Atlantic ocean crashing onto the shore.
If you're interested in swimming and snorkelling, we recommend this Graciosa island cruise on a catamaran that allows you to swim by Playa Francesca.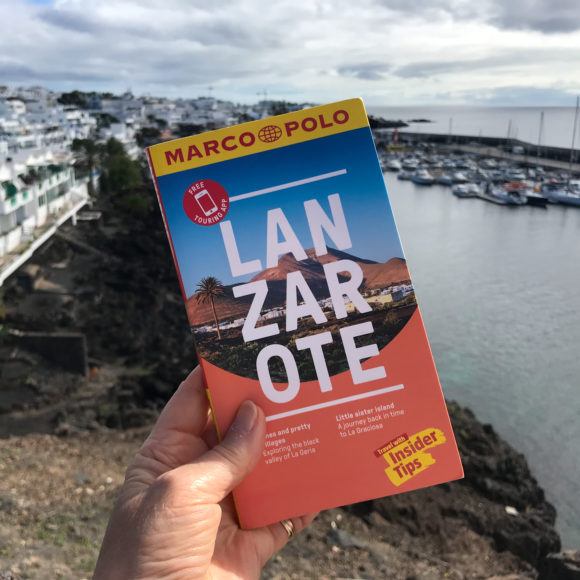 Need a guidebook for Lanzarote? We can recommend the Marco Polo Lanzarote guidebook that we used during our visit.
Cycling back to Caleta del Sebo
By mid afternoon, we were thinking about getting back to Caleta del Sebo, with a choice of the Lineas Romero ferry at 4pm or 5pm to take us back to Lanzarote. Somehow the return cycle ride seemed a little easier, a shorter uphill climb and then a gentle cruise back into the town, taking us under an hour.
We returned the bikes and just had time to buy an ice cream before the 4pm ferry was ready to board. Guy was extremely sorry that we didn't have time to return to El Veril for a plate of fresh seafood to round off the day!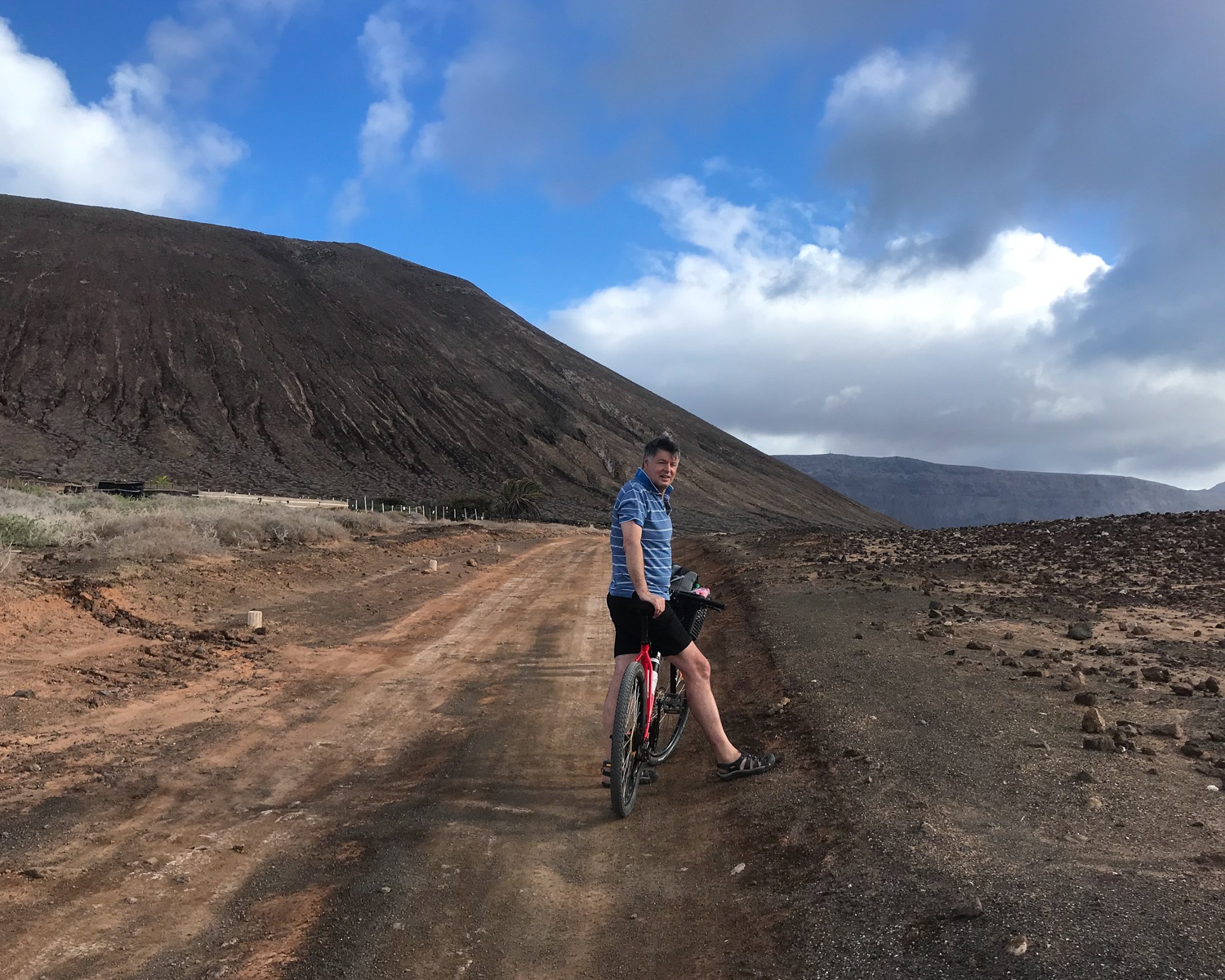 The Ferry back to Lanzarote
Heading back to the Lineas Romero ferry, the high cliffs of Lanzarote loomed ahead on the opposite side of the El Rio strait. A Cross El Rio open swimming event is held each autumn, connecting the two islands of Lanzarote and La Graciosa, which I don't think we'll be entering any time soon!
Soon we we left the magical island of La Graciosa behind, with the harbour and white cube houses becoming ever more distant. On the open deck we breathed in the sea air and blustering winds before all too quickly we reached the safe harbour of Orzola. With aching legs and sunkissed faces we stepped ashore, with that tired but happy mood that you get after a day soaking up sunshine and fresh air in the balmy climate of the Canaries!
Plan your trip to La Graciosa
Ferries from Lanzarote to La Graciosa go back and forth every 30-60 minutes throughout the day run by Lineas Romero (who we travelled with) and Biosfera Express. Although the schedule is frequent throughout the day, be sure to check the timetable and weather conditions on the websites or ticket office before you travel. If visiting for the day, it's normal to buy a return ticket in which case you will need to return with the same ferry line. The return fare is around €26 but may be cheaper if you buy in advance.
To see La Graciosa by boat we recommend this Graciosa island cruise on a catamaran that allows you to swim by Playa Francesca. The excursion includes hotel pickup, the ferry crossing to La Graciosa, the catamaran cruise and lunch.
Facilities in Caleta del Sebo comprise a few restaurants, a bakery, a couple of mini-markets and a number of bike hire shops. There are information boards for cycling and hiking routes near the harbour. Once you leave Caleta del Sebo there are no shops or other facilities, so be sure to take everything you need for the day.
Bike hire – there are several places to hire bikes and you don't really need to book in advance unless it's high season. The cost is €10-15 per bike for the day, depending on the type of bike and the season. You can also walk on the same trails although this will take longer and there are Land Rover taxis in Caleta del Sebo that can take you to any part of the island.
Stay on La Graciosa – there are holiday apartments to rent in Caleta del Sebo and a few in Pedro Barba.
Plan your trip to Lanzarote
For a comprehensive but compact guidebook covering all you need to know about Lanzarote (including La Graciosa), I recommend the Lanzarote Marco Polo pocket guide. This is the guidebook that I used while were were there and it gives lots of background information and insider tips on the best things to see, including a free touring app with maps to download and use offline.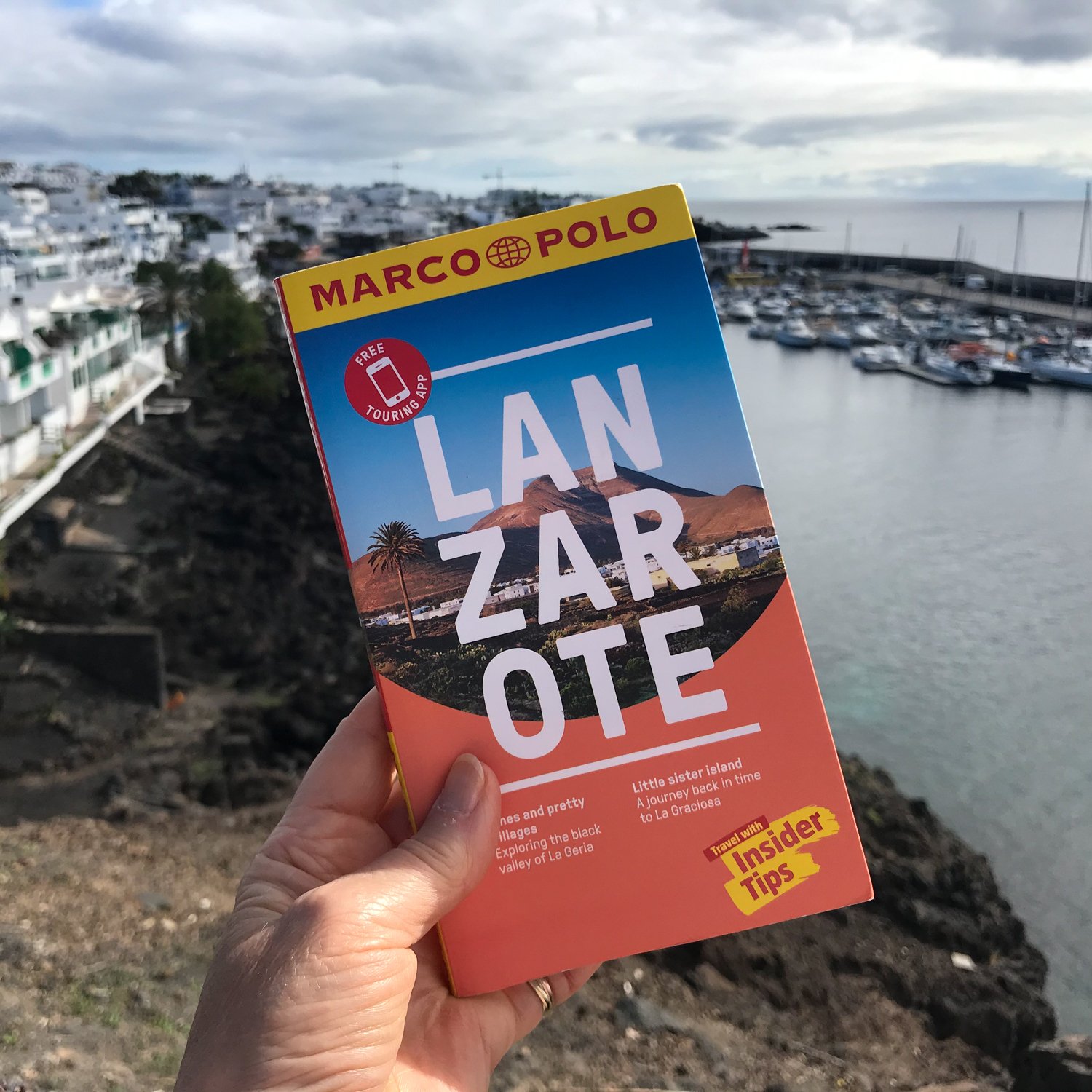 Where to stay in Lanzarote
We stayed at two delightful places during our 10 day trip to Lanzarote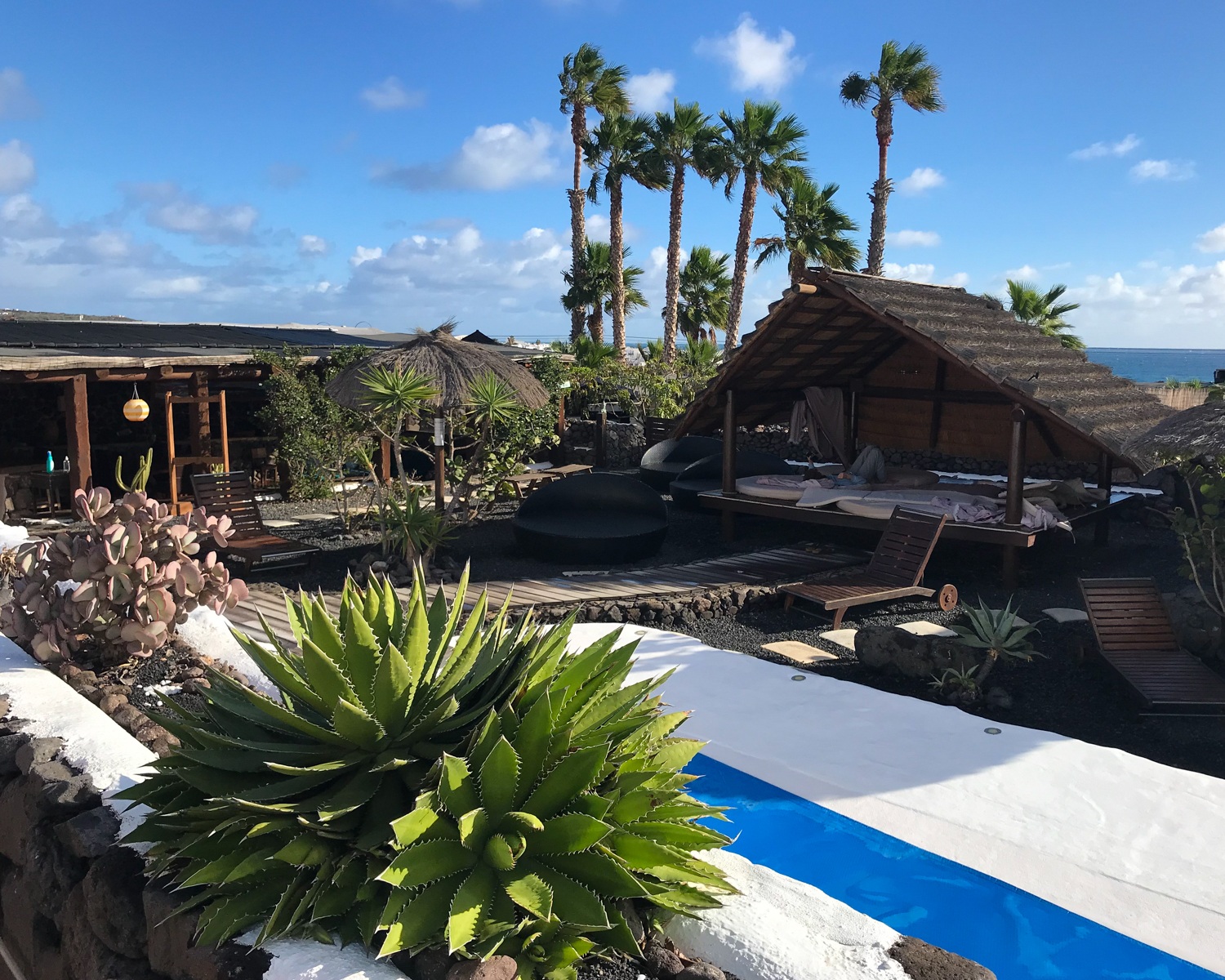 Find more information to plan your visit to La Graciosa on the Visit Graciosa website and for Lanzarote on the Turismo Lanzarote website and the Hello Canary Islands website.

Pin it
Our ferry tickets were provided* by Lineas Romero, but otherwise we paid for this day trip ourselves.
* More info on my policies page
This article is originally published at Heatheronhertravels.com

[ad_2]

Notice Regarding Third-Party Advertisements:
This is a cached database listing from another source and all content is created and provided by the advertiser who is solely responsible for such content including, without limitation, all text, images, contact information and websites. We assume no responsibility or liability for such content or the content or operation of websites that you may link to and visit. We do not endorse, review, or control any websites that are linked to or from an advertisement. Please read more about us and review our terms of use and conditions for additional information about database listings appearing on our site.
Please reference our online safety tips for general tips and techniques you should keep in mind to protect yourself and your privacy online. Additional information is also available about identifying and reporting suspected Human Trafficking.
You are viewing cached results from http://feedproxy.google.com/~r/Heatheronhertravels/~3/LVUwWasKqAo/