Family Friendly
How To Get From Zagreb To Rovinj (And Rovinj To Zagreb) In 2021
Some posts contain compensated links. Please read this disclaimer
for more info.
With Zagreb Airport being Croatia's primary airport, many visitors arrive in Zagreb and then need to make their way from Zagreb to Rovinj. Whether you're traveling from Zagreb Airport to Rovinj or Zagreb to Rovinj, there are several options available to you for your Zagreb to Rovinj transport.
With so many things to do in Rovinj, this Istrian seaside town has become very popular with tourists, and as such, the demand for travel from Zagreb to Rovinj has increased.
The distance between Zagreb and Rovinj is 250km, which is about a 3-hour journey by car when taking the most direct route. Following are the modes of transport available to you when you're traveling from Zagreb to Rovinj.
Rovinj To Zagreb Map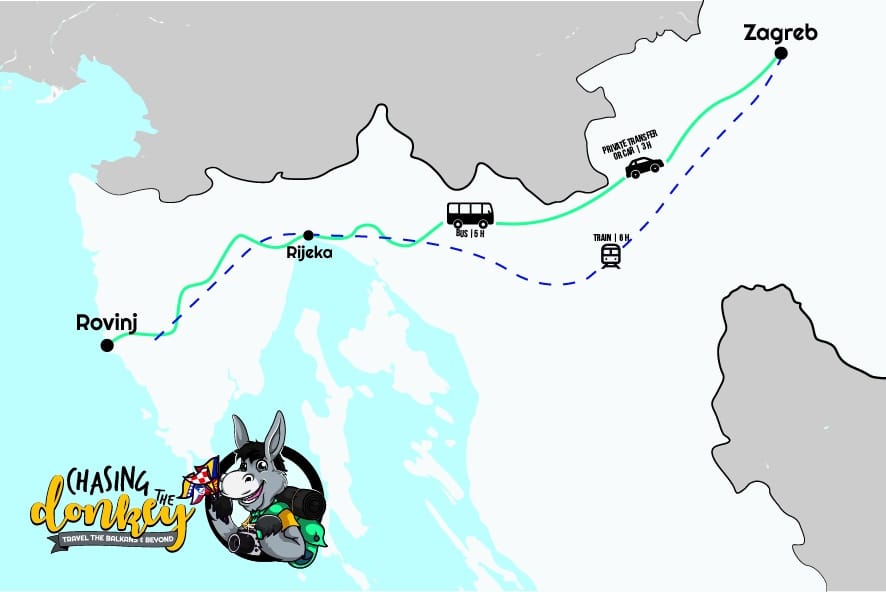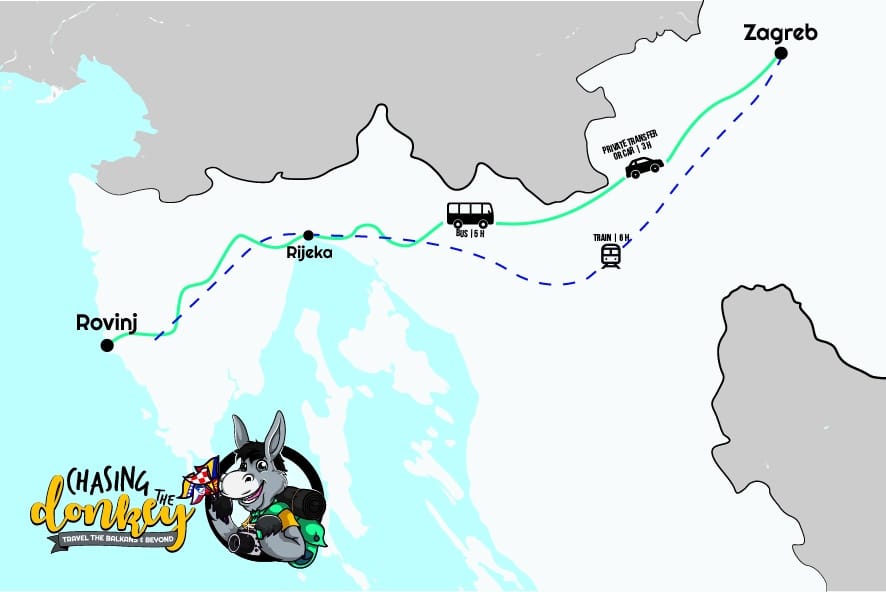 Zagreb to Rovinj Drive
The good news here is that the roads between Zagreb and Rovinj are quite good, with most of the route being a freeway, which is a toll road. If you arrive at Zagreb Airport and plan on renting a car in Croatia, then Car Rental at Zagreb Airport is advised.
Zagreb Car Rental companies also offer one-way rental, which is well worth considering. Driving in Croatia can be a little tricky at times, so if you are not a confident driver, then perhaps you should consider alternate transport.
Zagreb to Rovinj Transfer
There are two transfer options, let's explore both transport options in detail.
Private Transfer Rovinj

The truth is when traveling in a foreign country; it's always nice when someone does the driving for you. No stress, hassles, and you can just sit back and relax. So if you don't want to drive yourself and want to relax and enjoy the journey, your best bet is a private transfer from Zagreb to Rovinj.
A private transfer is the most convenient and comfortable way to travel.  The best thing with Private transfers is you dictate the pace, your pick up and drop off locations, and the time you depart. You can even select the type of car you would like!
Contact Octopus Transfers Croatia For A Quote
Taxi Rovinj
A Zagreb Airport to Rovinj taxi will cost you the same as a private transfer, with the major difference being the quality of the car is usually much lower with a taxi, a taxi will not pick you up from arrivals, carry your bags, and typically do not offer wifi in their vehicles.
In addition, you always run the gauntlet with some dodgy taxi drivers who mess about with their meters, whereas with a private transfer, the price is fixed. There is a taxi rank at Zagreb Airport should you choose to take a taxi to Zagreb or Rovinj.
Zagreb to Rovinj Train
There is no direct train from Zagreb Train Station to Rovinj, so you need to get off in Fuzine and then bus it from there. By the time you chop and change buses and trains, the journey ends up taking about 6 hours, making it the least favorable option, so we recommend skipping the Rovinj to Zagreb train at all costs.
Rovinj to Zagreb Bus
The Zagreb to Rovinj bus and Rovinj-Zagreb bus services are quite limited compared to bus services going to the Dalmatian coast but are the best budget-friendly option.
Be sure to check out the Zagreb Bus station timetable. Most Zagreb to Rovinj buses will stop in Rijeka, so if you are struggling to find a direct route, first purchase a bus ticket to Rijeka and then take a bus from Rijeka to Rovinj or Rijeka to Zagreb if you are going to Zagreb.
NOTE: if you are traveling from Zagreb airport, you first have to travel by airport bus to the Zagreb central bus station and then get your bus to Rovinj from there.
MORETRANSPORTATION TRAVEL BLOGS
Share
Notice Regarding Third-Party Advertisements:
This is a cached database listing from another source and all content is created and provided by the advertiser who is solely responsible for such content including, without limitation, all text, images, contact information and websites. We assume no responsibility or liability for such content or the content or operation of websites that you may link to and visit. We do not endorse, review, or control any websites that are linked to or from an advertisement. Please read more about us and review our terms of use and conditions for additional information about database listings appearing on our site.
Please reference our online safety tips for general tips and techniques you should keep in mind to protect yourself and your privacy online. Additional information is also available about identifying and reporting suspected Human Trafficking.
You are viewing cached results from https://www.chasingthedonkey.com/how-to-get-from-zagreb-to-rovinj-to-zagreb/