Tourism
Food in Lanzarote – 25 dishes and drinks you'll want to try!
The food in Lanzarote is a melting pot of delicious gastronomy that is partly Spanish but uniquely Canary Islands. Culinary influences draw on the cactus and palms of Africa, chilli and potatoes introduced from South America, seafood and tapas of modern day Spain and the spicy flavours brought by merchant ships passing through the Canaries. Homely soups and stews are rooted in the resourceful peasant farming of an island that has very little water. But the real bounty comes from the sea, with an amazing array of fresh fish and seafood.
No meal is complete unless accompanied by the small, wrinkly Canarian potatoes, served with a dollop of spicy red mojo sauce, washed down with the white wine produced in La Geria. The holiday resorts and capital of Arrecife cater for international tastes, with Indian and Chinese restaurants and English style pubs. But we most enjoyed the traditional fish restaurants by the sea and the contemporary Canarian cuisine that reinvents local dishes with a modern twist.
This article may contain affiliate links that provide commission on purchases you make at no extra cost to you. As an Amazon Associate I earn from qualifying purchases.
Culinary influences on Lanzarote food and wine
As one of the Canary islands located off the coast of Africa, Lanzarote has warm climate all year round, but in terms of rainfall it is practically a desert. There are no lakes or rivers and although desalination now provides ample water for everyday use, it's too salty for irrigation. Thus agriculture has adapted over the centuries to conserve rainwater or to channel the dew that forms in the early morning.
The wineries in the volcanic La Geria region employ unique and ingenious methods to produce high quality wines. Vineyards are covered with moisture retaining picon gravel and individual vines are planted in hollows, sheltering behind curving rock walls that cover the landscape like fish scales.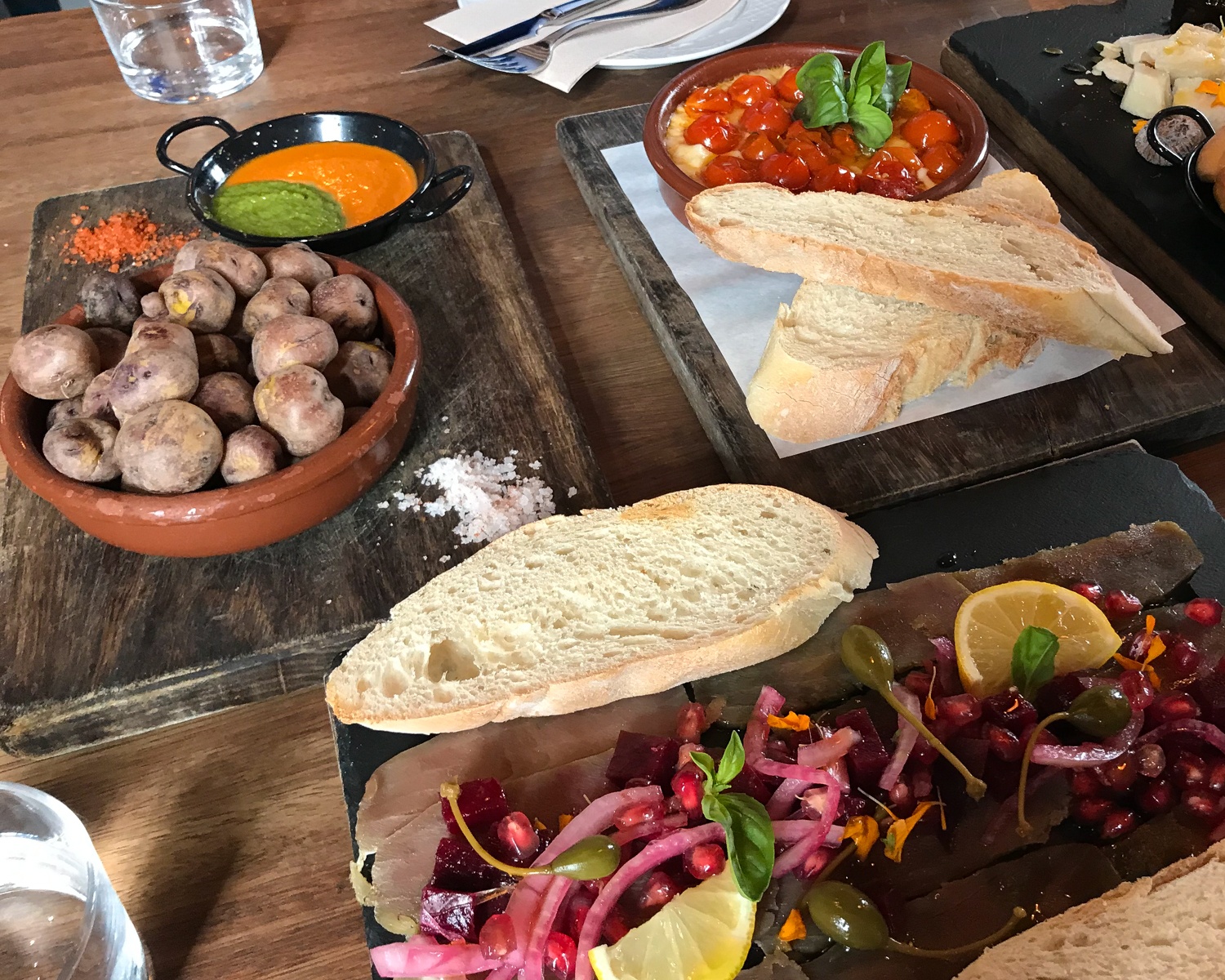 The native palm trees and cactus are a reminder that Lanzarote is at the same latitude as the Sahara desert. But vegetables such as tiny papas arrugadas potatoes, onions and cherry tomatoes can still be grown, especially in the sheltered valleys to the north of the island.
Goats do better in this rugged, volcanic landscape than sheep or cattle, their milk used for cheese and their meat for hearty peasant style stews. The Lanzarote food that most tingled my taste buds was the fish and seafood, with super fresh fish that's mostly locally caught. So let's take a look at what to eat in Lanzarote and the dishes we enjoyed when we visited.
1. Papas Arrugadas
Papas arrugadas are the signature dish of Lanzarote and the small Canarian potatoes with a wrinkly, black skin, appear on every menu. When there's a spell of rain, which is not that often in the desert like conditions of Lanzarote, the farmers will hurry to the fields and plant their potatoes.
The waxy papas arrugadas are never peeled and are traditionally cooked in sea water, leaving them with a salt speckled and wrinkled skin. No serving is complete without a side of red or green mojo sauce.
2. Mojo
Red and green mojo sauce is as ubiquitous in Lanzarote restaurants as ketchup in a burger bar or mayonnaise with fries in Belgium. Its origins probably lie in the Portuguese and Spanish settlers who brought new ingredients from South America, with influences of Morocco and North Africa thrown in. In most restaurants, two bowls of Mojo sauce are automatically brought to your table to eat with your papas arrugadas or to dollop on grilled fish and meat.
The green mojo sauce or mojo verde is a mayonnaise style sauce with a fresh flavour from the lime, green peppers and leafy coriander that give it colour. If you enjoy a spicy kick, then the red mojo sauce known as mojo rojo or mojo picon will be your favourite, flavoured with chilli, garlic, paprika and the local hot red peppers.
If you get addicted to Mojo sauce in Lanzarote, you'll find jars on sale in every supermarket and local market. Everyone has a favourite recipe passed down from their grandmother, so you can support the artisan producers by buying a jar, to recreate the authentic taste of Lanzarote at home.
3. Gofio
Another staple of Lanzarote in days gone by was gofio, toasted grains of barley or corn (known as gofio de millo) that were milled into a grainy flour. Around the island you may still see the windmills, like the one at the Jardin de Cactus, that were used to grind the grain into gofio. This is the ingredient that every Lanzarote housewife would keep in their larder as a multipurpose standby, to thicken stews, make a milky breakfast drink, fry into dough balls or create sweet desserts.
Now bread and pasta are outstripping the popularity of the homely gofio, but you can still find it as an ingredient of some restaurant dishes. We tried gofio as a desert, at the Jardin de Cactus restaurant, where it was made into a sweetened paste with a grainy texture and caramel flavour, scattered with nuts and raisins.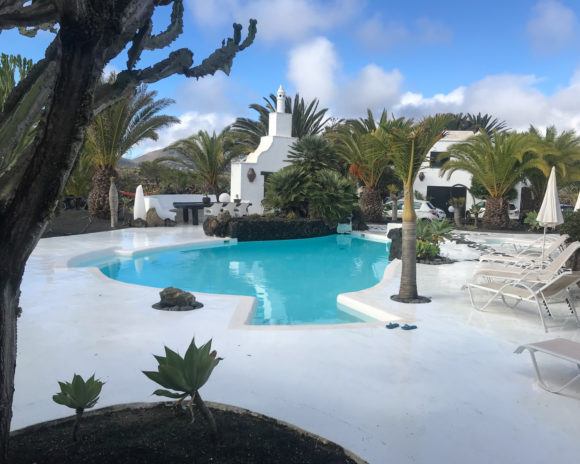 Looking for a place to stay in Lanzarote? We can recommend the boutique vineyard accommodation at Finca Malvasia where we stayed.
4. Goat's Cheese
With little rain and no pasture to speak of in Lanzarote, it's hardly surprising that sheep and cattle find little graze on and the hardy goats are the livestock you'll find here. There are several herds of the local Majorera breed around Lanzarote and local markets are a good place to taste the artisan conejero cheese that is made from their milk.
The fresh cheese made from raw goats milk is white and creamy, with a mild flavour that becomes more intense as the cheese matures and the texture hardens. A mature version of the goats cheese, rolled in a crust of spicy red paprika is also popular.
In restaurants you'll often see local goats cheese served as a tapas dish, drizzled with honey or served with fresh or dried figs and local fig jam. Fig trees are planted in sheltered dips in the volcanic soil among the vines, to give the birds something to feed on and distract them from the precious grape harvest.
5. Cactus and prickly pears
The area of the Guatiza around the village of Mala is known for another culinary curiosity of Lanzarote, the prickly pear. Opuntia ficus-indica cactus or barbary fig was mainly grown in the past for another important product of Lanzarote. The tiny cochineal beetle loves to feast on its leaves and is harvested to make a red dye used in food colouring. Check it out next time you're drinking a ruby red campari!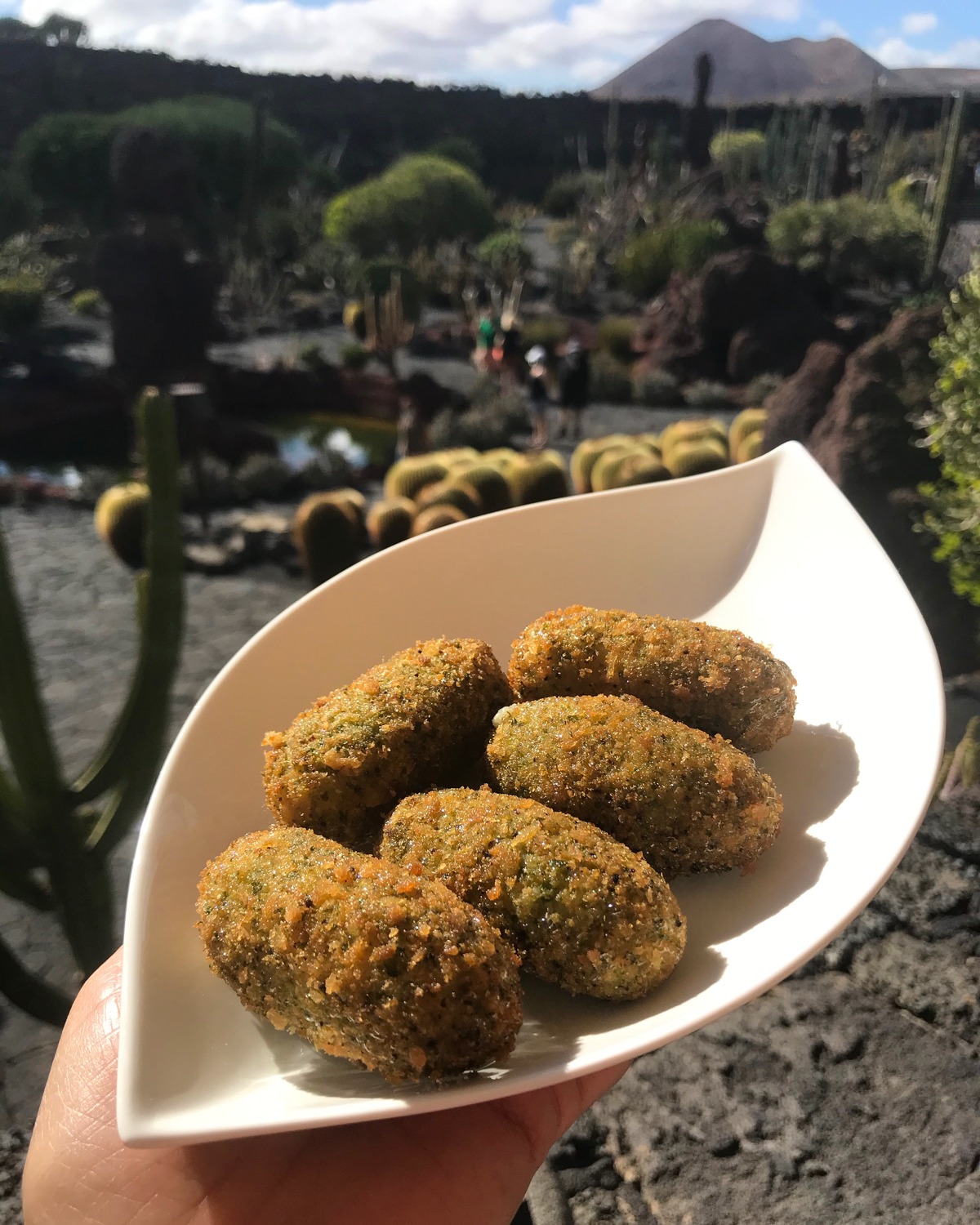 Spiny fruits of the cactus are peeled to reveal a red flesh that's used to make jams and sorbets as well as a few other dishes that are best tried at the Jardin de Cactus in Guatiza. On their restaurant menu they offer prickly pear burgers, prickly pear croquettes that we tried and nopal ice cream made with the fleshy leaves of the cactus.
Need somewhere to stay? Read my review of the eco-village Finca de Arrieta located close to the Jardin de Cactus, with stylish yurts and stone cottages.
6. Sweet potatoes
Although the wrinkly Canarian potatoes are the king, bonita sweet potatoes are also a popular crop of Lanzarote, along with onions and salads. At Christmas they are used to make a popular sweet pastry Truchas de batata, flavoured with orange and cinnamon. We saw them on menus as a sweet potato puree to accompany meat dishes, or in a more contemporary incarnation as skinny sweet potato fries to accompany our delicious pulled pork burger at Cantina restaurant in Teguise.
7. Cherry tomatoes
Cherry tomatoes are another typical garden crop of Lanzarote, where they grow easily in the fertile volcanic soil, as long as there's enough water to sustain them from the rainwater cisterns that sit under the courtyard of every traditional house. You often see them used in dishes at the more gourmet restaurants, like Cantina Teguise, where we enjoyed a dish of melted local goats cheese, topped with cherry tomatoes.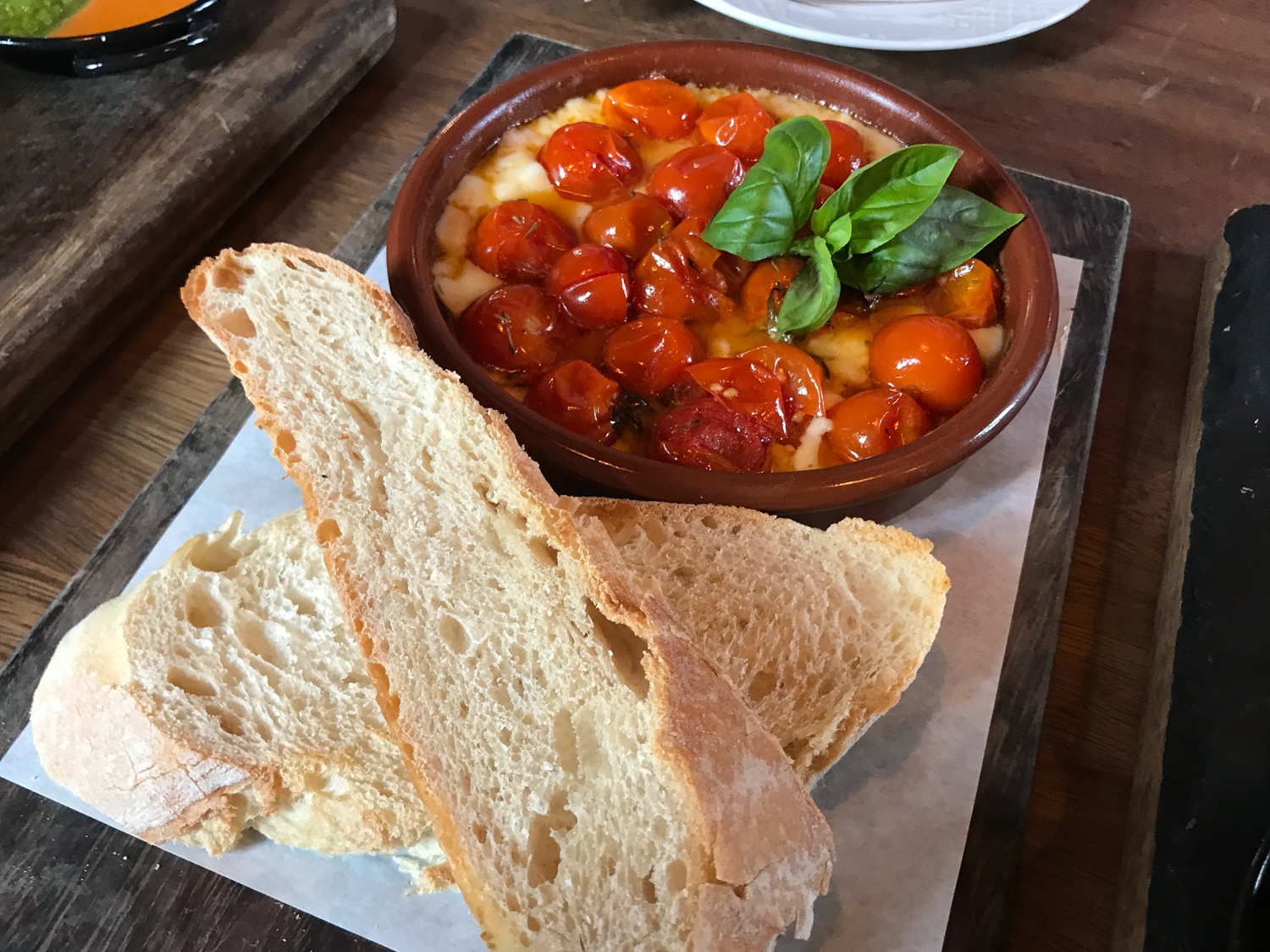 Food in Lanzarote – fish and seafood
While fish and seafood can be expensive in the UK, in Lanzarote it's a delight to try some of the freshest fish around, at reasonable prices. Every small harbour, beach or waterfront seems to have a selection of seafood restaurants, often with a captivating view of the ocean crashing over the rocks or the surfers trying to catch the perfect wave. The preparation and presentation is normally kept to a minimum to showcase the flavours of the locally caught fish, but of course the Mojo sauce is always on your table to add a punch of flavour.
8. Pescado a la plancha / fresh fish of the day
Pescado a la plancha is the simplest of fish dishes, the equivalent of the fish of the day. A la plancha literally means on a hot metal plate, so the daily catch may be grilled, fried or served in a cast iron dish. Your waiter will probably recite to you a list of different fishes available, depending on what's freshly caught today.
There may also be a choice of whether you'd like it fried, grilled or even oven baked on a bed of sea salt. Popular local fish includes barracuda, dorada (sea bream) and vieja (parrot fish) but there are many more depending on the season.
As in Spain, the fish is served unadorned with just a few papas arrugadas, a bit of salad and a slice of lemon. Fresh fish in Lanzarote is not as expensive as you might find back home, but it's often priced by weight. If no set price is shown, it's best to establish how much you'll pay before ordering, to avoid any surprises when the bill comes.
9. Parrillada pescado or platter of fish
The big sister of pescado a la plancha is a parrillada pescado or platter or fish, normally served for two or more people. If you are unfamiliar with the fish dishes on the menu, this is a great place to start. Expect a selection of fresh grilled fish, with a few other treats such as prawns, octopus and limpets, as well as the papa arrugadas and salad garnish. A parrillada just means a mixed platter, so you can get parrilladas of mixed grilled meats and tapas too.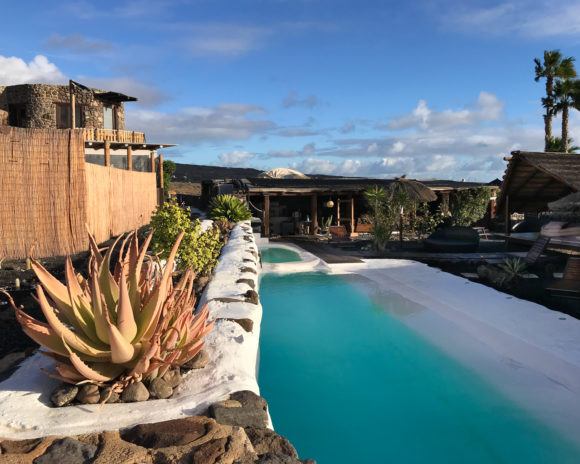 Looking for a place to stay in Lanzarote? We can recommend the eco-village at Finca de Arrieta where we stayed, with stylish yurts and cottages.
10. Caldo de pesco / fish soup
Staying on the fishy theme, a popular starter or lunch dish is caldo de pesco or fish soup, made with a selection of fish pieces and shellfish. I suspect there's a cauldron of it bubbling away in every restaurant kitchen. The soup is normally served from a metal tureen and ladle into each individual bowl at the table.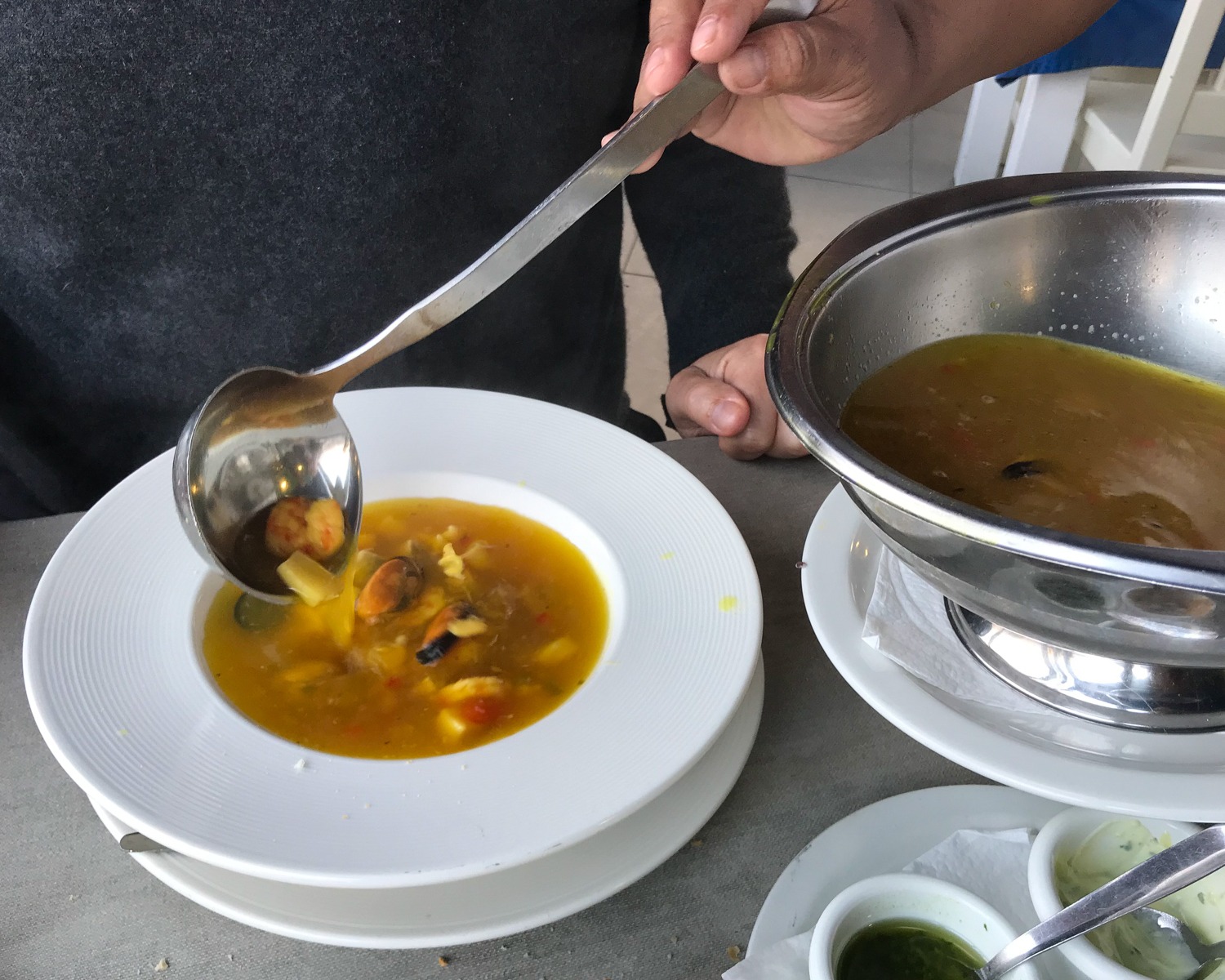 Some versions of caldo de pesco are clear, while others are thickened with potato and other vegetables. The crusty bread roll that's served alongside will help you soak up the delicious flavours. We noticed that the soup often has a yellow tinge, perhaps flavoured with saffron or other spices in a nod to the African influences of Lanzarote's near neighbour.
11. Sancocho / seafood stew
The more substantial version of the fish soup is the seafood stew called Sancocho, which is a mixture of fish pieces, shellfish and other seafood, combined with potatoes or sweet potatoes. To accompany this hearty dish you don't need much more than some crusty bread or perhaps an extra serving of papas arrugadas with a dollop of mojo picon if you want to spice it up.
12. Pulpo a la plancha / Grilled Octopus
Grilled octopus or pulpo al la plancha is a popular tapas, served in many restaurants as a starter or light lunch dish. What you'll get is a whole octopus complete with a star of tentacles that's been grilled, then seasoned with a few spoons of mojo verde. It doesn't pay to be too squeamish at the sight of your octopus laid out on the plate, but we found it deliciously tender and ordered it more than once.
13. Baby squid in batter / Puntillas de calamar
Another variation on the octopus theme was the baby squid or puntillas de calamar that we tried as a starter, which is a great one for sharing. The tiny squid, only a little bigger than your thumb nail, are deep fried in a light batter and served hot and crispy by the plateful, with just a squeeze of lemon. Although ours were really fresh, I found that the taste was more of the batter than the squid, so for seafood lovers I'd probably recommend the whole grilled octopus instead.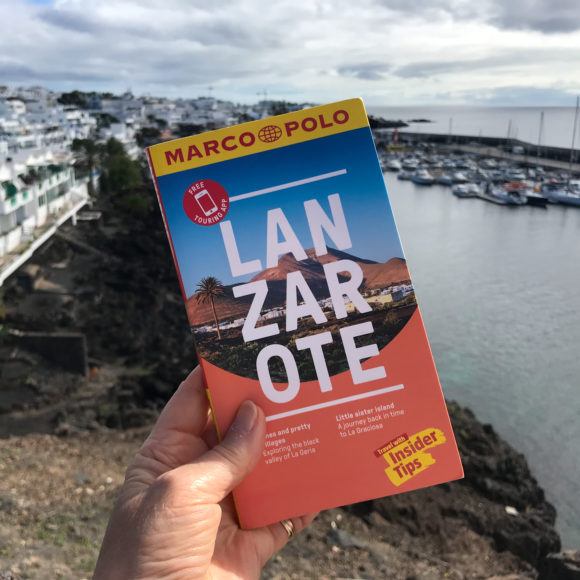 Need a guidebook for Lanzarote? We can recommend the Marco Polo Lanzarote guidebook that we used during our visit.
11. Limpets / Lapas
The rugged, volcanic coastline of Lanzarote makes a perfect home for the limpets or lapas that can be seen at low tide clamped on to the rocks with their muscular foot. Grilled in their dome shaped shell, the lapas are served on an iron griddle, then topped with some green mojo sauce.
While I'll try any local delicacy once, I found the lapas of Lanzarote a bit chewy, so they probably wouldn't be top of my list to order again. Look out also for clacas, another local mollusc that's on some menus, although not found as frequently as the lapas.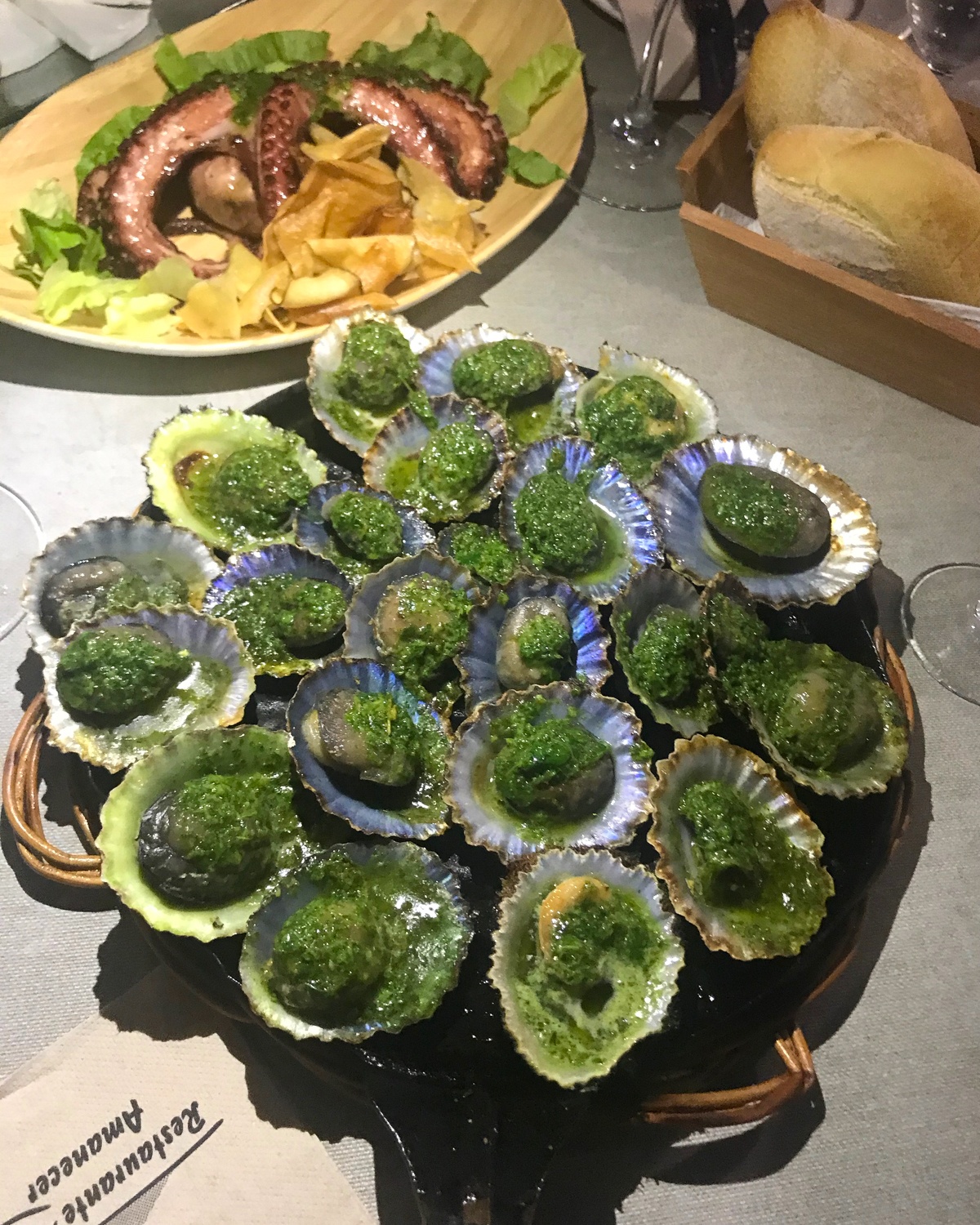 12. Santa prawns
The medium sized Santa prawns caught near the northern town of Santa in Lanzarote are considered a real delicacy and are normally griddled on a bed of sea salt from the nearby salt pans of Janubio. If you see them on the menu be sure to order them, as they tend to come and go.
Unfortunately we missed our chance when we first spotted them on the menu and then didn't find them again. However we did have some delicious king prawns that were cooked on salt in a similar way at the Os Gallegos restaurant in Orzola.
13. Garlic prawns / Gambas al Ajillo
Also delicious and perhaps easier to eat are the gambas al ajillo or garlic prawns that are a typical Spanish style tapas dish. Fresh prawns are peeled and cooked in olive oil with garlic and chilli, then sprinkled with green herbs and brought sizzling to your table in a hot iron skillet. The garlicky oil sauce is delicious to mop up with crusty bread or some papas arrugadas. This tasty dish was one we ordered more than once!
14. Smoked salmon or tuna
Smoked fish is perhaps not what you might expect to find in Lanzarote, but it so happens that there's an excellent fish smokery at Ahumadería de Uga in the south of the island. The family business has been operating close to Yaiza for 40 years and if you're on your way to Playa Blanca or the Papagayo beaches you can stop at their small shop to buy some of their smoked salmon. Although the salmon used is imported from Scotland or Norway, it's smoked locally using Janubio sea salt.
Another smokery on Lanzarote is Ahumadería de Macher where they smoke salmon and other fish such as tuna and octopus. We tried as a delicious carpaccio of smoked tuna topped with a salsa of beetroot, pomegranate seeds and capers at Cantina in Teguise, so look out for the local smoked fish on restaurant menus in Lanzarote.
Food in Lanzarote – Meat dishes
15. A hearty soup / Potajes
Potajes is a hearty soup that's often eaten as a lighter lunchtime dish or as a starter at dinner. There are lots of variations on what goes into the soup, but typically it will be a mixture of vegetables with potatoes, chickpeas or lentils and a little meat such as pork for extra flavour. Served with a crusty roll, this is all you need if looking for a quick and inexpensive meal to keep you going.
16. Rabbit stew / Conejo Campesino
Along with goats, the rabbit or conejo is one of the traditional staples for meat lovers in Lanzarote, since it thrives in the volcanic soil and sparse vegetation. Rabbits have such a cultural significance in the agricultural lifestyle of Lanzarote before tourism developed, that the locals still go by the nickname of Conejeros.
A traditional pastime is hunting rabbits using dogs, during the hunting season which runs from August to November. Around these times you will often see rabbit on the menu of traditional restaurants. The conejo campesino is a rabbit stew served peasant style, cut up in pieces with a rich sauce. We tried our rather more elegant version at the Casa-Museo del Campesino restaurant which specialises in traditional Lanzarote cuisine, served with a sweet potato puree and vegetables.
17. Goat stew/ Carne de cabra
Since goats are the main livestock reared on Lanzarote, suiting the rough volcanic terrain and dry conditions, their meat is also popular to eat as a stew. The pieces of goat are slow cooked to melting tenderness with wine, onions, spices and root vegetables and should never be tough. We tried an excellent carne de cabra goat stew at the Casa-Museo del Campesino and it's a dish you should find in many traditional restaurants.
18. Estofado and Ropa Vieja
Other meat based stews appear on restaurant menus, so look out for the word estofado when ordering, which is the generic term for stew. There's a variation known as Ropa Vieja, literally "old clothes" which is a stew of chickpeas, vegetables and beef or chicken traditionally eaten on Good Friday. It's a dish that would use whatever leftovers or ingredients you had in the kitchen, before beginning the feasting on Easter Sunday.
Lanzarote food – Sweets and desserts
19. Fresh fruit of Lanzarote
Despite the dry climate of Lanzarote, fruit trees can be grown, especially fig and mulberry trees that are planted among the vineyards to distract the birds away from the ripening grapes. Just as the vines are grown in hollows in the soil, protected from the wind by low stone walls, so the same method is used for fruit trees. As the tree develops, a low tangle of branches fills the hole, from which fruit can easily be picked and eaten fresh or made into jam.
Dragon fruit or pitaya is another fruit that thrives here, while the prickly pear cactus fruit can be made into sorbets and jams. Tropical fruits are imported from the other Canary islands, such as bananas from Tenerife and mangoes from Gran Canaria. Look out for fresh local fruit in the weekly artisan markets held in many locations around Lanzarote, as well as the jars of fig jam that make a delicious accompaniment to local cheese.
18. Bienmesabe
One of the most popular deserts in Lanzarote is Bienmesabe, a concoction of almonds sweetened with sugar, eggs and lemon. It's a favourite throughout Spain and South America as well as the Canaries, and the name literally means "tastes good to me". Bienmesabe reminded me of a gooey, liquid marzipan and we tried ours at Cantina in Teguise, scattered with dried fruits and pomegranate seeds, topped with a scoop of vanilla ice cream.
In a nice touch, the restaurant served it with a small glass of sweet moscatel wine, to either drink with or pour over. If you have a sweet tooth and love marzipan (I do!) Bienmesabe is the perfect end to your meal, although it's so sweet you might want to order one to share between two.
19. Frangollo
Look out for the another traditional desert called Frangollo on the menus in Lanzarote and throughout the Canaries. It's a milky pudding that's been thickened with millet flour (that unlike gofio has not been toasted) , flavoured with cinnamon or lemon and sweetened with palm honey. This is a homely and filling dish that might be made at home like a nutritious breakfast porridge, somewhere between rice pudding and custard. We tried our frangollo at Casa-Museo del Campesino, where they have a lot of traditional dishes like this on their menu.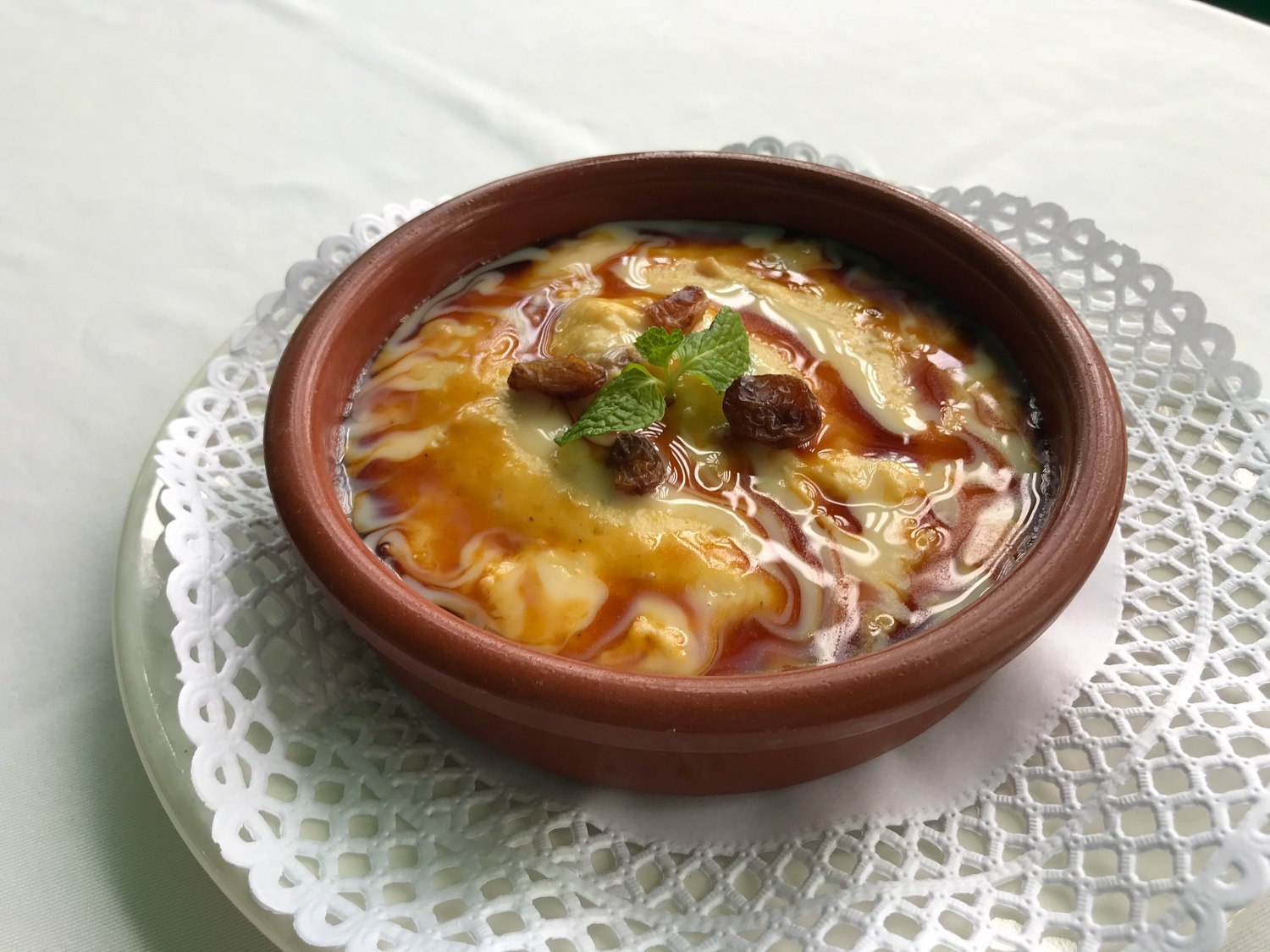 Other typical desserts to look out for in Lanzarote are
Torrijas – sweet maize flour fritters with honey and cinnamon that are often served at Easter.
Flan – the Spanish equivalent of creme caramel, a set custard topped with a caramel sweet syrup.
Platano frito – fried bananas with sugar, brandy and lemon.
20. Helado / Ice cream
Like any holiday spot in Spain or the Canaries you'll find ice cream parlours with a wide array of flavours. If you order helado or ice cream in a restaurant at the end of your meal, it will probably be served in a glass bowl with some wafers for decoration. It's worth checking if the ice cream is home made as they may have some more interesting and traditional flavours. I enjoyed the gofio ice cream with a toasted caramel flavour and homemade lemon and ginger ice cream, at the Casa Rafa fish restaurant in El Golfo.
21. Coffee Leche Leche
While out and about sightseeing in Lanzarote there are numerous opportunities to relax with a coffee and perhaps a slice of cake. If you are visiting any of the Cesar Manrique attractions on Lanzarote, they all have lovely cafes and I can recommend taking some refreshments here to relax after visiting and soak up the ambiance.
In Lanzarote you can order whatever coffee style you favour, although we noticed that the Spanish do like a milky coffee as a morning pick me up. An example of this was the cappuccino that I ordered at El Veril in Graciosa, which came topped with whipped, sweetened cream, almost a desert in itself!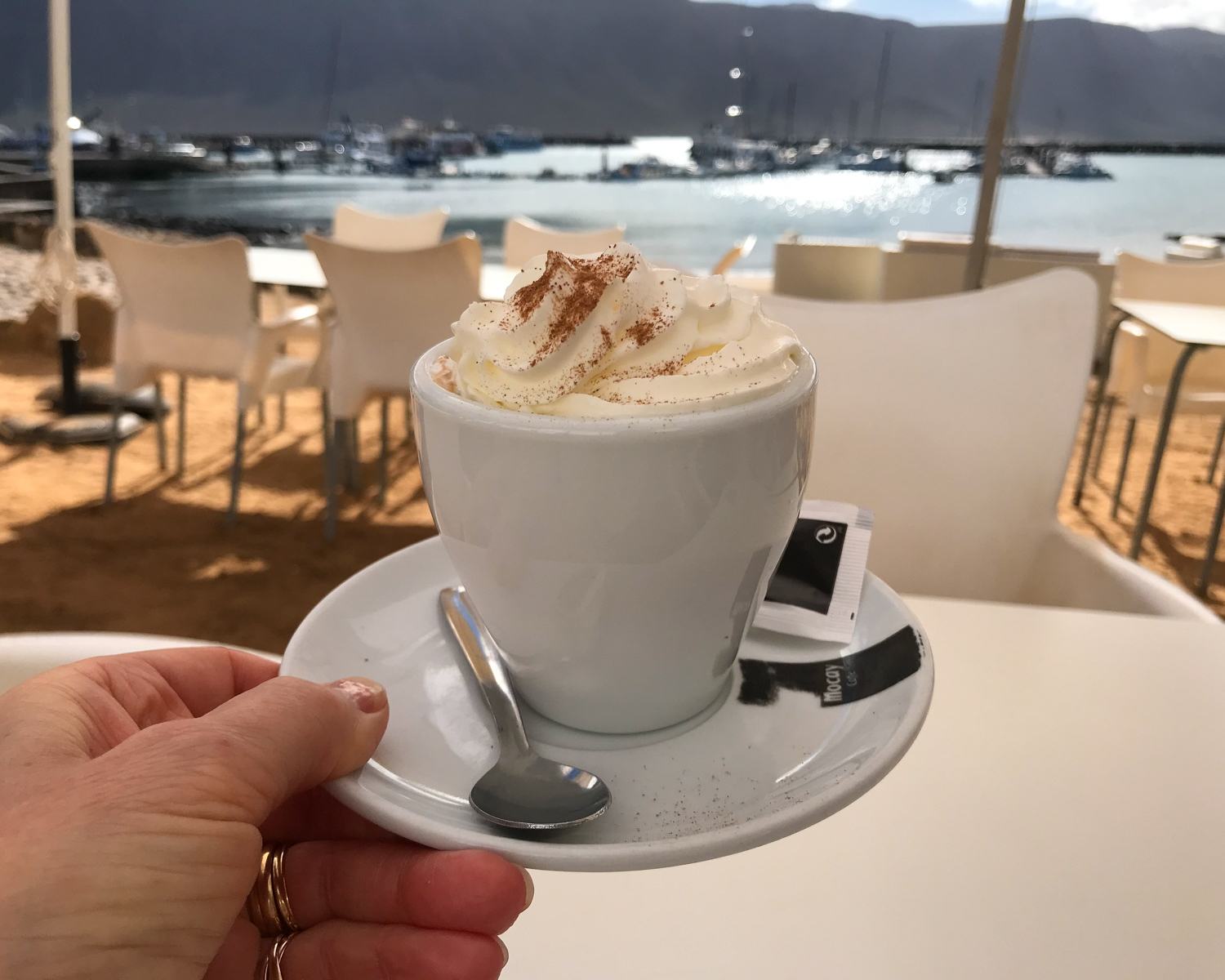 If you want a typically Spanish style of coffee that's super sweet and often sipped in the morning when you've missed your breakfast, order a leche leche. It's a milky coffee with a layer of sweet condensed milk, which you then stir into the coffee, often served in a tall glass, so that you can see the layers. I enjoyed mine with a gooey chocolate brownie, overlooking the gorgeous pool at LagOMar.
What to drink in Lanzarote
You can't visit Lanzarote without trying some of the excellent local wines that are produced in the centre of the island, around La Geria. It's an unmissable experience to go bodega hopping and visit a few of the wine producers, which are located along the road that runs between Yaiza to San Bartolome. You'll be able to taste the wines and buy a few bottles direct from the producer, or better still take a wine tour with Wine Tours Lanzarote, to understand more about the unique way the wine is produced. They also have a Wine Shop and deliver to the UK and Ireland so you can try the wines of Lanzarote when you get home.
Although the Canaries has less of a beer culture, there's a growing trend for craft breweries and you'll find local beers in restaurants around the island. For an unusual soft drink, look out for the Aloe Vera drinks which are made with the healthy and healing aloe vera grown on Lanzarote.
23. La Geria wine
The local wines of la Geria in Lanzarote are practically unknown outside the island, simply because the production here is too intensive and small scale for much wine to be exported. That's not to say that the wines are not high quality. In fact Lanzarote wines have been winning many awards among Spanish wines, especially in recent years as more investment has been made in the production techniques and facilities.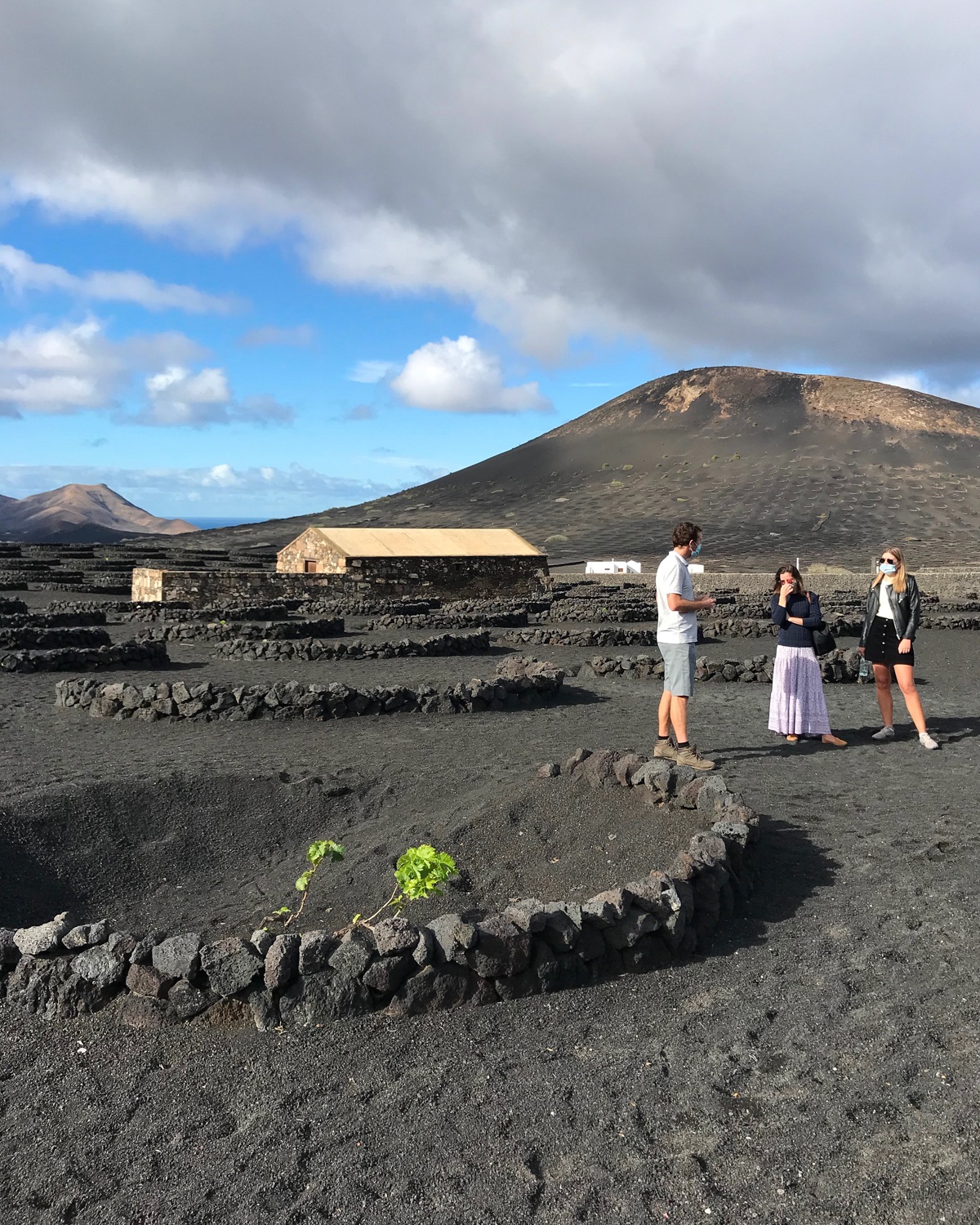 Growing vines in Lanzarote is certainly a labour intensive business, since the lack of water means each vine is planted in a hollow, sheltered by a curved wall of volcanic stone known as a zoca, with a covering of black picon gravel to retain the moisture. Because the pruning and harvest is done by hand, all effort goes into making the highest quality wines, since it's just not worth producing a mass market product.
Wine tours in Lanzarote
The most relaxing way to discover the wines of a few different bodegas, without having to worry about driving, is to take a wine tour, as we did with Wine Tours Lanzarote. After being picked up at our accommodation we visited three different wineries, each very different. Our tour started at the well established Bodega Rubicon, then we moved on to the smaller boutique winery of El Tablero who only sell their wines at the bodega, finishing with a tasting among the leafy green gardens and friendly goats of Vega Volcan. I also visited the El Grifo winery, which has a free museum full of old wine making machinery and is a good place to taste a range of different wines.
There are numerous wineries in the La Geria region where you can make an informal tasting, then buy a bottle or two to drink later in your accommodation. And of course the local wines are available to order by the bottle or glass in restaurants around Lanzarote. Almost all of the wine in Lanzarote is white and the most popular Malvasía Volcánica grape produces wine that is fresh and dry with a mineral flavour.
The Moscatel grape creates the fragrant, sweet dessert wines that were known in Shakespeare's time as Malmsey, when the wines of the Canaries were much sought after, and the ships that traded in them docked at London's Canary Wharf. Also look out for the more recently introduced Diego wines and the aromatic Listan Blanco and Listan Negro grapes that are used to make the few red wines. If you enjoy the wines of Lanzarote when you visit, Wine Tours Lanzarote now have a service where you can order some of their favourite wines for direct delivery in the UK and Ireland.
24. Craft Beer
While beer takes a back seat to the wine of Lanzarote, there's no doubt that the growing trend for craft breweries has reached the Canaries. Beer loves should seek out the artisan microbreweries in Lanzarote and pop in when passing for a tasting.
Cerveza Nao – Set up in 2016 and probably the best known craft brewery in Lanzarote, with a small bar "El Camarote" tucked away in the old fishing quarter of the island's capital Arrecife. Look out for their beers in restaurants and supermarkets or pay them a visit when you are in Arrecife.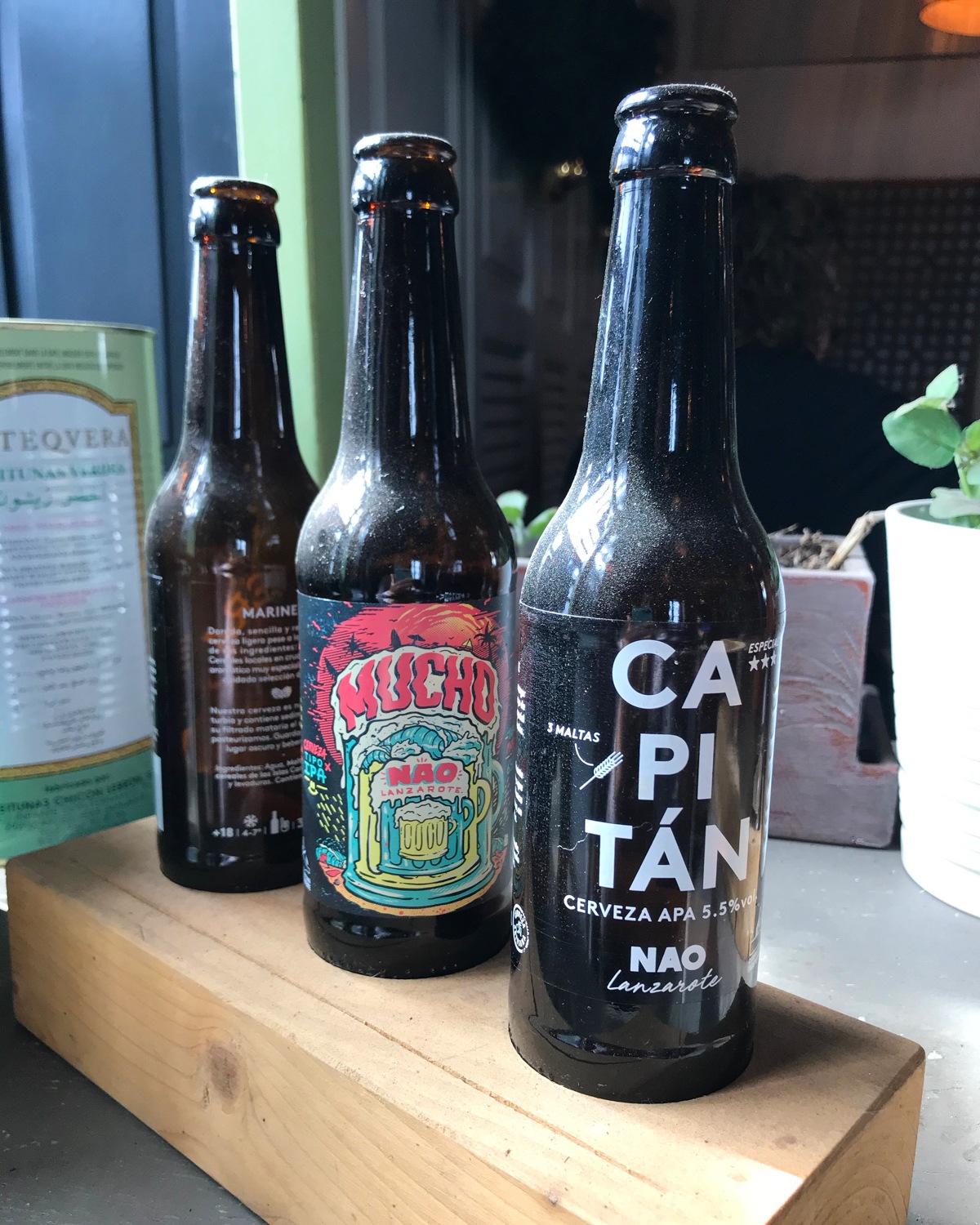 Los Aljibes de Tahiche – The island's first microbrewery, where the beer is brewed in los aljibes, the traditional underground cisterns that were used in the past to collect rainwater. If you are in the seaside resort of Costa Teguise, visit their Los Aljibes Tap Room bar in the Pueblo Marinero, where lots of bars and restaurants are arranged around a traditional style courtyard.
Malpeis in Tinejo – A smaller brewery in the north of the island, with a shop that's open most days and beers available in many bars around the island. Their three beers are named after the different coloured soils of Lanzarote.
If you'd like to find out more, I'd recommend a relaxed craft beer tour on a Friday afternoon with Wine Tours Lanzarote who are extremely knowledgeable about the food and drink scene in Lanzarote, and will pick you up at your accommodation to avoid having to drive.
25. Aloe Vera drink
There are a couple of big aloe vera plantations on Lanzarote, as the spiky plants with fleshy leaves clearly love the island's dry conditions. The flesh and sap of the aloe vera is used to promote digestive health, boost the immune system and applied to the skin for cooling and healing, so you'll find plenty of shops around Lanzarote selling aloe vera cosmetics and products.
I tried some of the aloe vera drink in different fruit flavours that was on sale at Finca de Arrieta where we stayed, containing 30% aloe vera pulp and found it very refreshing and energising. The tiny pieces of aloe vera in the drink have a taste and texture that's a bit like kiwi fruit.
26. Janubio sea salt
Driving along the south west coast of Lanzarote, from Playa Blanca to El Golfo (be sure to take the smaller LZ-701 that runs parallel to the main road LZ-2) you'll pass the Salinas de Janubio with a patchwork of grey, blue and pink salt pans drying out the natural sea salt. This is the last remaining salt pan from a once thriving industry in the days before refrigeration, when salt was used to preserve the catches of fish.
Restaurants often use the crystals of sea salt as a bed on which to bake prawns or to encase the fish in a crust of salt that keeps it moist and flavoursome. The Janubio salt is on sale all around Lanzarote and you can also stop for lunch at the Mirador de Salinas restaurant overlooking the salt flats or just to buy some of the salt products to take home.
Plan your trip to Lanzarote
For an comprehensive but compact guidebook covering all you need to know about Lanzarote, I recommend the Lanzarote Marco Polo pocket guide. This is the guidebook that I used while were were there and it gives lots of background information and insider tips on the best things to see, including a free touring app with maps to download and use offline.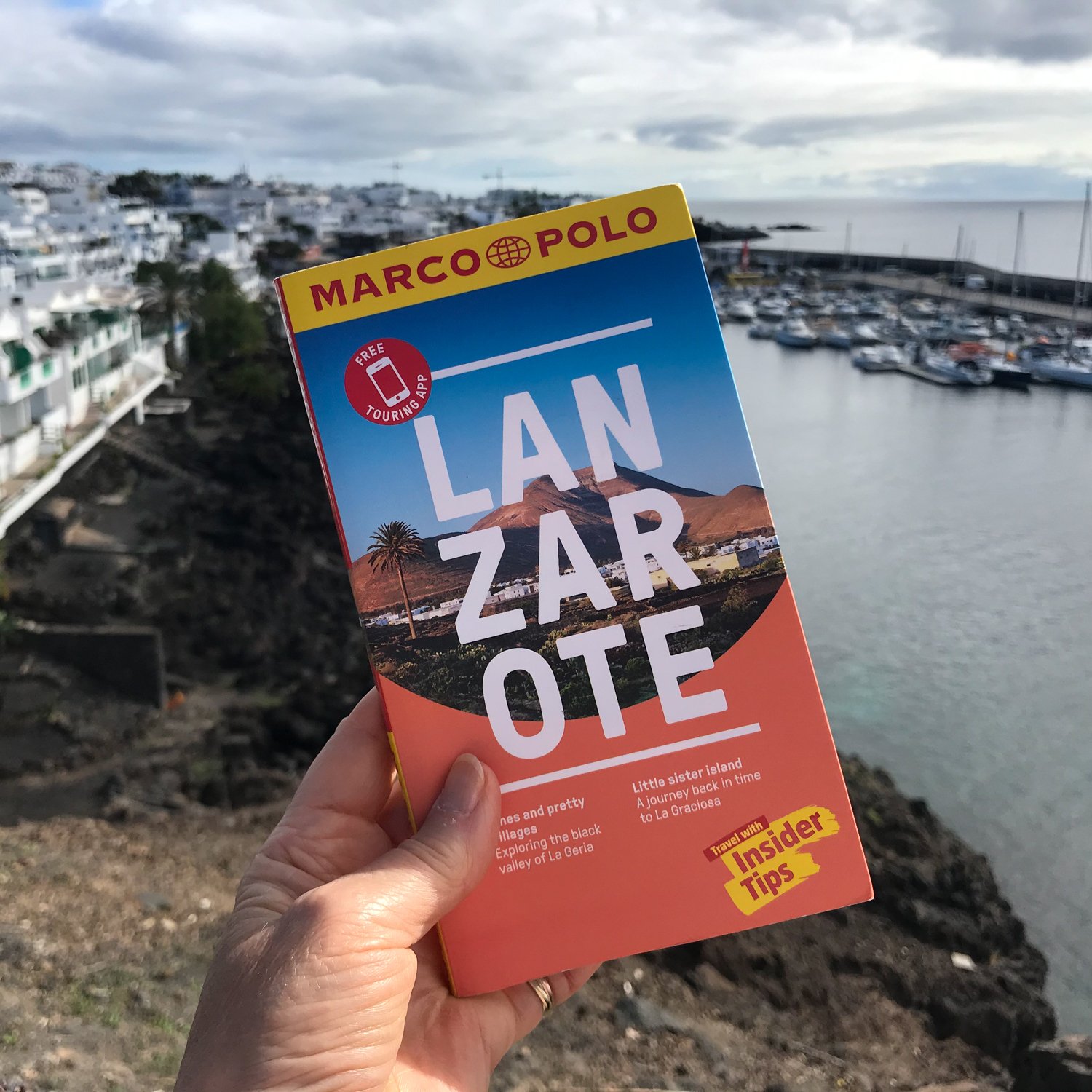 For guided tours I can recommend two excellent tour companies in Lanzarote
Wine Tours Lanzarote run regular wine and craft beer tours and are extremely knowledgeable about the food and wine of Lanzarote. We took their most enjoyable wine tour covering three different bodegas which includes pickup from your accommodation. They also have a wine shop for deliveries of Lanzarote wines in the UK and Ireland.
Eco-insider Lanzarote offer a wide range of small group tours with knowledgeable local guides. We took their 3 volcanos tour, but they also run walking tours, birdwatching tours and a full day wine tasting tour.
You can also find some excellent full day tours and boat trips around Lanzarote on Get Your Guide, our recommended tour partner.
We stayed at two delightful places during our 10 day trip to Lanzarote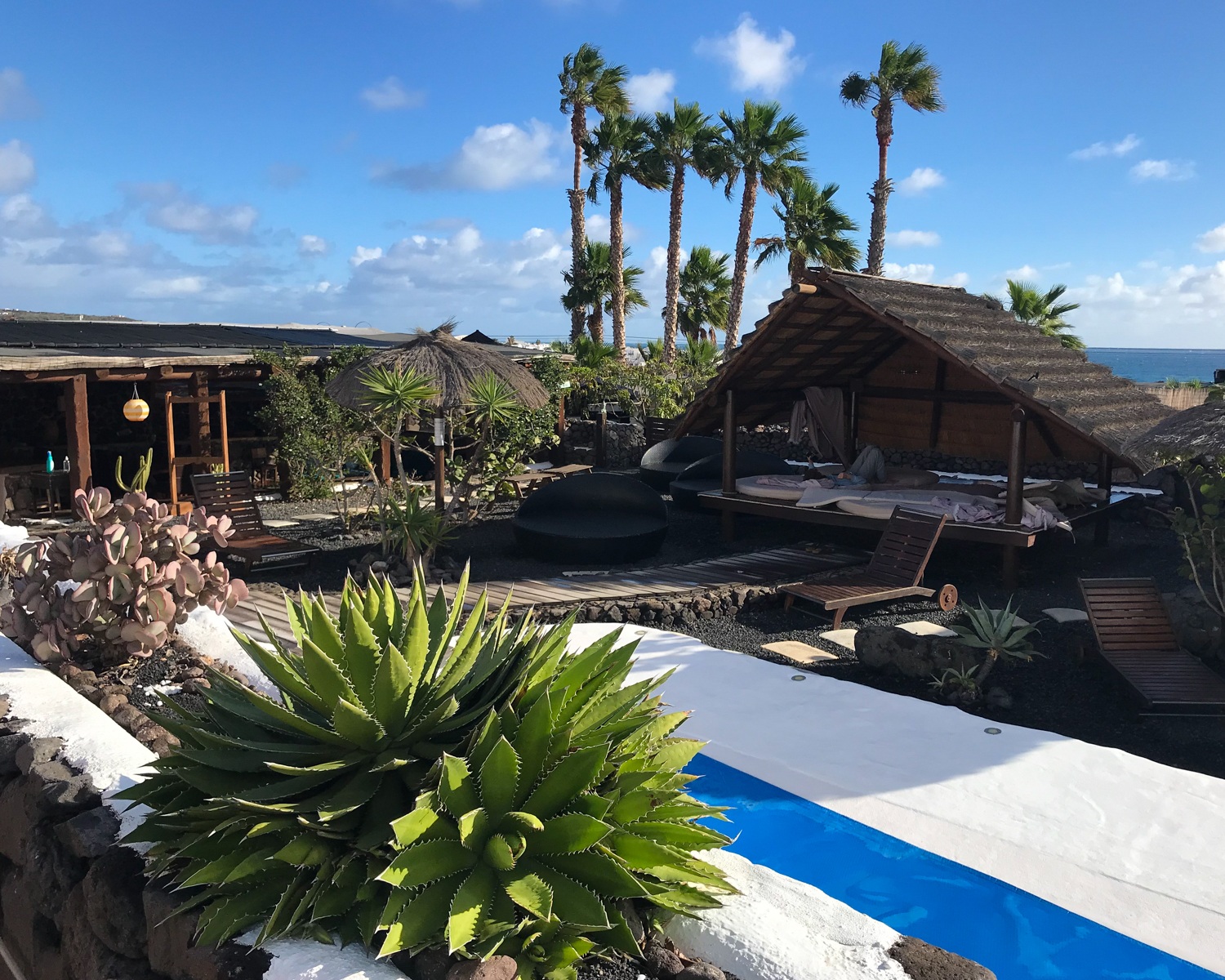 Find more information to plan your visit to Lanzarote on the Turismo Lanzarote website and the Hello Canary Islands website.

Pin it
We received a complimentary wine tour* from Wine Tours Lanzarote but otherwise we paid for food and drink ourselves.
* More info on my policies page
This article is originally published at Heatheronhertravels.com

Notice Regarding Third-Party Advertisements:
This is a cached database listing from another source and all content is created and provided by the advertiser who is solely responsible for such content including, without limitation, all text, images, contact information and websites. We assume no responsibility or liability for such content or the content or operation of websites that you may link to and visit. We do not endorse, review, or control any websites that are linked to or from an advertisement. Please read more about us and review our terms of use and conditions for additional information about database listings appearing on our site.
Please reference our online safety tips for general tips and techniques you should keep in mind to protect yourself and your privacy online. Additional information is also available about identifying and reporting suspected Human Trafficking.
You are viewing cached results from http://feedproxy.google.com/~r/Heatheronhertravels/~3/Nj3T_T9qVos/