Family Friendly
Finca Malvasia in Lanzarote – a boutique retreat among vineyards and volcanoes
[ad_1]

In the middle of the La Geria wine region of Lanzarote sits Finca Malvasia, an oasis of green palms and low white buildings set in a stark, volcanic landscape. Arriving down the narrow dirt road, we felt well off the beaten track, surrounded by vines that made small green mounds against the black picon gravel. Originally an old bodega or winery, the Finca is set in the middle of a working vineyard and offers a unique place to stay for those looking for a relaxing break in Lanzarote.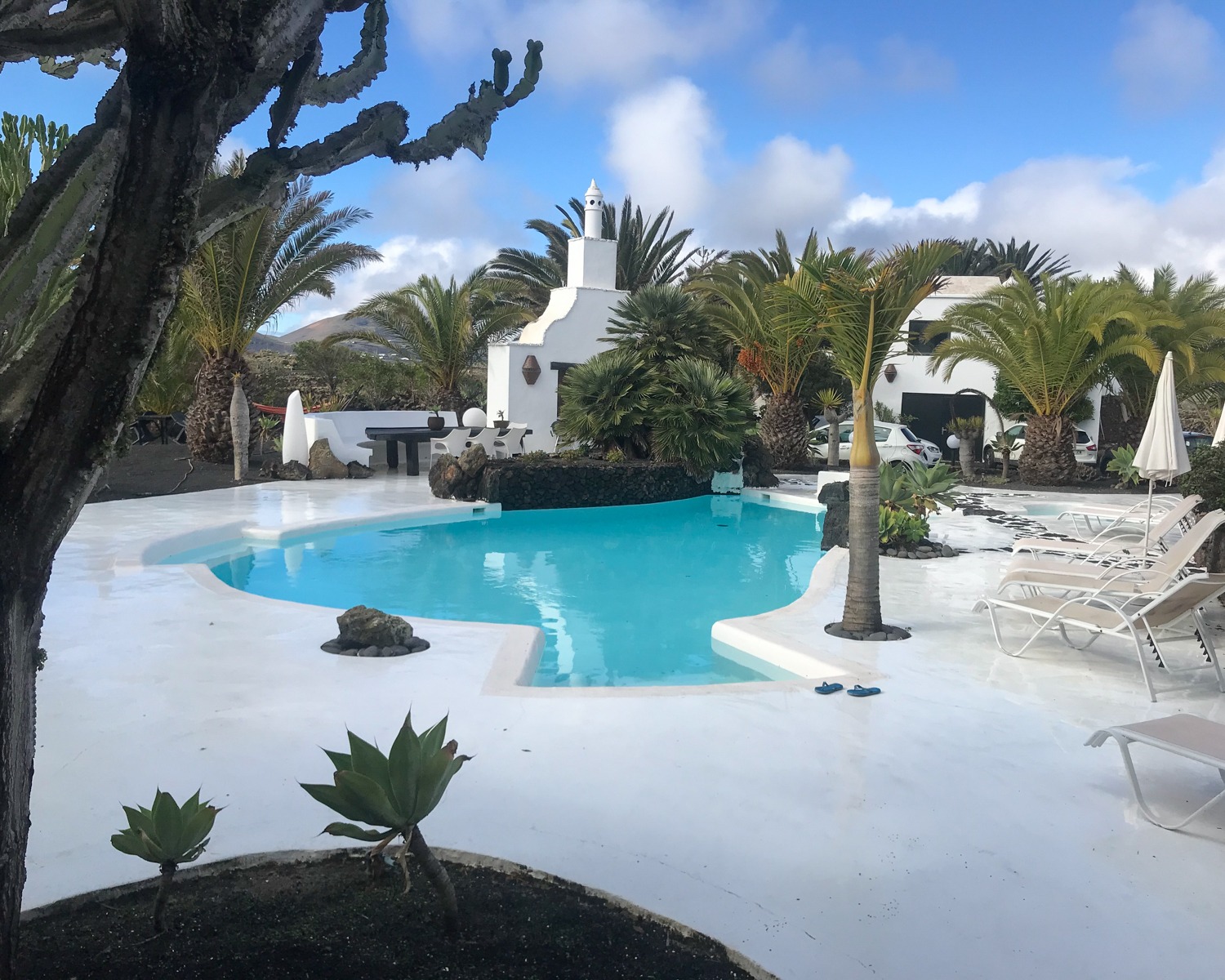 This article may contain affiliate links that provide commission on purchases you make at no extra cost to you. As an Amazon Associate I earn from qualifying purchases.
Finca Malvasia – boutique accommodation in Lanzarote
The boutique accommodation is made up of a three bedroom villa and several one or two bedroom cottages that were converted from the old farm buildings. A turquoise pool shared by the five whitewashed single story apartments sits where the central courtyard would once have been. This collection of luxury self catering accommodation in Lanzarote provides a secluded and stylish place to stay for those who want to experience an authentic side of the island, away from the busy resorts.
Finca Malvasia is a family business run by English couple Richard and Tarnya who were first drawn to Lanzarote for sunshine holidays and surfing. They took over the property 15 years ago and have made it into a relaxing retreat that draws on contemporary and mid-century design, blended with the traditional white Lanzarote architecture favoured by local artist Cesar Manrique.
In the dry volcanic landscape of Lanzarote the cactus is king, and the gardens around the Finca have been beautifully landscaped using banana trees, palms and succulents with a burst of colour from bougainvillea and flowering shrubs.
Looking out from this haven of calm, extinct volcanic cones mark the horizon and the low stone walls or zocos cover the fields, protecting the vines from the Atlantic winds. We felt we'd been dropped in the middle of nowhere, yet a 10-15 minute drive in any direction will take you to beaches, wineries and numerous other attractions.
La Bodeguita at Finca Malvasia
We stayed in La Bodeguita at Finca Malvasia, the most recently converted of the cottages, a studio that had once been a winery store room.
The decoration of each apartment is slightly different, but all use the traditional Lanzarote architectural style of whitewashed or volcanic stone walls. The palate of natural soft greys or neutrals with contemporary furnishings draws on mid-century classic design – think Heals or Terence Conran.
Our studio bedroom had been cleverly made light and bright with white floor, walls and painted rafters. The dark stained wood of the headboard and door frame was softened with hanging plants, abstract artworks and luxurious Egyptian cotton bedlinen. The large double bed was extremely comfortable and a built in seating area alongside it could be converted into a small child's bed.
Our La Bodeguita studio apartment at Finca Malvasia included a kitchen area with open shelving, equipped with a fridge, sink, 2 ring hob, microwave and other gadgetry like a a toaster and kettle. Although small, the kitchenette offered everything required for a couple to self-cater, mixed in with al fresco dining in the BBQ area or eating out at the many excellent restaurants around the island.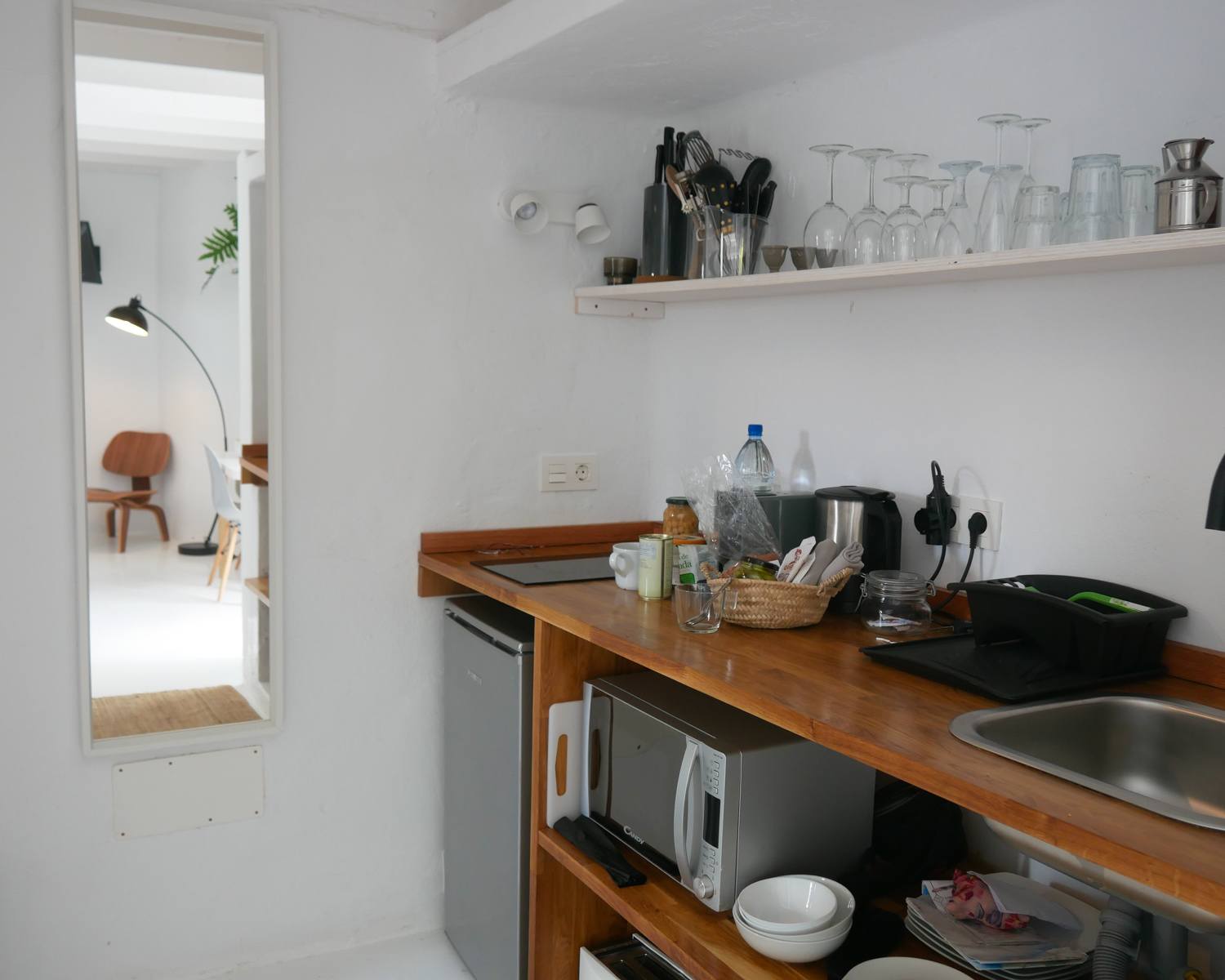 Walking through an open storage and hanging wardrobe area was the shower room, with sleek Italian style sink, wc and a built in shower with curtain. The bathroom window looked out across the vineyards toward the volcanoes in the distance, and with plenty of soft towels and luxurious toiletries, we were set for a very comfortable stay.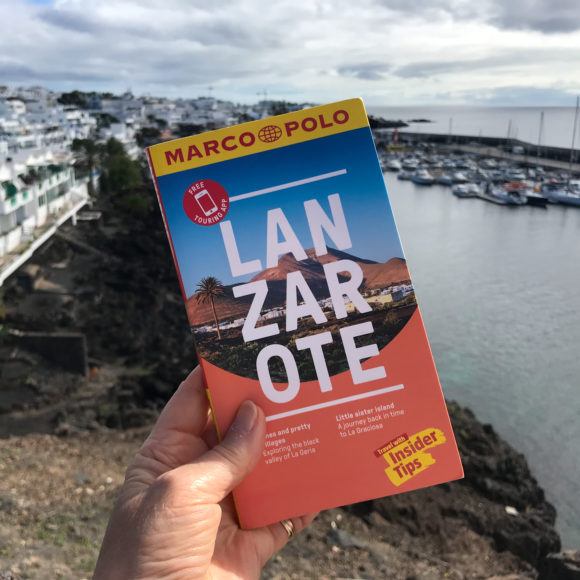 Need a guidebook for Lanzarote? We can recommend the Marco Polo Lanzarote guidebook that we used during our visit.
Around Finca Malvasia
Each of the apartments has its own outdoor seating area and ours framed a view across the vineyards to the volcanic cone in the distance. Within the garden area we found sun loungers, hammocks and a communal barbeque area with a large dining table overlooking the swimming pool.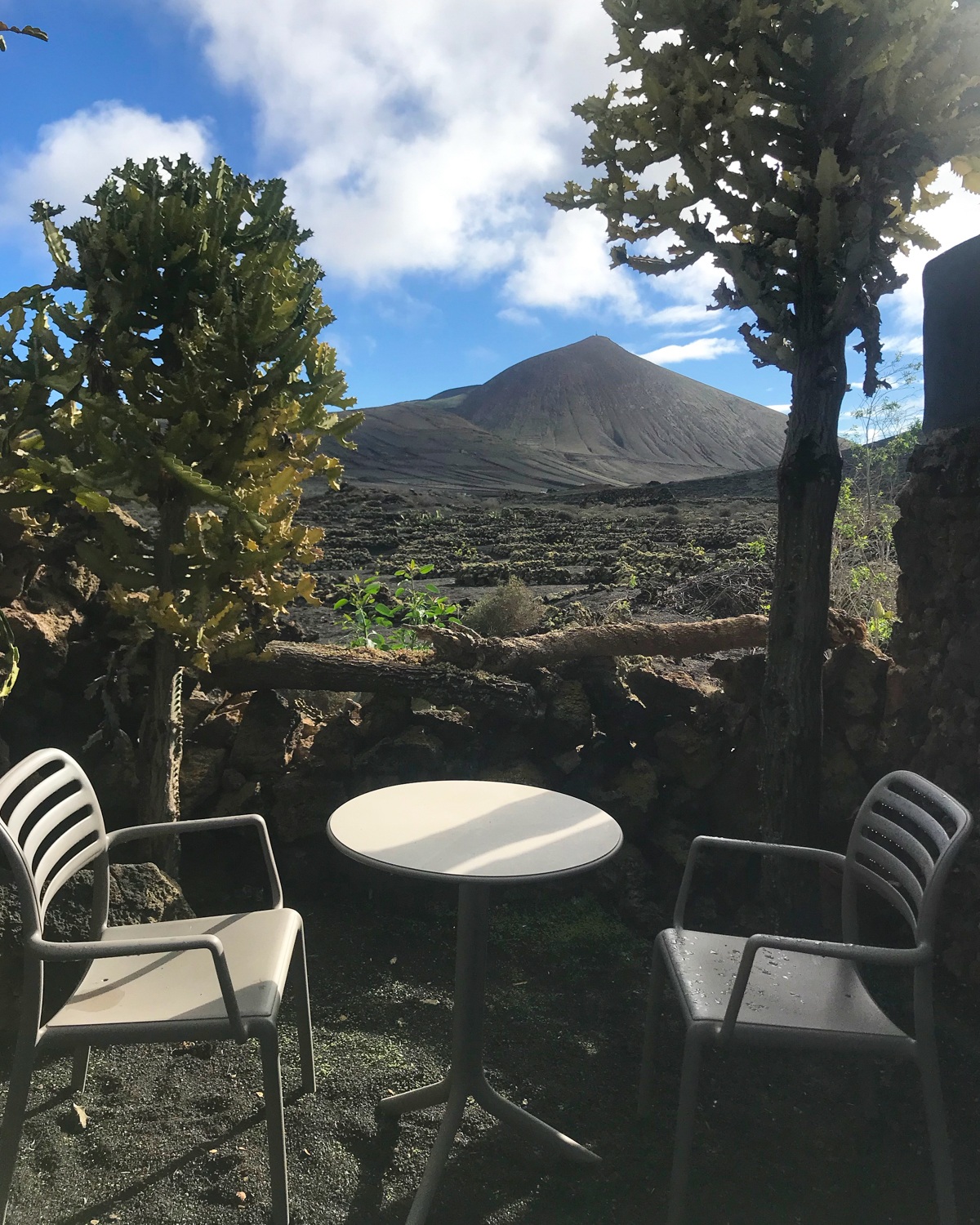 The turquoise lagoon style pool is inspired by the Cesar Manrique pools you'll find at Jameo del Agua and LagOMar, with a shallow paddling pool for younger children to enjoy. Above all Finca Malvasia is a place to relax, and you can book a massage or yoga lesson in the round stone fitness room on the edge of the property.
We enjoyed a few basics in our room on arrival such as tea and coffee and some delicious local cakes. A welcome hamper for 2 people can also be ordered for €65 which includes a selection of breakfast ingredients, local wine and a platter of Canarian meats and cheese, so that you don't have to rush straight off to the supermarket.
There are food shops within a 10 minute drive, so it's easy to stock up when you are out and about sightseeing during the day. The guide that you'll be sent before you arrive also has plenty of restaurant recommendations.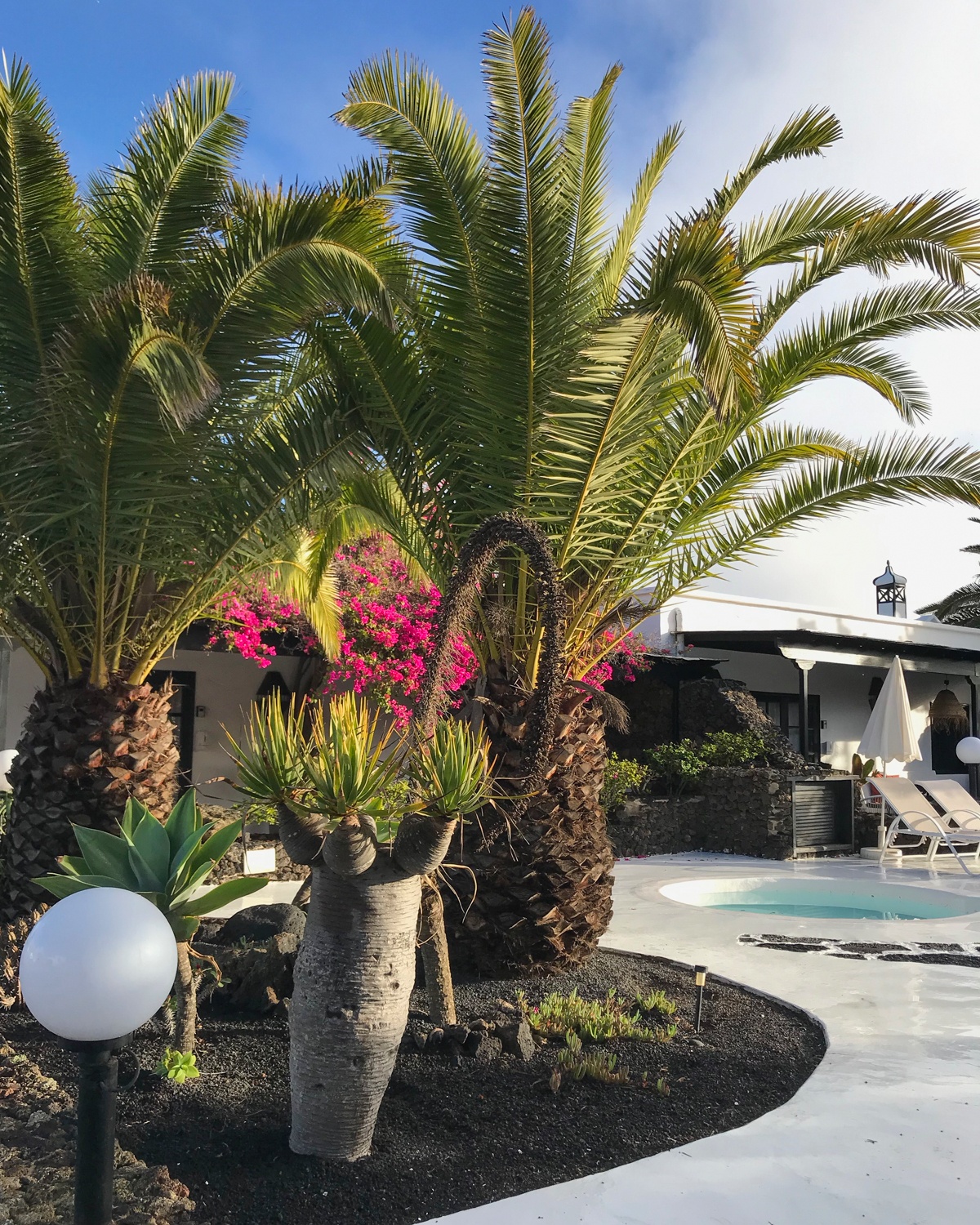 Although the owners Richard and Tarnya are not resident at Finca Malvasia, they are hands on hosts and popped by to have a chat and check that we had everything that we needed. They are happy to arrange any tours or activities you may want to try, such as surfing, hiking, cycling or taking a wine tour.
You may also enjoy: Visit Graciosa from Lanzarote – a day trip of cycling and swimming
Who will enjoy staying at Finca Malvasia?
We think that Finca Malvasia in Lanzarote will appeal to:
Couples, families and groups of friends who want a quiet and relaxing place to stay in Lanzarote, away from the busy resorts and big hotels.
Groups of family or friends who want to book individual accommodation but spend fun times together. You can even take over the whole property for the exclusive use of your group.
Style lovers who enjoy the pared back, contemporary mood of the interior design, with carefully chosen objects and artworks. The Finca is incredibly photogenic with Cesar Manrique inspired turquoise pool and whitewashed traditional architecture and has been used in the past for photo-shoots.
Wine lovers will find themselves in the middle of a working vineyard, in the heart of La Geria wine region and can visit numerous bodegas nearby for wine tastings.
Good to know
The Finca is in a rural setting surrounded by vineyards, so a hire car is essential for your stay.
This isn't the place for lovers of nightlife and entertainment, as the nearest restaurants are a drive away and you might feel a bit uncertain driving along the narrow track at night.
The Finca is a little tricky to find, so if arriving after dark, be sure you have noted the directions carefully.
Book your holiday at Finca Malvasia
You can book for Finca Malvasia through their website at Fincamalvasia.com or check prices and availability here.
The Finca comprises a 3 bedroom villa with its own pool and five further self catering 1 bed and 2 bed apartments set around a central shared pool.
All apartments have a fully equipped kitchen, flat screen TV, wifi, sun loungers and outdoor seating.
Massage and yoga sessions can be booked in the small treatment room on the edge of the finca.
As the finca is in a rural setting surrounded by vineyards, a hire car is essential for your stay.
For more places to stay in Lanzarote check prices and availability for the best hotels in Lanzarote.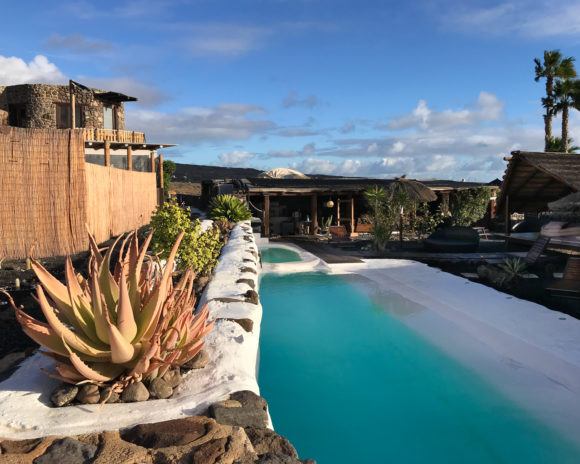 In addition to Finca Malvasia, we also stayed Finca de Arrieta – we can recommend their eco-village with stylish yurts and cottages.
10 fun things to do in Lanzarote near Finca Malvasia
You can also find some excellent full day tours and boat trips around Lanzarote on Get Your Guide, our recommended tour partner.
1. Visit the wineries of La Geria
Staying at Finca Malvasia places you in the heart of the La Geria wine region of Lanzarote, so visiting some of the nearby wineries has to be top of the list of things to do while staying here. You only need to drive along the LZ30 La Geria road to see numerous bodegas either beside the road or signposted down side roads between the vineyards. From Finca Malvasia it would be easy to hike to many of the bodegas so that you don't have to worry about driving and can enjoy a few more glasses of wine.
Most wineries offer a chance to taste their wines before you buy and some also provide small snacks or tapas to go with the food or run bars that have a convivial feel. The larger wineries such as El Grifo and Bodegas Rubicon are well organised for visits, but be sure to also check out some of the smaller bodegas like El Tablero which sell their wines directly to the public.
2. Take a wine tour
Even if you want to explore some of the bodegas on your own, we can highly recommend taking a wine tour like the one we did with Wine Tours Lanzarote. Our guide Dan explained how the wine is grown in a unique way in Lanzarote, driven by the low rainfall and lack of water for irrigation. To make the most of any moisture, vines are planted individually in a hollow that collects the morning dew and channels it towards the vine.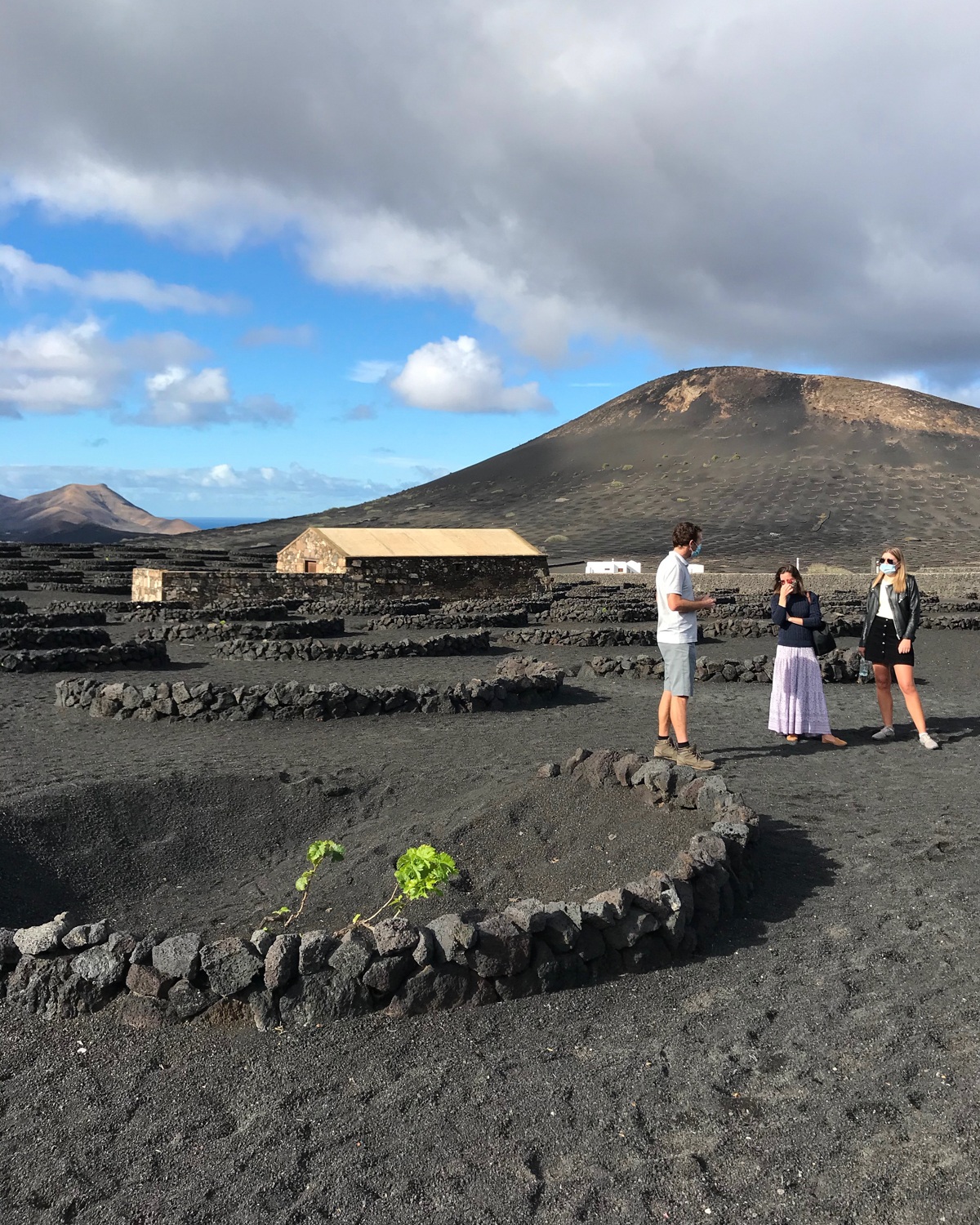 Semi-circular stone walls called zocos provide protection from the Atlantic winds, while black volcanic gravel called picon covers the soil as a mulch to help retain the water. Through taking a wine tour you'll get a great overview of the different grape varieties, the history of wine making on Lanzarote and perhaps visit some more out of the way wineries that you might not discover on your own. Wine Tours Lanzarote also have a Wine Shop where you can buy their carefully selected Lanzarote wines for delivery in the UK and Ireland.
3. Timanfaya National Park
Timanfaya National Park is one of the top things to see in Lanzarote and luckily it's just a short drive away from Finca Malvasia. In the 1730s a series of volcanic eruptions and lava flows covered around a large part of the island of Lanzarote, and part of this volcanic landscape has been designated as the Timanfaya National Park offering some fun activities. If you don't have a car, we recommend taking one of the many guided tours of Timanfaya National Park.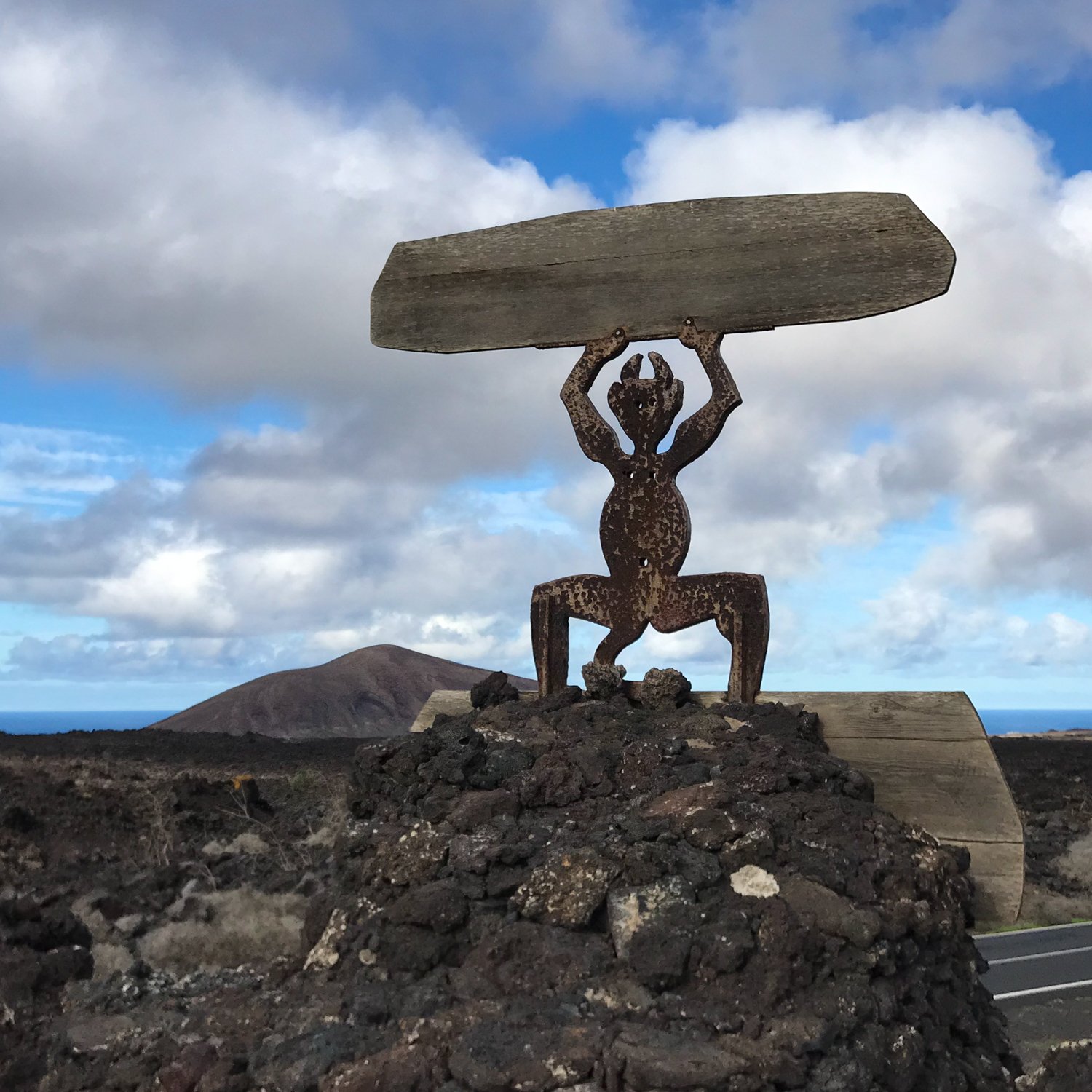 You can drive freely along the LZ67 road that runs through the park and learn more about the island's volcanic past at the visitor centre, also free. Another stop close to the road is the Echadero de Camellos or camel centre where you can visit the small museum and take a short ride ( €12 per camel for 2 people) on one of the camels along a trail through the park. The camels were traditionally used in Lanzarote for farm work and they are able to survive in the island's dry climate.
Finally you can leave the main road and drive up to the Montañas del Fuego or Mountains of Fire. Your ticket (€12) covers a 30-40 minute bus tour on a narrow road through the strange volcanic landscape and a display of the volcanic fire and geyser after the tour. You can also visit the El Diablo restaurant designed by Cesar Manrique where they often barbeque chicken over the heat of the volcanic magma deep in the earth.
4. Take a volcano tour
While most visitors to Lanzarote head to Timanfaya National Park, it's less well known is that this is only one section of the island's volcanic landscape. The remaining area is covered by the Los Volcanes National Park where there are smaller roads and parking spots with interpretation signs about the different volcanic peaks.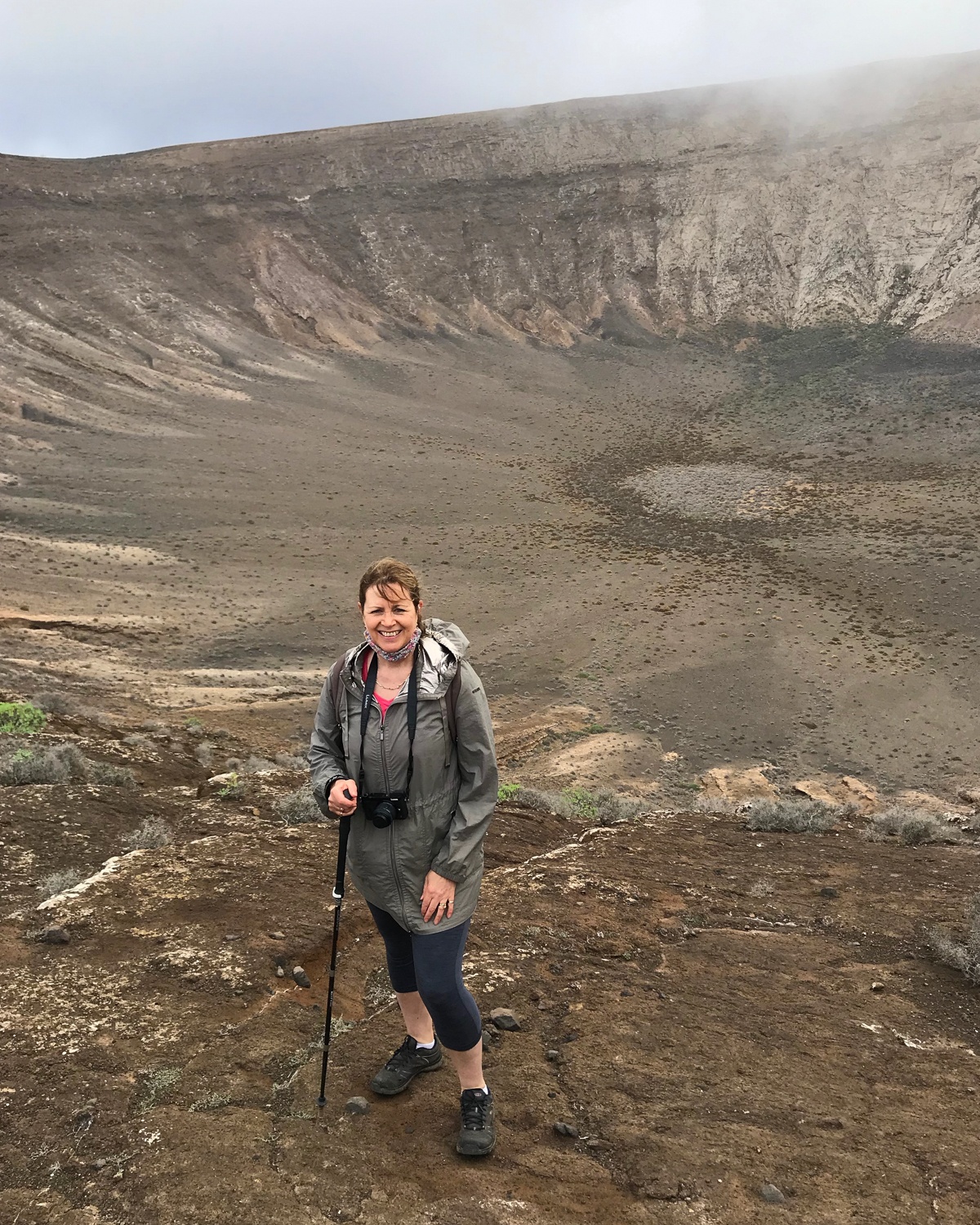 One of the best ways to see the different volcanoes close up is to take a volcano tour like the one we did with Eco-insider. Our tour took us to three different volcanic features and gave us a fascinating insight into the eruptions and landscape. My favourite part of our 3 volcanoes tour was climbing one of the highest cones of Caldera Blanca and looking down into the crater, with views right across the island.
Because the tour uses a landrover to reach the different volcanic sites, we were able to see a lot more in a short time, as well as having the expertise of Carmen, our knowledgeable guide from Eco-insider on the ecosystem, flora and fauna of the volcanic terrain.
5. Museo del Campesino
Also near Finca Malvasia is the Museo – Casa del Campesino, one of the sustainable tourism initiatives that was founded by the artist Cesar Manrique. The centre provides a very enjoyable insight into the crafts and artisans of Lanzarote, with workshops set around the courtyard of a traditional finca or farmstead.
Here you can try out the crafts for yourself, and I turned my hand to painting with cochineal, using the red dye made from the tiny cochineal beetles that feed on the local cactus. Other workshops include making the Mojo Canarian sauce, plaiting the palm leaves used to make hats and baskets, and baking with the gofio cornmeal used to thicken drinks and stews.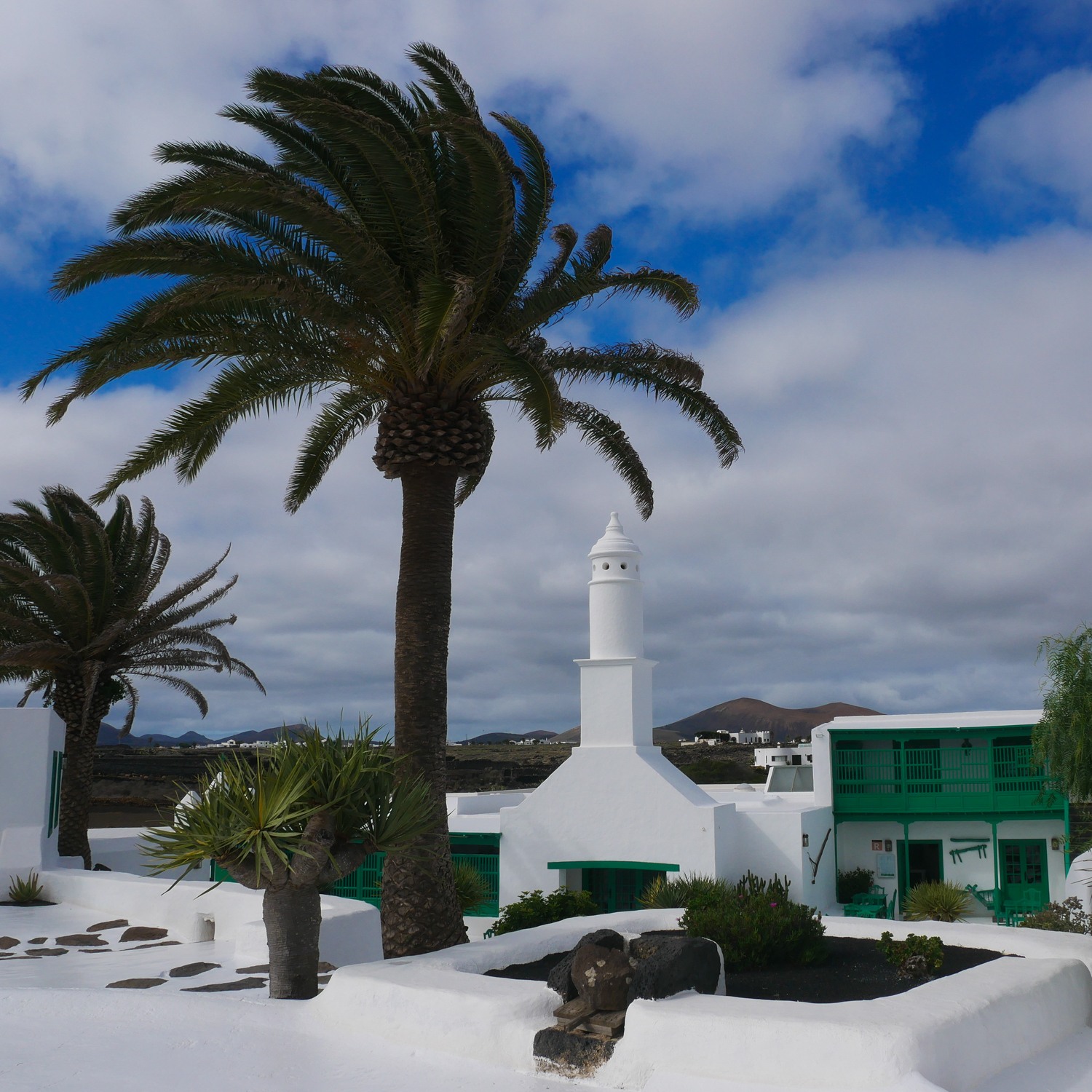 Next to the Campesino is the Monumento a la Fecundidad (Monument to fertility) designed by Cesar Manrique as a tribute to the farming communities of Lanzarote. The abstract sculpture made of old water tanks is reminiscent of an ear of corn, a camel or a goat depending on which way you look at it.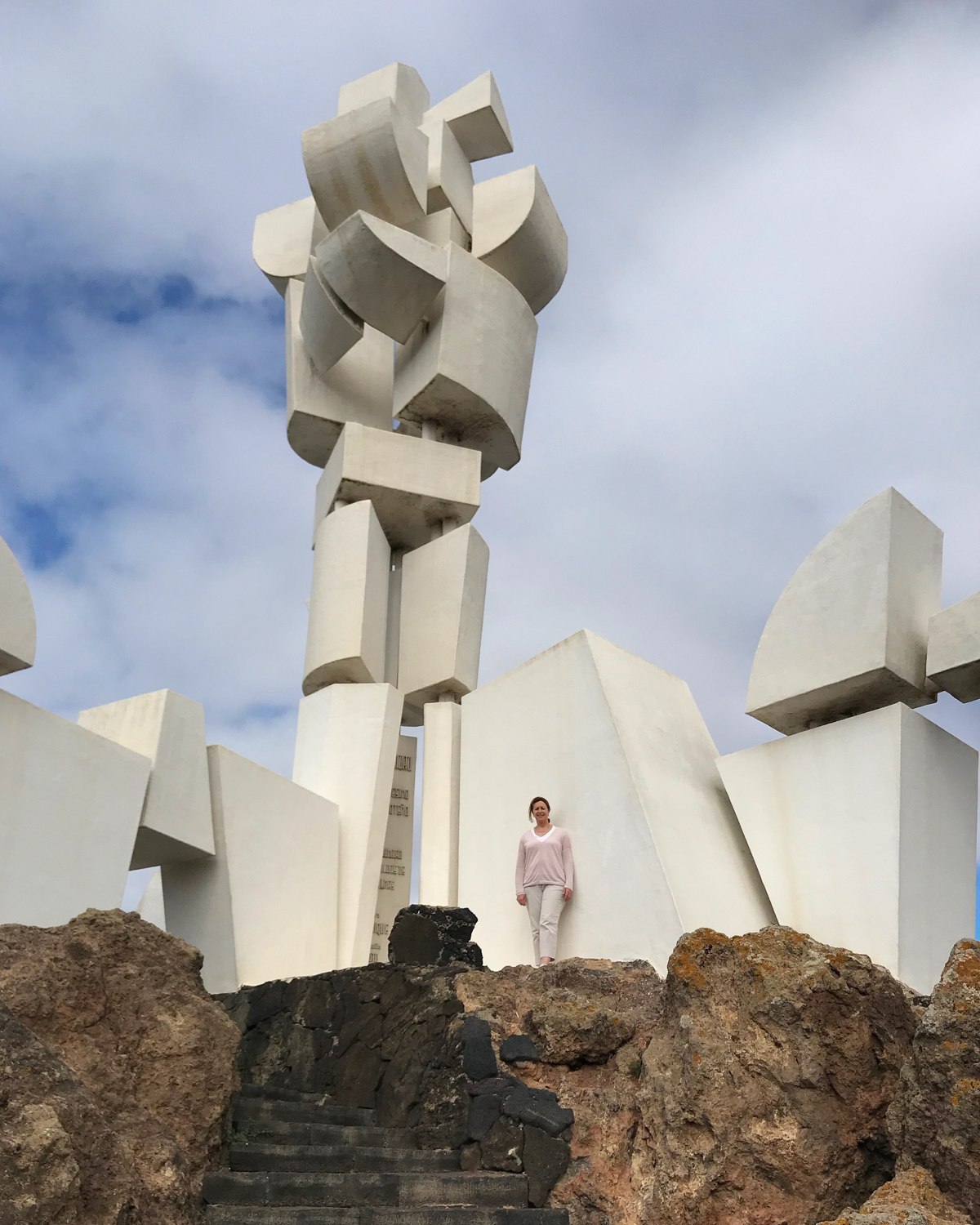 6. LagOMar
One of our favourite places to visit in the centre of the island was LagOmar, a unique house and visitor attraction that once belonged to the heart-throb actor Omar Sharif. Built into the hillside, with not a straight line in sight, the property is full of hidden chambers and vistas over the turquoise pools and sheltered gardens.
The house is the design of local artist Jesús Soto who worked with the developer to create the house that Omar Sharif fell in love with and bought when he was filming on Lanzarote in the 1970s. The actor barely lived here, since he reputedly lost the house in a game of bridge and never returned to Lanzarote. LagOmar was redeveloped by new architect owners in the 1980s to create an artistic and cultural centre, with an excellent cafe and restaurant overlooking the lagoon pool.
7. Salinas de Janubio
From Yaiza, just south of Finca Malvasia you can take a wonderful coastal drive with several places of interest along the way. Head south along the smaller LZ-701 road that runs parallel to the newer LZ-2 to see the Salinas de Janubio, a patchwork of salt pans. In the past much of the coastline was covered with these salt pans, with the sea salt being used to preserve food in the days before refrigeration. Now the salt pans of Janubio are the only ones remaining in commercial use and they make a pretty picture if photographed from above as you drive along the road.
The Mirador de las Salinas restaurant is a good place to stop for lunch, with a great view over the salt flats and they also sell the salt if you want to take some home. Tours are also available of the salt pans run by the Salinas de Janubio on weekdays at 10.30am for English speakers. If you continue your drive around the coast, there's a car park on the headland with access to the black volcanic sand beach of Playa de Janubio.
8. Los Hervideros
The road follows the coast past Los Hervideros, a viewpoint where you can truly feel the power of the Atlantic ocean. From the car park, paths have been created along the cliff tops to balconies where you can see the sea caves or look down into blowholes that throw up the spray. The name Los Hervideros literally translates as "boiling pots" and you can see why, as the sea churns up below you, washing in and out of the caves and crashing against the rocky shore. We recommend this day tour which includes a stop at Los Hervideros, El Golfo and other places around Lanzarote.
9. Charco de los Clicos & Lunch in El Golfo
A little further, the coast road reaches El Golfo, a seaside village on the edge of the lava field created by the eruptions of the 1730s, with another of the black beaches for which Lanzarote is famous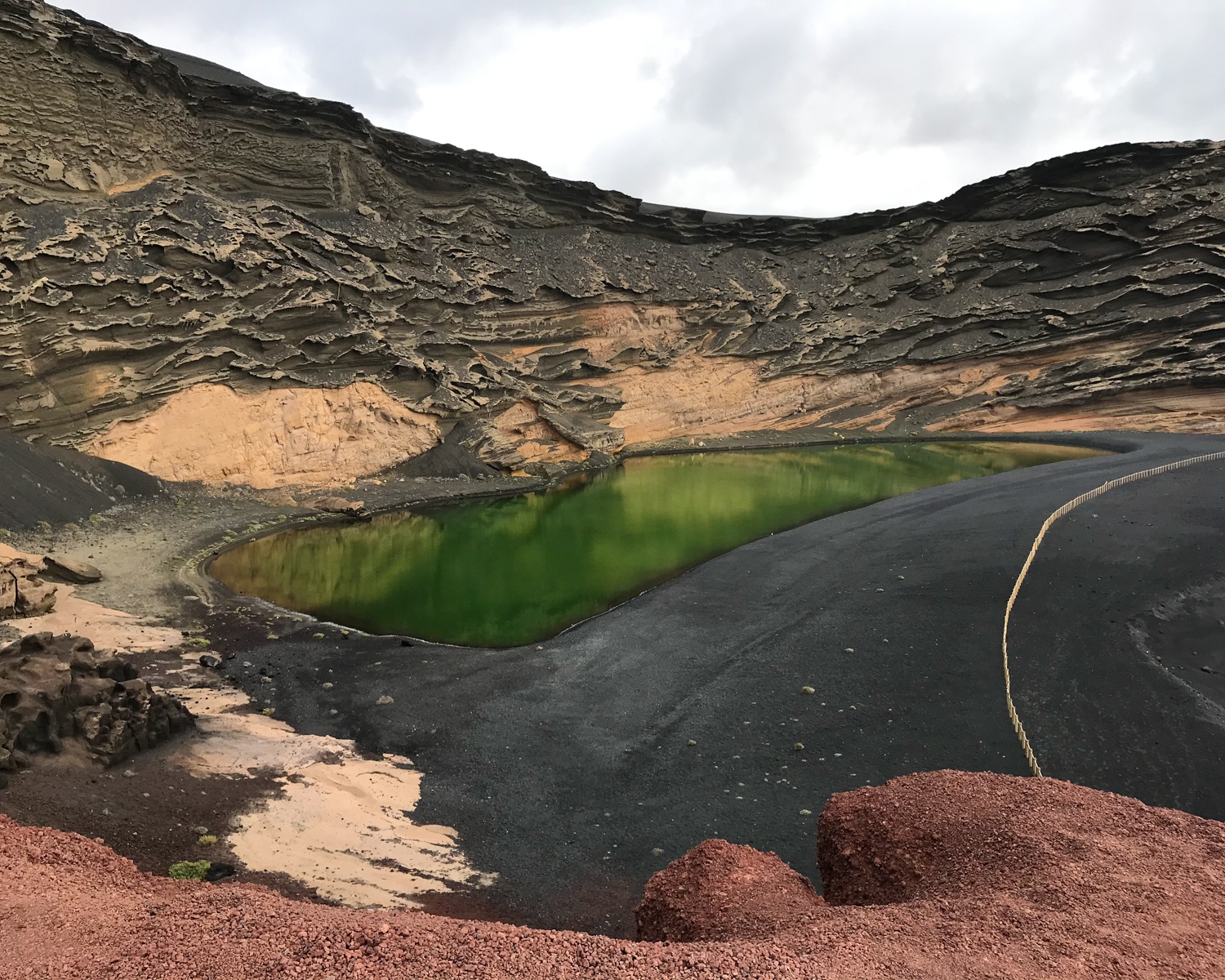 From the car park on the southern edge of the village, walk a little way along the coastal path to a viewpoint where you can see the curious green lagoon known as Charco de los Clicos, glowing in the sun like an emerald against the black sand. The green colour comes from the algae that live in the water and this area is protected as a nature reserve. You can also walk along the black sand beach to view the lagoon from sea level, although there's a barrier preventing you getting too close.
After you've seen El Lago Verde, walk into the village of El Golfo which is not much more than a few holiday houses and a string of seafood restaurants. This is a great spot to settle into one of the restaurant terraces with a view of the ocean for a plate of fresh seafood. At the end of the village is a children's playground and second car park, with a footpath that runs all the way along the coastal strip of the Timanfaya National Park as far as Playa del Paso.
10. Papagayo beaches
If you fancy a day of sea and swimming, the beaches of Papagayo make a wild and unspoiled alternative to the busy holiday resorts of Lanzarote. Although they are within sight of Playa Blanca, there is no development around these coves, as they are part of a protected nature reserve, with a fee of a few euros to access them by car. The main Papagayo beach has a large car park and a couple of beach restaurants, but you can easily drive or walk along the cliff path to the other adjoining beaches, such as Playa de la Cera and Playa del Pozo. There are lots of sailing cruises that take you to Papagayo for swimming and snorkelling.
The beaches are sheltered by the cliffs and the clear, turquoise water looked beautiful for swimming, although in December when we visited we were content to admire them from the terrace of the restaurant Casa El Barba where we had lunch. If you visit for the day, be sure to take your own water and picnic as there are no shops or facilities here and the restaurants can get very busy.
Plan your trip to Lanzarote
For a comprehensive but compact guidebook covering all you need to know about Lanzarote, I recommend the Lanzarote Marco Polo pocket guide. This is the guidebook that I used while were were there and it gives lots of background information and insider tips on the best things to see, including a free touring app with maps to download and use offline.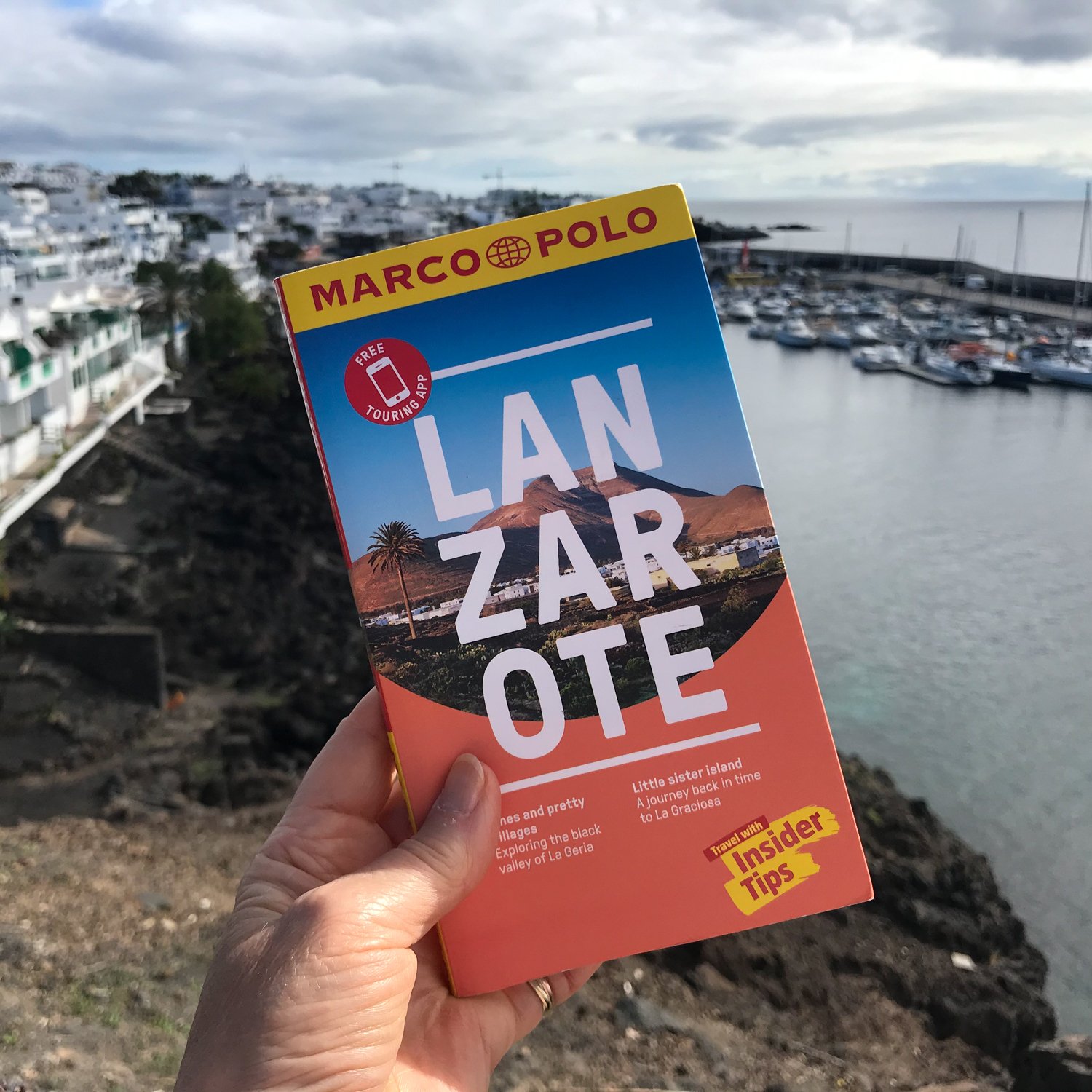 For guided tours I can recommend two excellent tour companies in Lanzarote
Wine Tours Lanzarote run regular wine and craft beer tours and are extremely knowledgeable about the food and wine of Lanzarote. We took their most enjoyable wine tour covering three different bodegas which includes pickup from your accommodation. They also have a wine shop for deliveries of Lanzarote wines in the UK and Ireland.
Eco-insider Lanzarote offer a wide range of small group tours with knowledgeable local guides. We took their 3 volcanos tour, but they also run walking tours, birdwatching tours and a full day wine tasting tour.
You can also find some excellent full day tours and boat trips around Lanzarote on Get Your Guide, our recommended tour partner.
Find more information to plan your visit to Lanzarote on the Turismo Lanzarote website and the Hello Canary Islands website.

[ad_2]

Notice Regarding Third-Party Advertisements:
This is a cached database listing from another source and all content is created and provided by the advertiser who is solely responsible for such content including, without limitation, all text, images, contact information and websites. We assume no responsibility or liability for such content or the content or operation of websites that you may link to and visit. We do not endorse, review, or control any websites that are linked to or from an advertisement. Please read more about us and review our terms of use and conditions for additional information about database listings appearing on our site.
Please reference our online safety tips for general tips and techniques you should keep in mind to protect yourself and your privacy online. Additional information is also available about identifying and reporting suspected Human Trafficking.
You are viewing cached results from http://feedproxy.google.com/~r/Heatheronhertravels/~3/1fMc0oUHj5I/