Vacations
Costa Rica Facts For Nature Lovers That Will Make You Say "Wow"!
If your first thought of a wildlife vacation is Africa, then you need to think again. Costa Rica has rapidly established a name for itself as the wildlife capital of the world due to the sheer diversity of animal life to be found there. In this post, you will find the most interesting Costa Rica facts for nature lovers.
Being considered as one of the happiest countries in the world, Costa Rica is definitely worth visiting! Keep on reading to discover the best facts about Costa Rica and get inspired.
Pure Vida Is A National Motto Of Costa Rica
One of the fun facts about Costa Rica is that the national symbol of the country is Pure Vida which literally translates to 'Pure Life'. This expression sums up the attitude the Costarricenses have about life.
No wonder that these citizens of this Central American country are known to be the happiest in the world.
Costa Rica Is One Of The Megadiverse Countries
Even though the country occupies just 0.3% of the world's landmass it harbors an astonishing 5% of animal species, statistics which are indeed impressive, within its 25 national parks and 58 reserves spread over a fourth of the area of the country.
Flanked by oceans on either side and situated in the center of the continent connecting North and South America, the neotropical climate of Costa Rica serves as a biological corridor for migrating species. This is the main reason why the country is in the top 20 in the world, with its rich biodiversity.
The National Parks System provides ample space to scientists and biologists to study the unique flora and fauna, support the local economy, and have excellent infrastructure for tourists to visit with minimal impact on the wildlife. Some excellent brands such as Naturetrek offer sustainable travel options to Costa Rica in tune with conservation.
Pro tip – August 24 each year is celebrated as National Parks Day when every individual, local or foreigner, is allowed free entry to any park for that day.
New Species Of Animals Are Being Discovered In Costa Rica Every Year
Costa Rica has become one of the leading destinations for wildlife lovers from all over the planet because it is home to nearly 250 species of mammals, 225 reptiles, nearly 900 birds, including 52 species of hummingbirds and 260 species of carnivores. In addition out of the seven sea turtle varieties, four are found here as are ten percent of known kinds of butterflies found anywhere.
Interestingly new species are still being discovered even today. Another of the interesting facts about Costa Rica is that though the entire country's land area is 52100 square kilometers, the Pacific marine area is more than ten times at 62500 square kilometers.
Costa Rica Is A Paradise For Nature Lovers
Costa Rica is a peaceful country and a paradise for observing wild animals and conducting nature studies. It has an excellent system of reserves and national parks, many well-versed tourist guides, and a wide range of eco-friendly lodges.
Within hours of the city, one can gain access to a high altitude cloud forest, dense rainforest, savannah type habitat or miles and miles of coastal shorelines each with their own collection of unique animal species.
Montverde Park Is One Of The Best Places To Visit In Costa Rica
Located in the high altitude mountains of the Puntarenas province, Montverde Park is a wonderful cloud forest park, well-recognized all over the globe.
With elevation ranging from 1200m to 1750m, the variable climate has resulted in helping produce an extremely rich bio-diverse hotspot. Occupied by thousands of species of insects, 2500 plant kinds, over 100 mammal varieties, and nearly 400 bird species, this is truly a one-of-a-kind sanctuary.
Largely considered to be one of the most stunning birds of the Western Hemisphere, the Resplendent Quetzal can be spotted here vividly, especially during the March to April mating season.
Costa Rica Is A Perfect Place To Spot Animals In The Wild
By virtue of just being in Costa Rica does not guarantee wildlife sighting. It is important to plan the trip in such a way to see certain animals during the right season. Some of the best-loved animals of the country are described here, with where and when to find them:
Sloths
Both the two-toed and three-toed sloths can be seen around the year in the Corcovado, Manuel Antonio and Tortuguero national parks. For sure-shot sightings, the Sloth Sanctuary in Limon province is best.
Turtles
Costa Rica has four species of sea turtles namely, Hawksbill, Leatherback, Green Leatherback, and Olive Ridley which can be spotted on both the Pacific and Caribbean coasts at different times of the year.
The Tortuguero and Cahuita national parks are especially good for Green and  Hawksbills which nest here between June and October.
Jaguars
This solitary hunter is the world's third-largest feline and one of the most sought after by nature enthusiasts.
The jaguar lives in the dense rainforests, and though sightings are few and far between, there are reasonable chances to see this elusive animal in the Amistad and Corcovado national parks.
Toucans
This beautiful and odd-looking bird is said to be the symbol of Costa Rica.
Toucans are easy to spot throughout the year in most places but the best are Arenal Volcano National Park and Carara National Park. Their brightly colored bills make them stand out against the forest canopy making them easily recognizable.
Monkeys
Chances are that you will hear them before you see them.
Costa Rica has four types of monkeys, Howler, Spider, Capuchin, and Squirrel. While you can find at least one of these in most parks, all the four can be seen on the Osa Peninsula and Corcovado National Park.
Whales And Dolphins
The most frequently seen dolphins around the year are the bottlenose and spotted species at Drake Bay and Corcovado National Park. Whales like the humpback can be seen on the Pacific coast pretty consistently, while the orcas and blue whales make an appearance from time to time.
Tapirs
Out of the four types found here, the Baird's Tapir is the largest and critically endangered of all the species. With less than 1000 individuals left in the wild, spotting this animal is a real privilege. The evening time at Corcovado National Park is the best to get a glimpse of this rare animal.
Hummingbirds
Hummingbirds are the smallest of all the bird species and Costa Rica has as many as 54 of them, including two endemics. These beautiful birds have fluorescent feathers and can be spotted anywhere in the country close to the water.
The maximum number of species can be seen in Monteverde and La Fortuna National Parks. Be sure to carry a camera with a good zoom lens if you wish to photograph these fast flappers.
There Are 30 National Parks In Costa Rica
One of the interesting facts about Costa Rica is that more than 25% of the country's total area is the protected land.
When visiting a National Park or Reserve International visitors should be expected to pay between $5 to $14, while the rates for locals are relatively lower.
The smallest national park in the country, within easy reach of San Jose, is the Manuel Antonio National Park also happens to be the most popular and allows just 800 visitors at one time. To avoid long lines make sure you reach there as early as possible. 
Apart from the monkeys, birdlife is phenomenal with species like frigate birds, pelicans, and terns. Food is forbidden in some areas in order to protect the monkeys which were fed by visitors for decades.
There Are Many Interesting Things To Do In Costa Rica Apart From Watching The Wildlife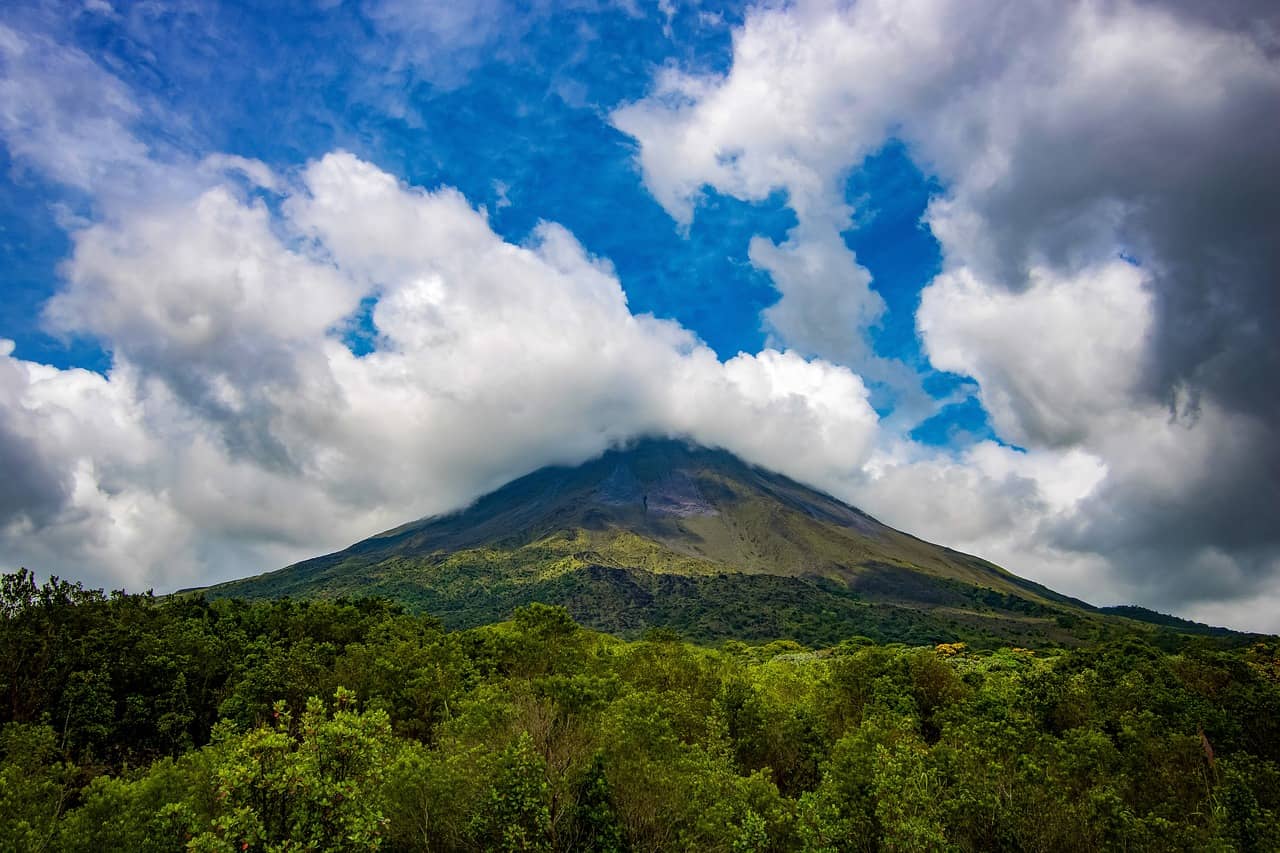 In the northeastern part of the country lies the Rincon de la Vieja National Park home to towering volcanic peaks, thermal springs, and swimming holes.
Since the volcanoes are semi-active, trails are off-limits. However, the Las Pailas trail offers adventure junkies an opportunity to skirt around boiling fumaroles and hot rocks to the upper crater and past several waterfalls. An information center, restrooms, picnic, and camping site is permitted at two sites. The park is 266km northwest of San Jose.
Spread over an area of 445 square kilometers, the Corcovado National Park on the Osa Peninsula is the most important sanctuary for biologically diverse wildlife in the whole of Central America.
This veritable tropical rainforest receives an astounding six meters of rainfall each year which has resulted in the creation of thirteen distinct habitats each home to a unique variety of flora and fauna including scarlet macaws and the two large cats, the ps and the jaguar.
To experience the best the park has to offer, make a visit between December and April, which is the dry season. Camping is permitted at designated places or one can opt to stay in any of the luxury eco-lodges nearby.
An area of over 47,000 acres has been earmarked off the north Caribbean coast of Costa Rica to form the Tortuguero National Park. This maize of waterways is best traversed in a kayak or a canoe that drift silently close to caimans sunning on the shore, iguanas, and monkeys high up in the trees.
Modest to high-end accommodation is available inside the park. Expert nature guides are available on hand to help in catching glimpses of freshwater turtles and sloths past the park canals in a motorboat.
Palo Verde And Carara National Park Are Best To Visit For Bird Lovers
An absolute must for birdwatchers, the Palo Verde National Park on the low wetlands of Tempisque River, is one of the best-kept secrets of Costa Rica. The various ecosystems here support a huge number of waterfowl and forest bird species. Located 200 km northwest of San Jose, the park has camping and some rustic accommodation facilities near the research station.
Another paradise for birding in Costa Rica is the Carara National Park lying 102 km west of San Jose. As you drive past the bridge over Rio Tarcoles, keep an eye for crocodiles basking in the sun. Bird species include some truly exotic varieties like toucans, macaws, hummingbirds, motmots, trogons, and woodpeckers.
The park is wheelchair accessible and several trails run past the mangroves and rainforests where one can spot many of the bird species.
Nearly every person who returns from Costa Rica will tell tales of the remarkable things they have spotted. That said, even after repeated visits through remote trekking jungle trails one can be assured of something new every time you go.
If you are looking for the ultimate eco-experience you need not look further than this Central American country. No matter how many gallo pinto and casados you have, it will be the natural world that will keep calling you back again and again.
Pin For Later:
Do you know any other fun facts about Costa Rica? Let us know in the comments below!
Notice Regarding Third-Party Advertisements:
This is a cached database listing from another source and all content is created and provided by the advertiser who is solely responsible for such content including, without limitation, all text, images, contact information and websites. We assume no responsibility or liability for such content or the content or operation of websites that you may link to and visit. We do not endorse, review, or control any websites that are linked to or from an advertisement. Please read more about us and review our terms of use and conditions for additional information about database listings appearing on our site.
Please reference our online safety tips for general tips and techniques you should keep in mind to protect yourself and your privacy online. Additional information is also available about identifying and reporting suspected Human Trafficking.
You are viewing cached results from https://karolinapatryk.com/fun-costa-rica-facts/