Family Friendly
Bavaro Beach – resorts, best spots, activities and public access to Punta Cana's main beach
Bavaro Beach is THE main beach in Punta Cana! If you are wondering how to visit it, where to stay and what to do at Bavaro Beach, this is your article not to miss for the next few minutes. Bavaro Beach is an amazing stretch of beach in Punta Cana, with beach bars, restaurants, all-inclusive resorts, stunning beachfront apartments and exciting activities. However, even the beach, which is also called Playa Bavaro, is public, public access points are limited, so it's good to know how to get to Bavaro Beach. This comprehensive guide will show you everything you need to know for your vacation in Punta Cana when visiting Bavaro Beach, incl. differences and similarities to other beaches in the area, such as Corales, Cortecito, Jellyfish and Bibijagua.
This article is about Bavaro Beach. If you are interested about further beaches in Punta Cana, check out this article about the best beaches in Punta Cana.
What is Bavaro Beach?
 Bavaro Beach is Punta Cana's main beach, stretching from Cabeza de Toro until Macao. Even there is no official definition and the borders to its neighboring beaches are seamless, it can easily be said that Bavaro Beach – or Playa Bavaro as it is called in Spanish – is the longest beach in the entire Punta Cana area. It is also where most of the beach action in Punta Cana is happening. If you are looking for beach clubs, local vendors, public access points and spontaneous activities, this is your beach to go to in Punta Cana.
 However, don't imagine it to be a crowded beach. There is always something going on, people are enjoying their beach walks and locals are sitting in the sand, but as the beach is extremely long and wide, you always have more than enough space, it NEVER feels crowded.
 Depending on the exact definition of Bavaro Beach, it is between 5 and 12 miles long, with the finest sand featuring a white to golden color. The watercolors are ranging from oceanic blue to light turquoise. If you are looking for beaches with other colors, for example, the whitest beaches in Punta Cana, check out this article about the best beaches in Punta Cana.
 Furthermore, Bavaro Beach is one of the widest sections of all Punta Cana beaches. Depending on the area, it is easily more than 300 feet wide, especially between Corales and Bibijagua, lined with the all-inclusive resorts of Melía, Paradisus, Dreams and Secrets Royal Beach.
Where is Bavaro Beach?
 Bavaro Beach is located in Punta Cana in the east of the Dominican Republic. It is located north of Punta Cana International Airport, alongside the commercial center of Punta Cana which is called Bavaro. Bavaro Beach borders the Atlantic Ocean.
Map of Bavaro Beach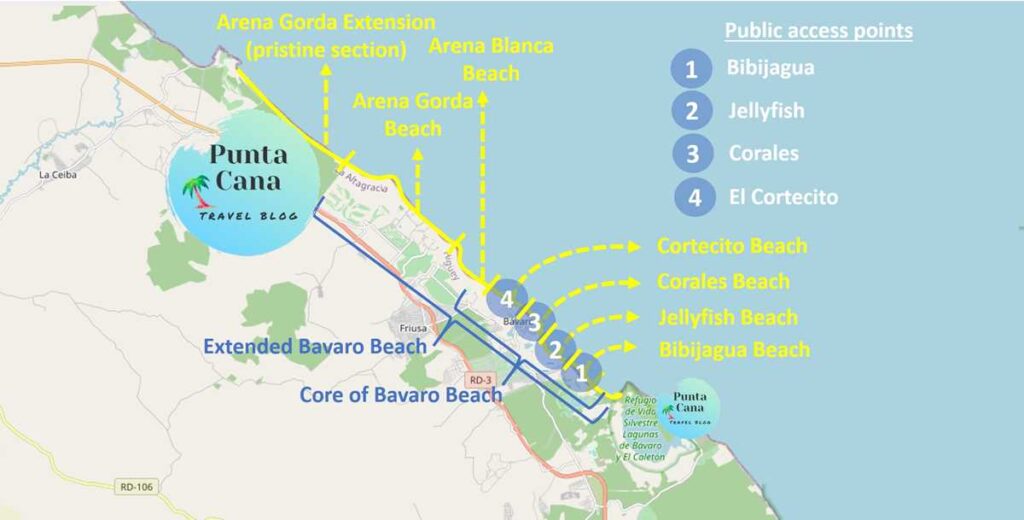 Definition of Bavaro Beach
 As you can see, Bavaro Beach hasn't any clear limits and the definition of Playa Bavaro varies.
 If you enter Playa Bavaro in Google Maps, it marks you the entire area in Bavaro which is lined by Bavaro Beach all-inclusive resorts and a few beach clubs, restaurants and beachfront apartments. It doesn't include the long stretch of pristine beach after passing Hard Rock Punta Cana up to Macao, so the total length according to this definition is 8.5 miles.
 If you trust Wikipedia, Bavaro Beach runs all the way from Cabeza de Toro to Macao Beach, which would set it to 12 miles approximately.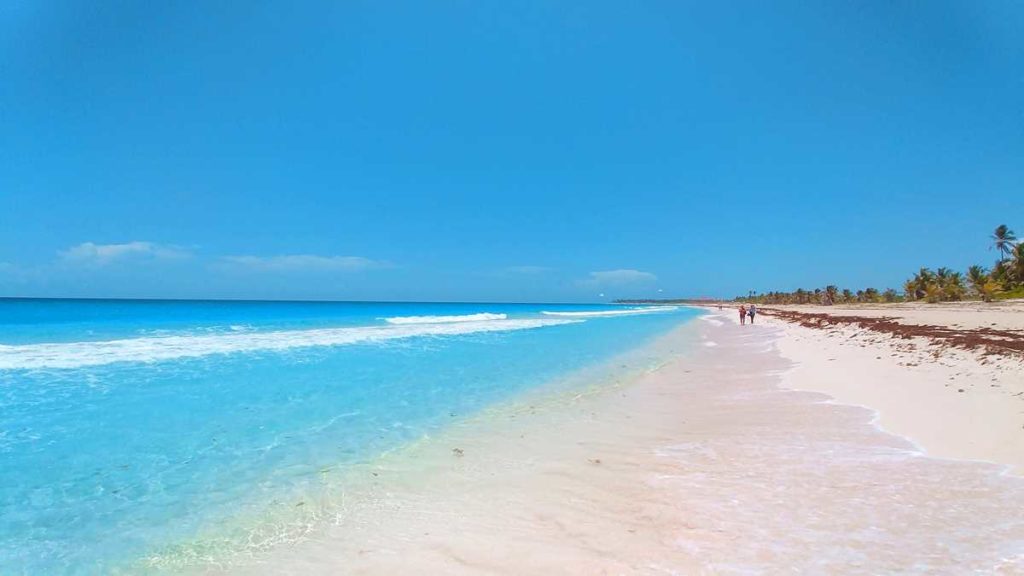 According to the Dominican Republic Tourist Board, Bavaro Beach is "extending 48 kilometers (30 miles) and surrounded with coral reefs, being the most developed section of this Punta Cana resort area". While it is completely correct that Punta Canas beaches have a length of 30 miles and more, it would be exaggerated to count them all towards Bavaro Beach. Therefore, this definition is not entirely wrong, but it uses a lot of marketing creativity.
 Finally, asking the locals from Punta Cana and the Dominican Republic, there is also no clear definition of Playa Bavaro. People from Punta Cana usually only refer to the subparts of Bavaro Beach, such as Cortecito, Corales or Jellyfish. And Dominicans visiting the Punta Cana area have different imaginations of what Bavaro Beach actually is. However, a crucial definition for them is which parts are publicly accessible.
 For this Bavaro Beach Guide, I am referring to the area between Bibijagua Beach and the beginning of Arena Blanca Beach. All recommendations here – activities, Airbnbs, beachfront apartments, hotels, beach clubs or restaurants – are located in this area which is the main stretch of Bavaro Beach and which has several public access points (see map above and below).
Which beaches are part of Bavaro Beach (Corales, Cortecito, Jellyfish, Bibijagua)
 Depending on your point of view, Bavaro Beach is a 5-12 miles long and uninterrupted stretch of finest sand or a combination of different smaller beaches connected with each other.
 If you are looking at my post about Punta Canas' best beaches, you see that there are different beaches such as Jellyfish Beach, Cortecito Beach or Corales Beach, which are all part of Bavaro Beach.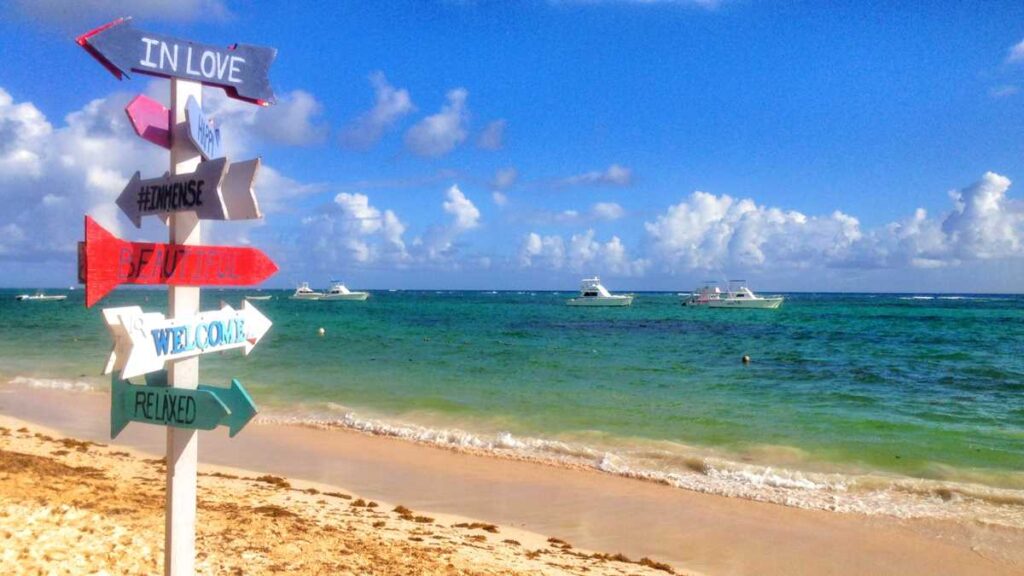 Bibijagua Beach, the most southeastern stretch of Playa Bavaro, can be counted towards Bavaro Beach as well.
Which beaches are not part of Bavaro Beach (Arena Blanca, Arena Gorda, Macao)
 Once leaving Cortecito Beach northward, you'll reach the Arena Blanca beach section. There is no defined border if or where Bavaro Beach ends, but as there are no further public access points and no beach clubs (except Kukua Beach Club further north) or local restaurants, the scenery changes a bit as it is exclusively dominated by Punta Canas' all-inclusive resorts.
 Therefore, the Arena Blanca and the following Arena Gorda Beach should not be considered to the immediate core of Bavaro Beach, even it is completely walkable and the beach doesn't have any interruption, as it features 12 miles of unlimited sand from Playa Bibijagua until Playa Arena Gorda.
 Macao Beach, located even further north, is not part of Bavaro Beach either.
Bavaro Beach resorts
 Bavaro Beach has its fair share of all-inclusive resorts, even there are a couple of local restaurants, beach clubs or beachfront villas every now and then. This makes this Punta Cana beach particularly attractive, as there is more than just resorts.
– Most Popular Posts on Punta Cana Travel Blog –
 When strolling along this beach from the southeast to the northwest, you can find the following Bavaro Beach resorts:
Barceló Resort (Barceló Bávaro Palace und Barceló Bávaro Beach)
Lopesan Costa Bávaro Resort
Melía Resorts (Meliá Caribe Beach Resort, Meliá Punta Cana Beach and The Level at Meliá Punta Cana Beach)
Paradisus Palma Real (Paradisus Palma Real, The Reserve at Paradisus Palma Real and The Grand Reserve at Paradisus Palma Real)
Dreams Royal Beach
Secrets Royal Beach
Impressive Resort (Impressive Resort and Impressive Premium Resort)
Vista Sol Punta Cana
Presidential Suites
Palladium Resort (Grand Palladium Bávaro Suites, Grand Palladium Punta Cana, Grand Palladium Palace and TRS Turquesa)
 If you are wondering what is the best all-inclusive resort at Bavaro Beach for your vacation in Punta Cana, I have a couple of recommendations for you. All resorts are different, so it pays out to know which one is suitable for each type of traveler. If you want to know more on how to pick the best all-inclusive resort in Punta Cana, continue reading here.
Bavaro Beach guesthouses & Airbnbs
 Even there are several public access points to Bavaro Beach, there aren't a lot of guesthouses in this area. Most of the accommodation besides all-inclusive resorts are either stunning luxury villas, amazing beachfront apartments or small Airbnb double rooms. There are a few small bed and breakfast hotels as well, but they can be counted on one hand.
Bavaro Beach restaurants and beach clubs
 Most Bavaro Beach restaurants and beach clubs are located at or next to the 4 public access points marked on the map above: Bibijagua, Jellyfish, Corales and Cortecito. All of them are right at the beach and serve as a beach club and restaurant at the same time. Some of them are more chilled out and focus on drinks with selected food options, others are more similar to a full-service restaurant located right at the beach. Check out the following options at Bavaro Beach for some tropical beach club cocktails and casual beachfront dining in Punta Cana.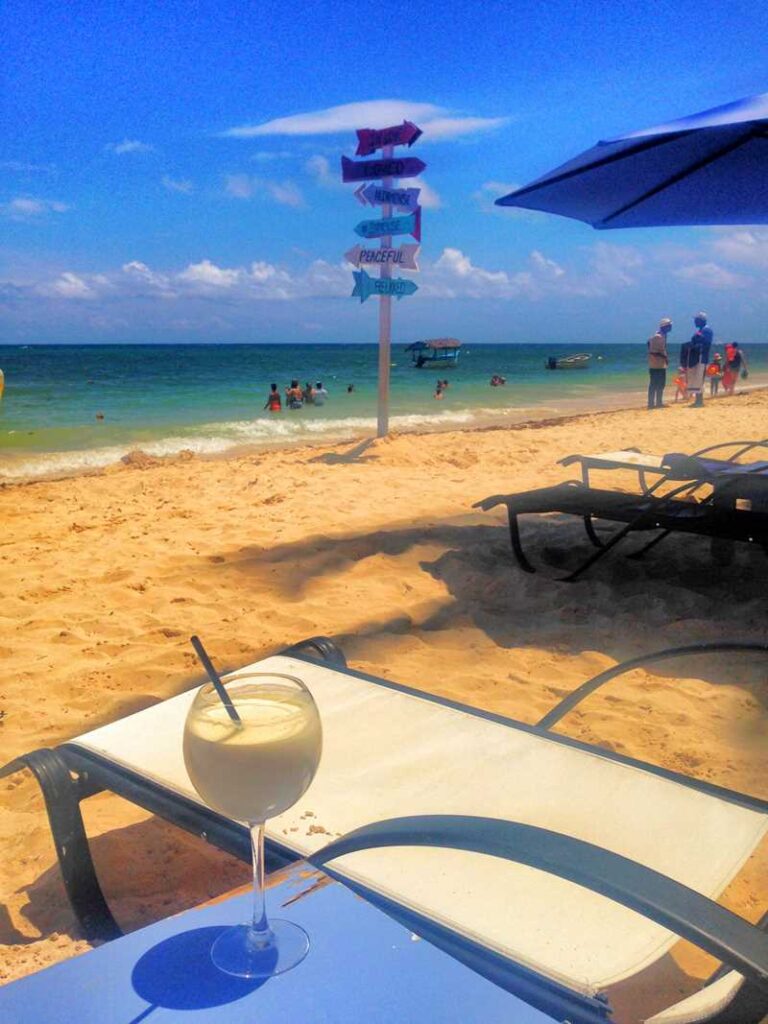 Califorña (Bibijagua Beach): located right at Bibijagua Beach, this newly renovated restaurant is particularly famous for lunch and a casual beachfront drink
Jellyfish (Jellyfish Beach): Jellyfish beach club and restaurant offers different levels for drinks and food at the homonymous part of Playa Bavaro. Choose between the terrace, the second floor or the beach with a wide menu.
Soles Chill Out Bar (Corales): the name says it all: chill out! Even Soles does have food as well, their main attraction is their chill-out vibe with corresponding drinks. You'll often have live DJs as well.
TOC Beach Club (Corales): One of the newest additions to the culinary scene of Bavaro Beach. Get fresh juices, light meals and delicious cocktails in this beach club with a modern design.
Lio Beach/Zoho Beach (Corales): a full-service restaurant and beach club, conveniently located at the end of the access road to the Corales part of Bavaro Beach
Celina (Cortecito): a restaurant right at Cortecito Beach with fresh seafood and an extensive menu
Onnos (Cortecito): one of the most popular bars in the Dominican Republic, which has locations in Santo Domingo, Cabarete, Casa de Campo and Punta Cana. Here at Bavaro Beach, you'll enjoy beachfront drinks, good music and the typical Onno's menu.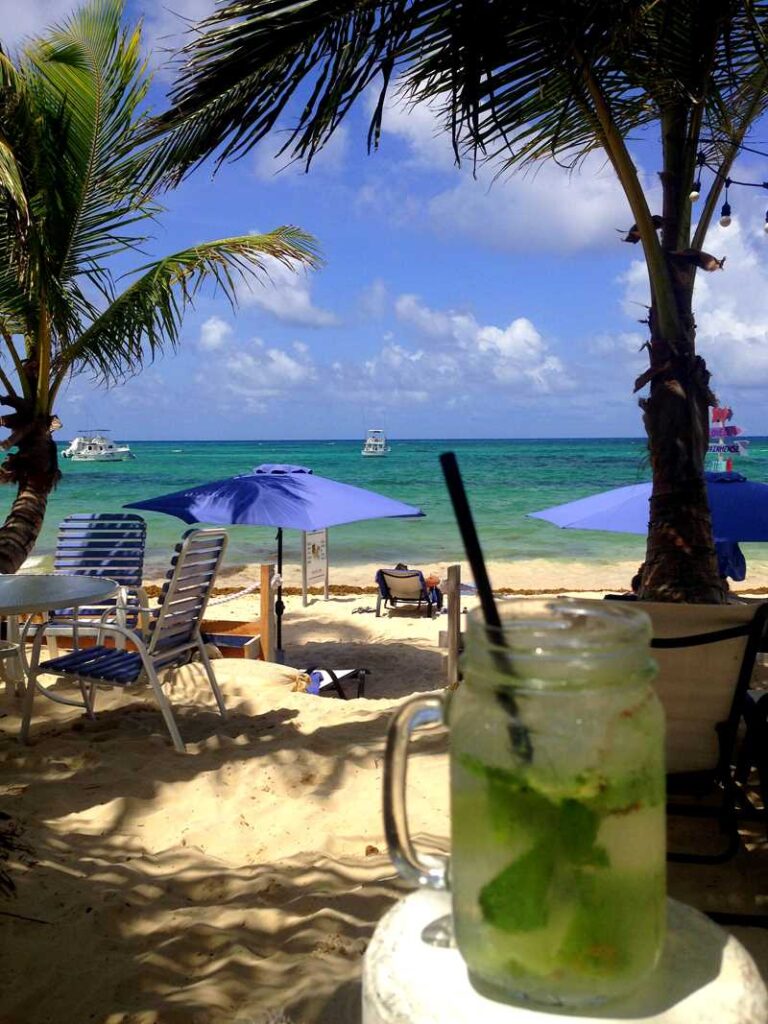 Things to do at Bavaro Beach
 Probably the main reason you are visiting Bavaro Beach is … the beach! Swimming, sunbathing, having a stroll, sipping on a cocktail – you name it. However, there are a couple of other things-to-do at Bavaro Beach, especially when you are looking for some activities. How about snorkeling, visiting the natural swimming pool or seeing Bavaro Beach from above?
Bavaro Beach public access points: how to get there?
 From most all-inclusive resorts, especially in the Bavaro area, you can access Bavaro Beach walking. Alternatively, you might already stay right at Bavaro Beach, especially when you have booked hotels like Barceló, Melía, Lopesán, Impressive, Vista Sol or Palladium.
 If you stay outside of this area, you have 4 public access areas: Bibijagua, Jellyfish, Corales and Cortecito.
 If you have a rental car in Punta Cana, Bibijagua and Jellyfish are your best options as they have the biggest parking lots. Parking in Corales and Cortecito is more limited, even though you usually find a space.
 If you are arriving by public transport, Corales and Cortecito are the easiest access points. Just tell the driver you'd like to get out at either of both points and walk the remaining 2-5 minutes.
 If you would like to arrive by taxi or Uber, all sections at Playa Bavaro are accessible without a problem.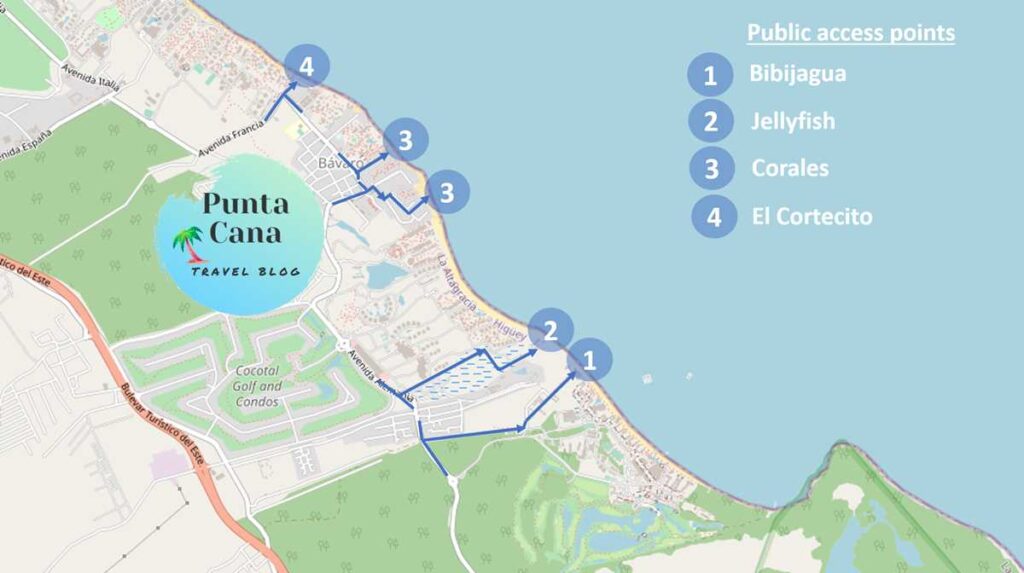 As you can see on the map, you can access all Bavaro Beach sections from the main road (Avenida Alemania / Francia / España) running through Bavaro.
 The access for Bibijagua is between Barceló Resort and IFA Villas Bavaro / Lopesan.
 The access for Jellyfish is between Lopesan and Melía Resort.
TRAVEL COACHING
Save money and time!
Do you need help planning a customized vacation in Punta Cana and the Dominican Republic? Is it difficult for you to decide what and where to book? Would you like to take advantage of someone with years of experience in the tourism industry (knowing all the travel hacks 😉 ) and living right in the place where you would like to spend your holiday?
That's what my personal travel coaching is for. I will design your tailor-made itinerary, tell you how to save money on your trip and send you the best insider tips and recommendations. All the information I send you are crafted with love and passion – and are coming with a money-back guarantee. Let me know how I can help you (check my packages here) and send me a request here!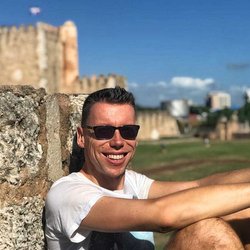 Corales is located between Secrets Royal Beach and Impressive Punta Cana.
 Cortecito is located between Presidential Suites by Lifestyle Vacations Club and Palladium Resort Punta Cana.
 If in doubt, just leave a comment and I am happy to help.
 What do you think of Bavaro Beach? Have you been here or are you planning to visit? Feel free to comment with your thoughts.
SHARING IS CARING! IF YOU ENJOYED THIS ARTICLE, PLEASE SHARE WITH YOUR FRIENDS – I WOULD APPRECIATE IT A LOT.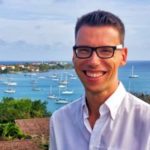 CHRIS
Author, Travel Coach & Punta Cana based digital nomad
Hey, I am Chris, a born and raised German, travel-addictive and Caribbean Soul. Since 2011 I have been living in the Caribbean, among them 5 years in the Dominican Republic. Punta Cana is my home-base here in the country and I'd love to tell you more about how to experience Punta Cana off-the-beaten-track and give you all the advice you want to know for your vacation in Punta Cana.
Notice Regarding Third-Party Advertisements:
This is a cached database listing from another source and all content is created and provided by the advertiser who is solely responsible for such content including, without limitation, all text, images, contact information and websites. We assume no responsibility or liability for such content or the content or operation of websites that you may link to and visit. We do not endorse, review, or control any websites that are linked to or from an advertisement. Please read more about us and review our terms of use and conditions for additional information about database listings appearing on our site.
Please reference our online safety tips for general tips and techniques you should keep in mind to protect yourself and your privacy online. Additional information is also available about identifying and reporting suspected Human Trafficking.
You are viewing cached results from https://www.puntacanatravelblog.com/general-information-faq/bavaro-beach-punta-cana/